Hosting an Oscars party doesn't have to be difficult or expensive. Lori Bergamotto from Good Housekeeping is sharing easy, festive and affordable Academy Awards party tips, decoration ideas and recipes to make your gathering glamorous and fun.
Dazzling Drinks
The Academy Awards are all about glamour, so a key way to making your party feel elevated — and not kitschy — is the color scheme. A metallic theme is a really easy way to do this because gold and silver feel instantly glam, thanks to their sheen. No Insta filters required! That said, buying all decor, flatware and serving pieces in metallics can get pretty pricey, so if you have a little bit of time and a penchant for craftiness, you can easily (and affordably!) DIY some of your decor.
Glittering Bubbly Bottles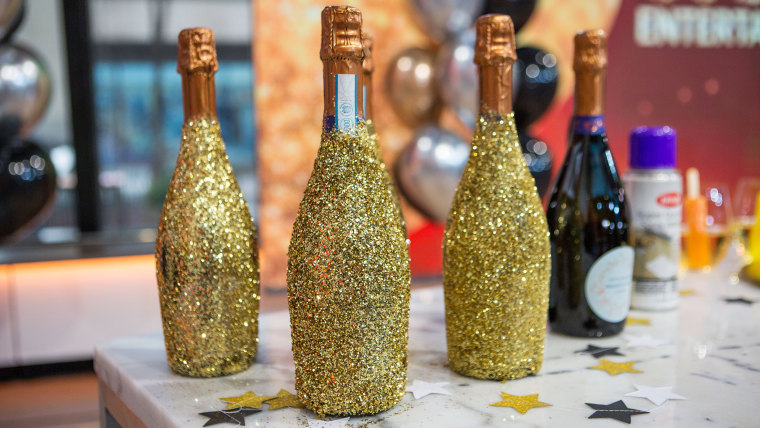 We were inspired by some of our favorite glitter for grown-up projects, and decided to make sparkling wine live up to its name! This takes about five minutes to do and is an easy way to cover up a less-expensive brand of Champagne or sparkling wine. Simply spray tacky adhesive vertically in even quadrants along the bottles, sprinkle gold glitter down the front, and let it dry for about five minutes.
Gilded Plastic Cups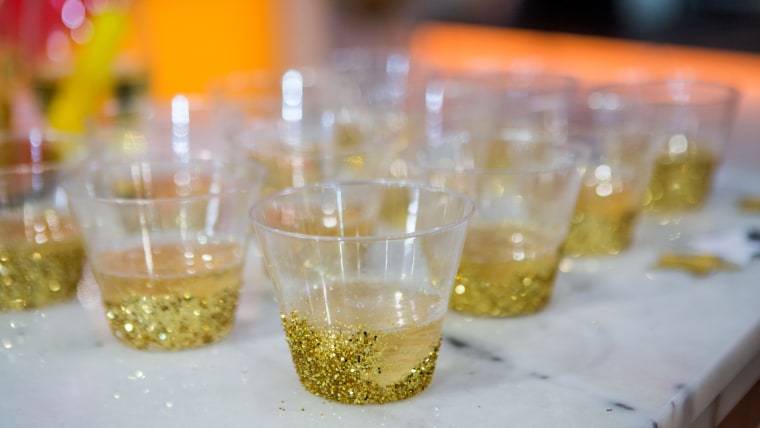 Forget the expensive crystal and glassware, and opt for affordable (and disposable!) plastic cups that you can glam up. Cover the top of each cup with a loose piece of paper and, using the same adhesive spray and glitter as the Champagne bottles, spray around the bottom and sprinkle gold glitter along the bottom. Wipe off any excess.
Pro-tip: Glitter can scare neat freaks, but using paillette or chunky glitter (which is a little bit bigger) makes clean up easier. Just use a lint roller to pick up any stray pieces.
Popsicle Sippers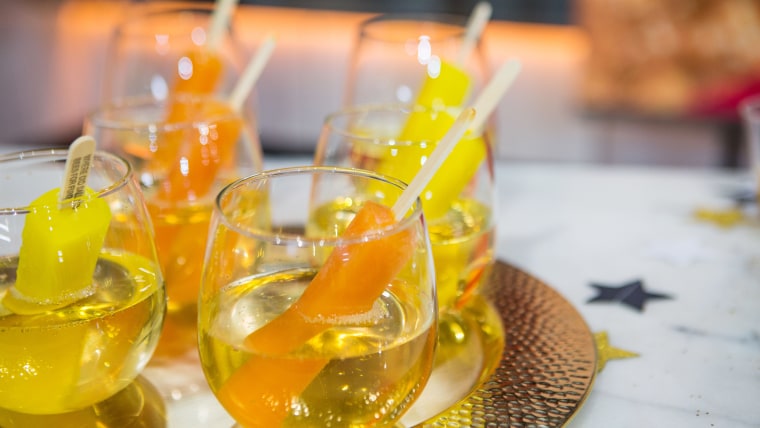 Keep it cool and chic with a "golden" (aka lemon, pineapple or orange) popsicle in your champagne. Part drink, part dessert and all cool!
Dashing Decor
Set the scene for a star-studded soirée with a paparazzi-worthy golden statue photo booth, engaging games and winning envelope-inspired napkins.
Envelope Napkins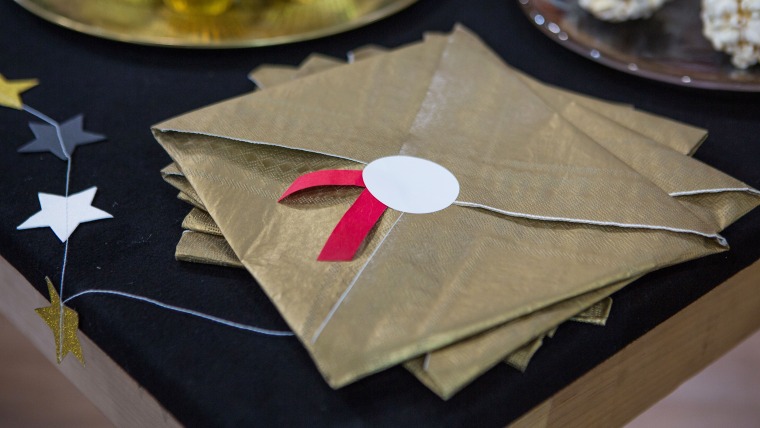 Really easy napkin origami (just four folds!) turns a practical piece into a party favorite. We used gold napkins, red ribbon and white round office labels to create ours.
Living Golden Statue Photo Booth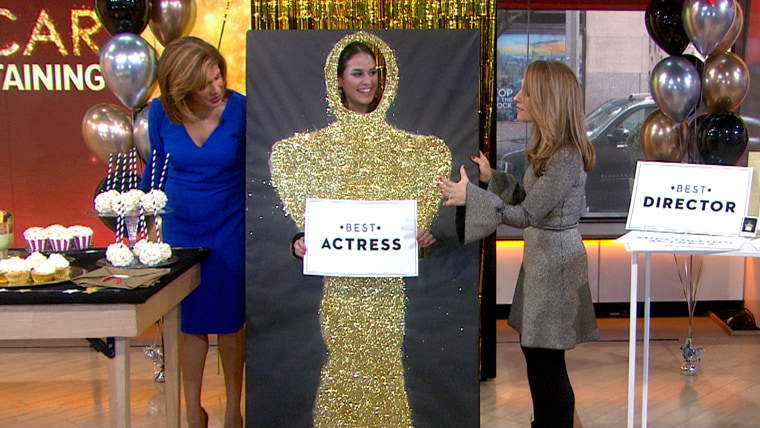 Give guests a place to Instagram or instant photo themselves as a the Oscar statue. We used a V-Flat (you can also use a very large rectangle of cardboard) wrapped in black bulletin board paper and used a utility knife to cut out a face and arm holes, and then painted a gold statue on the front. Using spray adhesive and gold glitter, we covered our trophy with two coats of the sparkly stuff. Lights, camera, action!
Great Games
Rethink favorite childhood games. We've all seen Oscar Bingo and "pin the actor on the Oscar," but we really love these DIY Acceptance Speeches à la Mad Libs. We used this one, but you can easily type up your own.
Star-worthy Snacks
Make Oscars entertaining fun and easy by opting for crowd pleasers with a creative spin on the traditional party favorites.
Pull-Apart Pigs in a Blanket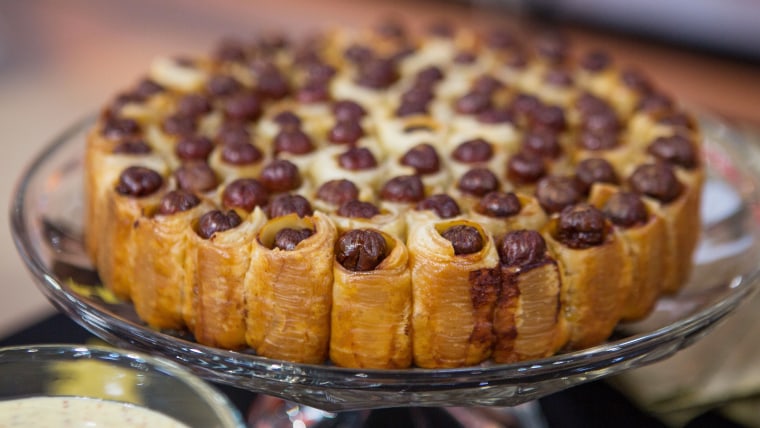 It's not a party unless the pigs are in a blanket! We took our favorite recipe and an inspiration from this blog to turn this party food staple into something really special.
Cheese Plate
The party standard cheese platter with veggies, charcuterie, crackers and fruit requires minimal effort with maximum result. Add in some cute themed pieces like these tuxedo crackers for extra festive flair.
Popcorn Party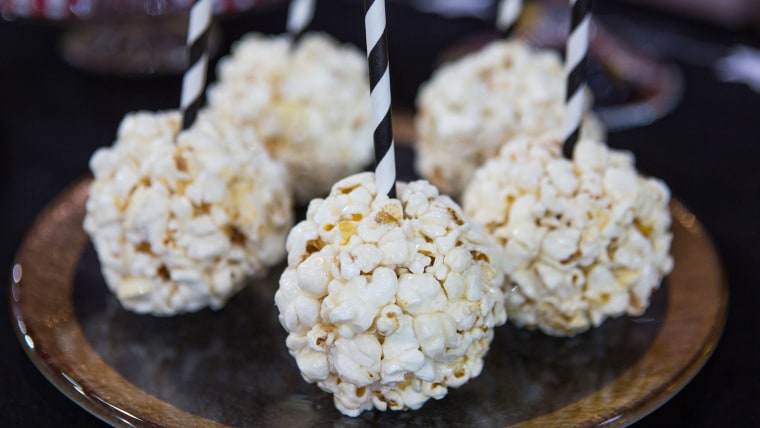 Popcorn bars — where you can add spice to your favorite movie theatre snack — are always a great idea. You can also elevate the affordable snack by rolling popcorn into cute lollipop-style balls and adding a decorative straw or party pick for serving.
Fantastic Food
Instead of serving dinner foods and dips in large portions, go for single servings. In addition to being easier to finagle while you're mingling at the party, this is a great way to keep double dippers at bay (after all, we are also still deep in a bad flu season). Plus, it allows you to serve food like decor, thanks to these cute mini gold forks and Champagne flute serving options.
Meatballs on a Fork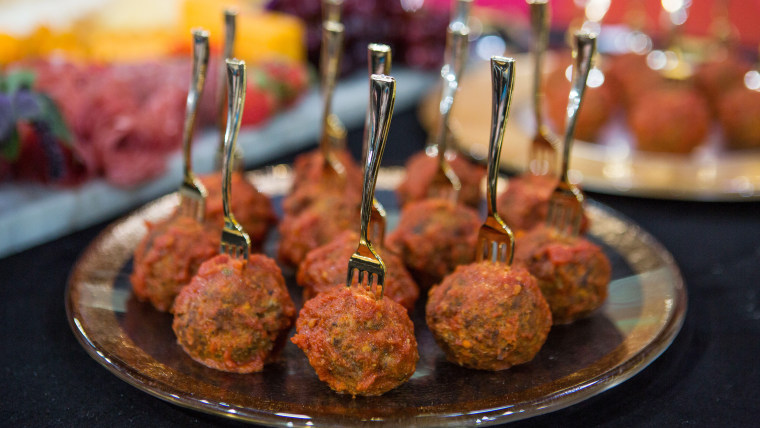 Single-bite meatballs are a perfect make-ahead, hearty and delicious party option. Whether you choose classic meatballs or a recipe with a little more jazz, your guests will love these flavorful, party-perfect bites served on mini festive forks.
Edamame Guacamole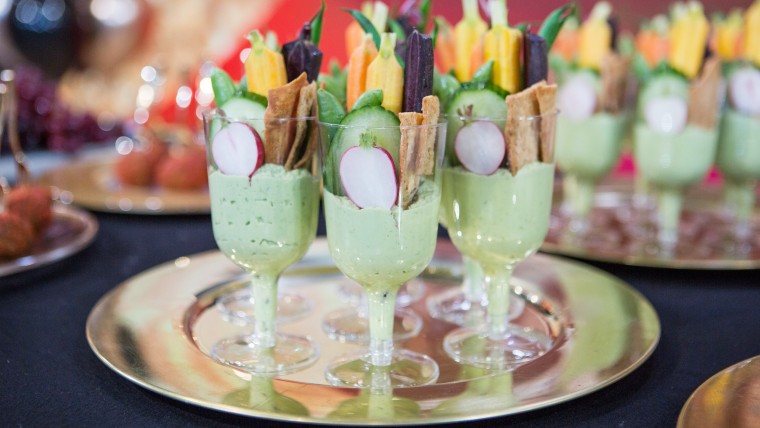 Want to eat like the celebs at the Oscars? Wolfgang Puck can help! Here's his recipe for what the stars will be eating at the after party. Make this gourmet guacamole dip your own by serving it in a Champagne flute or wine glass.
Dazzling Desserts
End the evening with sweet, sparkling and simple to prepare desserts. You can turn cupcakes into fun marshmallow "popcorn" boxes and add a shimmering golden finish to make these easy desserts extra special.
Gold Dust Cupcakes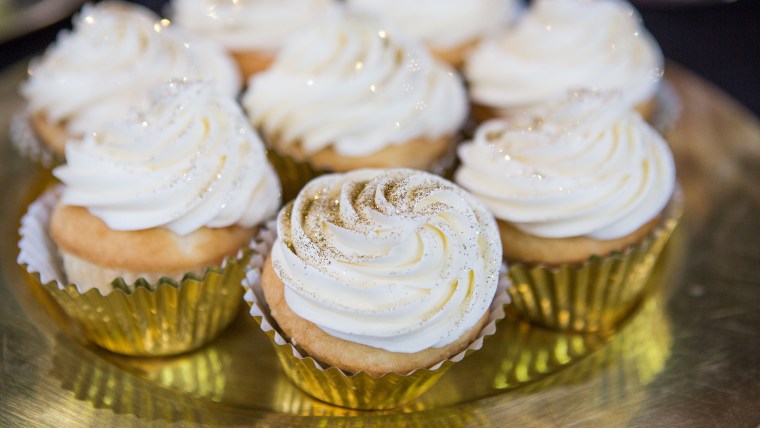 Cupcakes are still a fan favorite, especially if there are some younger guests in attendance. If you're a baking novice, use store-bought cupcakes sprinkled with edible gold glitter (available online or at your local craft store). You can always upgrade these by making homemade cupcakes and frosting from scratch.
Marshmallow "Popcorn" Cupcakes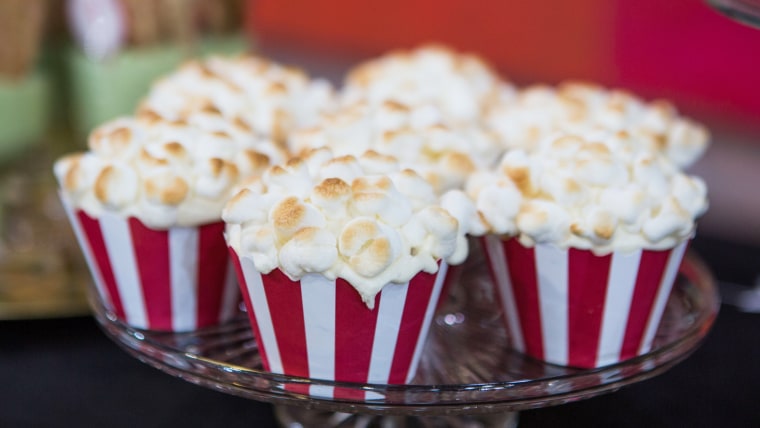 If you can bake, try these "popcorn" cupcakes! First, bake a batch of your favorite cupcake recipe. Once cool, frost with some marshmallow fluff, then top it with mini marshmallows and stick them under the broiler for about 30 seconds. Wrap them in red and white cupcake liners.