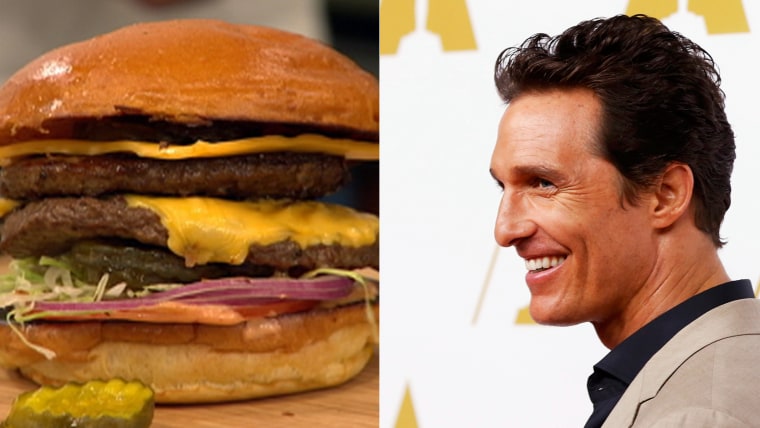 The 86th Academy Awards are Sunday night, and while the official parties are going down in Hollywood, you can have a party at home, too. Gear up for the awards show and cheer for your favorite movies by whipping up some of the nominees' favorite foods. 

Matthew McConaughey: Cheeseburgers
Matthew McConaughey shed down to skin and bones for his nominated role in "Dallas Buyer's Club," and when it came time to gain the weight back, he knew precisely how he was going to do it: cheeseburgers.

"I will have some 70 percent beef, 30 percent fat ground beef, maybe a half-pound cheeseburger with another three types of cheese," he told People magazine during filming. "I'll prepare it all and I'll make sure it takes three hours just to prepare."
Show a little camaraderie for McConaughey by whipping up this Grille Prime cheeseburger, a classic recipe that the actor would have reveled in. 
Lupita Nyong'o: Mexican food

Nominated for playing an African American slave in "12 Years a Slave," Nyong'o was actually born in Mexico before moving to Kenya. While her career has taken her around the world, she has a soft spot for the food of her native country. "I found such friendly people, and fell in love with the food," Nyong'o told CNN en Espanol. 

Spice up your Sunday night viewing party with spicy seared shrimp with Mexican cocktail sauce. 
Christian Bale: Doughnuts

Christian Bale gained more than 40 pounds for his role in "American Hustle," and it sounds like he had a lot of fun doing it.
"You're just sitting on your butt and you're eating lots of doughnuts and eating bread and everything like that," he told On The Red Carpet.
The sweet apple filling in these apple pie doughnuts would make a perfect treat during the often-lengthy award ceremony, and the fruit-filled center will help guests avoid getting anything close to Bale's "American Hustle" waistline.
Sandra Bullock: Marshmallows

The actress, nominated for her role in the film "Gravity," hasn't kept quiet on her love for marshmallow fluff. "I'm obsessed," she admitted to People magazine. And fortunately for Bullock, her chef sister Gesine Bullock-Prado created this hidden snowman cake recipe that is doused in marshmallow frosting.