There's a steaming hot debate happening — and it has nothing to do with the midterm elections on Nov. 6.
Instead it's all about whether a hot dog is a sandwich.
It's a topic that has long divided Americans, but frankfurter company Oscar Mayer has added fuel to the fire by declaring that the hot dog is indeed a sandwich — and people are outraged.
The folks at Oscar Mayer clearly stated their stance on the matter on Friday, the eve of National Sandwich Day, which is on Nov. 3.
"We're ending the debate once and for all, and declaring that yes, a hot dog is a sandwich," Matt Reizman, brand manager for Oscar Mayer, told TODAY Food.
On Friday, TODAY's anchors Carson Daly, Al Roker, Jenna Bush Hager and Craig Melvin and vehemently disagreed with the company's take on the food.
"I certainly would never consider it a sandwich," Carson said.
Al stood strong and had his buddy's back. After all, he probably thought he had settled the matter when he said, "it is not a sandwich," after the Merriam-Webster dictionary threw gasoline on the hot dog debate in 2016.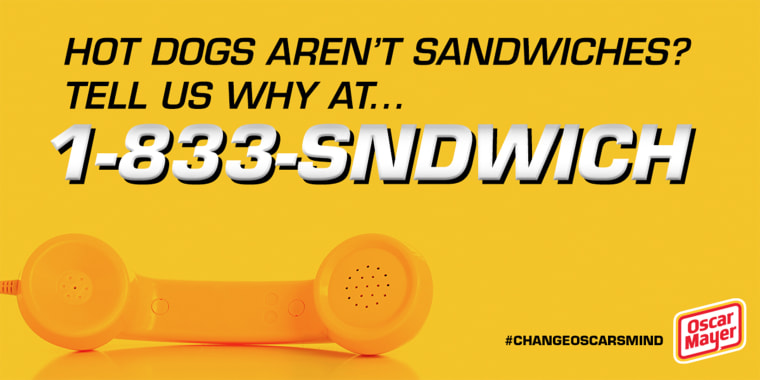 The wiener company realized that it would be met with plenty of criticism from naysayers, so on Thursday, it opened a 24-hour hotline to welcome people to call in and try to change its mind.
Plenty of callers expressed their thoughts on the matter through sarcasm, historical anecdotes and even song — and they're pretty hilarious.
One caller said hot dogs are sandwiches the way bacon is a vegetable.
Some sang their arguments (and praises).
One person called upon the Earl of Sandwich to prove his point.
Oscar Mayer did get the support of a few famous food experts, such as Jimmy John's sandwich shop.
And Food Network host Alex Guarnaschelli also weighed in.
For those who didn't get a chance to bash out an Oscar Mayer representative during the 24-hour period, the hot dog company is still taking messages.
"At Oscar Mayer, we know for a fact that hot dogs are sandwiches but if you're feeling passionate about this debate feel free to yell your hearts out at us after that beep," the voicemail said when TODAY Food called Friday morning (don't worry, we didn't ream ol' Oscar out).
There's another way to be heard too. Tell TODAY where you stand on the debate in our Twitter poll.