Original Oreos have been a classic snack for years but the cookie brand's latest releases are all about introducing some pretty zany mashup combinations — and even promoting a little mystery.
The latest flavors to enter their ever-expanding portfolio (which has included limited-edition offerings like Fireworks and Hot Cocoa) are the result of a recent fan call-to-action, where people were asked to choose the next Oreo cookie flavor.
Behold the new creations: Cherry Cola Oreos, Kettle Corn Oreos, and Pina Colada Oreo Thins.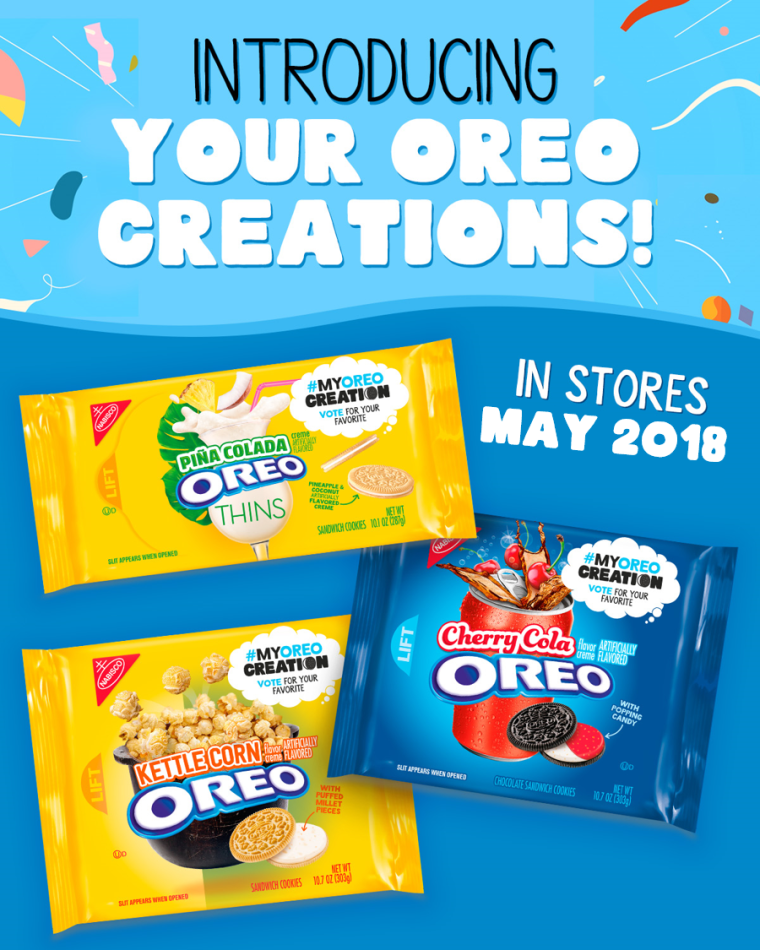 "After receiving hundreds of thousands of creative and innovative flavor submissions from Oreo super-fans around the country, Oreo meticulously tested, tasted and reviewed the #MyOreoCreation submissions, narrowing it down to three deliciously creative flavors," a representative for Oreo told TODAY Food over email.
We imagine the pina colada flavor will have hints of coconut and pineapple and the kettle corn variety will bank on the salty and sweet combination that's so popular today ... but how cherry-flavored cola will translate into crunchy cookie is anybody's guess.
These three new flavors are on shelves now, so hurry and try them out — then vote here for the winning flavor. The top cookie will be selected later in the summer, according to Oreo, and the creator of the flavor will win the grand prize of $500,000!
Meanwhile, for Oreo lovers who already have a slightly wacky Oreo variety they love, seasonal favorites like Marshmallow Peeps and Firework cookies are also returning in 2018.
And for you Nutella lovers, there's a Chocolate Hazelnut-flavored Oreo cookie coming right after the New Year. That will be joined by a Spicy Hot Cinnamon cookie (think Red Hots in a chocolate wafer cookie).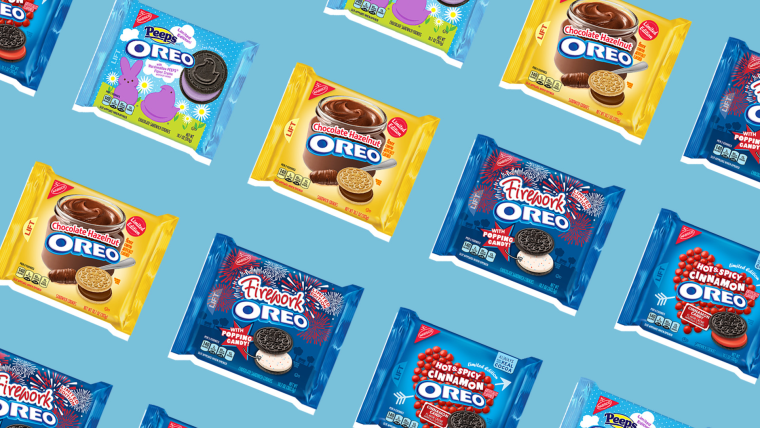 Looks like we'll have all sorts of ways to get a creamy and crunchy sugar rush soon.