One of Oreo's wackiest cookie creations is officially coming back this winter.
Last year, Mondelez (Oreo's parent company) released a treat dubbed The Most Stuf — a cookie with three times the filling of a traditional Oreo.
The monstrous-looking cookies made their in-store debut last fall, but were quickly snapped up by avid treat hunters, many of whom spotted bags before they were officially released nationwide.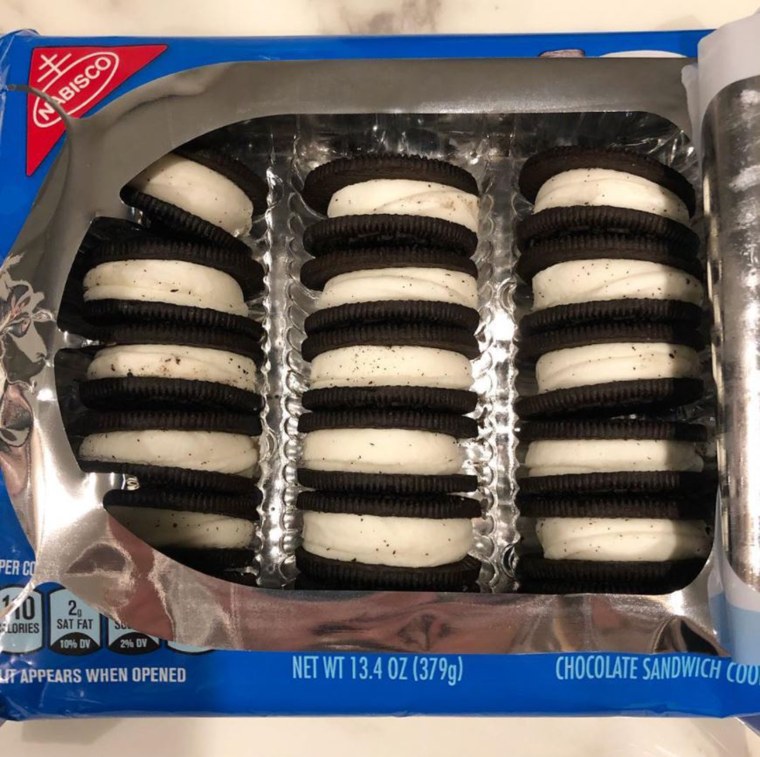 The person behind the Instagram account Cravings Hunter was one of the first people to spot the cookies at a Rite Aid Pharmacy in Long Island, New York, back in 2018.
Munchie Bunchie, a Los Angeles-based source for snack food news, also indulged in Most Stuf Oreos, and posted that they were tapped out after eating only a couple of the vanilla creme-filled treats.
Munchie Bunchie's creator told TODAY that they spotted Most Stuf Oreos at a Target in West Hollywood, California, and at a Rite Aid in Beverly Hills.
Another Instagrammer, Snackstalker, posted that they checked seven or eight East Coast Rite Aids before finally finding the Most Stufs on shelves.
While some cookie eaters claim that the original Oreo has the perfect ratio of crunchy cookie to creamy creme, others counter that less is certainly not always more when it comes to the perfect bite.
A giant stuffed cookie may seem pretty over-the-top, but it's right on par with some of the company's latest confections. In honor of Mickey Mouse's 90th birthday, Oreo offered up a limited-edition cookie with birthday cake-flavored creme.
Previous limited-edition flavors have included the Easter-themed Peeps Oreos, and they've also released flavors like Strawberry Shortcake, Pumpkin Spice and Red Velvet.
Initially, the Most Stuff was supposed to be a limited release but, due to popular demand, a spokesperson for the cookie company confirmed to TODAY Food that they will indeed be back in the coming months.
"We know you are passionate about your stuf," said the spokesperson. "Excited to confirm that, once again, our stuf-loving fans will be able to pick up Most Stuf Oreo cookies in stores this winter!"
The rep added that "there will be even MORE (stuf) to share soon, so stay tuned," but would not elaborate further.
Perhaps the new Most Stuf cookies will be stuffed with the creme from the latest mystery flavor?
Only time will tell.