Ever since Erin Dinan's 2011 encounter with a homeless man at New York's Grand Central Terminal, she's been on the warpath — against hunger.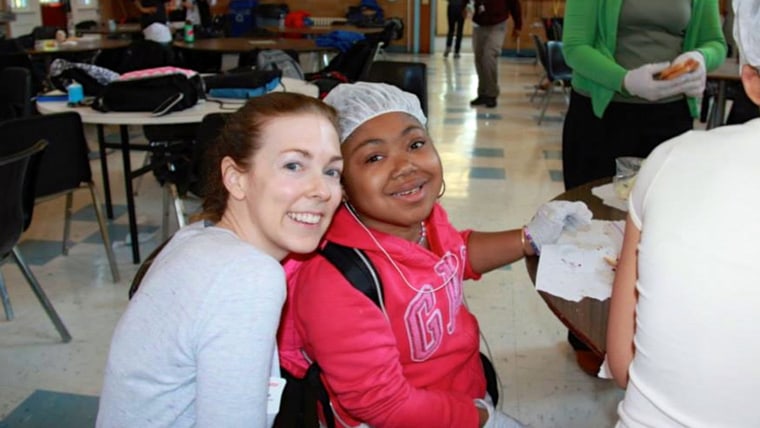 Two weeks before that fateful meeting, the New Yorker struggled to find peace as her Alabama family dealt with her mother's battle against Stage 3 breast cancer.
"It was a rough time," she told TODAY.com. "I was the only one [living] up here. I'm very spiritual and religious, and I said a prayer. I wanted something to take my mind off of it, but also was craving to find a purpose in my life. ... I was talking to my sister about wanting to do something, and as I was talking to her, I made a comment about the enormous number of homeless individuals in New York City, and how disturbing I had found it."

The topic remained on her mind while she was rushing to catch a train at Grand Central. There, she stopped to talk with a homeless man and give him the remaining half of the sandwich she'd just purchased.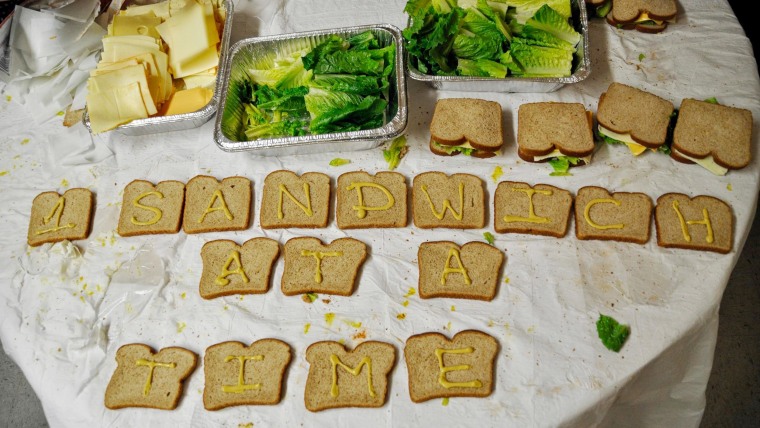 "There was something different, giving him food, versus any other time in my life," Dinan told TODAY.com. "Just the look in his eyes: I could see his soul, he could see mine, and I could see how grateful he was."
A subsequent conversation with a different man, who was sifting through the garbage for food in Union Square, gave her vision more clarity. "He had two daughters, he was divorced and lost his job, and living in the shelter system," Dinan said. "It hit me that homelessness is so misunderstood and so judged. There could have been times that, if I didn't have the family or the support system I had, who knows what could have happened to me?"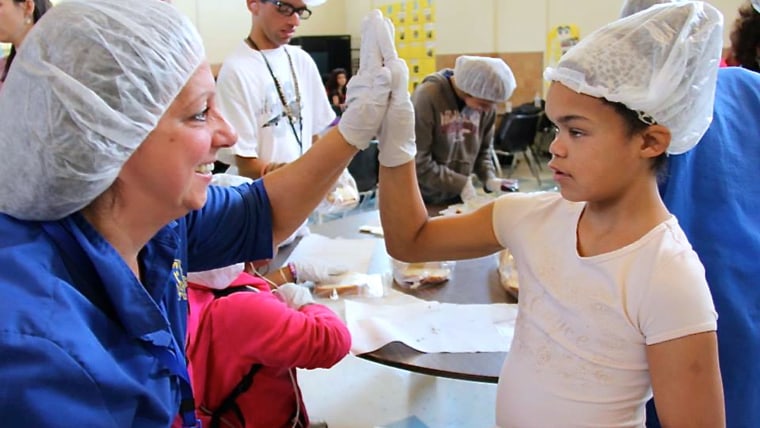 Dinan said she started out making a few sandwiches at home and passing them out to the homeless. Even with lofty aspirations, she didn't expect to solve hunger all by herself.
"It's not as if I was ending hunger in one night," she added. "I was letting someone know that someone cared about them. If we ever want to make a big change in life, we have to start with the basics."
What started as a simple wish to help people on a small scale has transformed into an official nonprofit aimed at increasing awareness about homelessness and alleviating hunger, One Sandwich at a Time.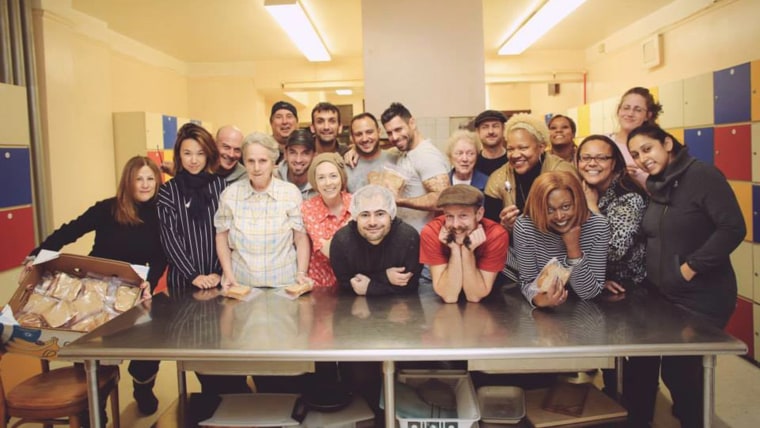 Dinan turned to her friends George Kontogiannis and Katherine Mackanin to help her launch One Sandwich at a Time in September 2011. Since then, brands like Starwood Hotels, Clune Construction and Peanut Butter & Co. have been among the group's top corporate sponsors, donating food, money and event space.

These days, volunteers meet monthly to make peanut-butter-and-jelly and ham-and-cheese sandwiches, bag them, and deliver as many as 2,000 at a time to food pantries, homeless shelters and victims of natural disasters. With every donated dollar feeding two people, the charity has distributed more than 30,000 sandwiches to people in need, Dinan says.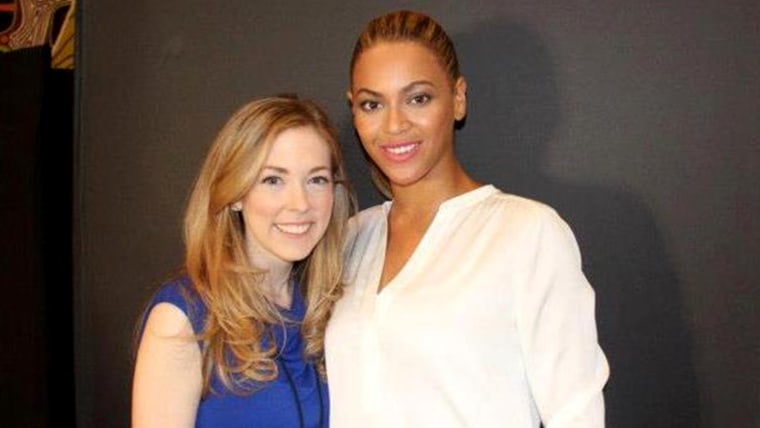 And celebrities have taken notice. On Aug. 11, 2012, to celebrate World Humanitarian Day at the United Nations, Anderson Cooper and Beyoncé appeared at a ceremony honoring the charitable contributions of Dinan and others.
While it's not the only sandwich-making charity out there — Minneapolis resident Allen "Sandwich Man" Law, for example, reportedly has distributed 500,000 sandwiches to the homeless over a 12-year span — Dinan plans to broaden her reach with chapters in other cities and new initiatives in the years to come.

"Hunger is something we can solve," she said. "We have more than enough food, especially in America — a first-world country — it just shouldn't be an issue."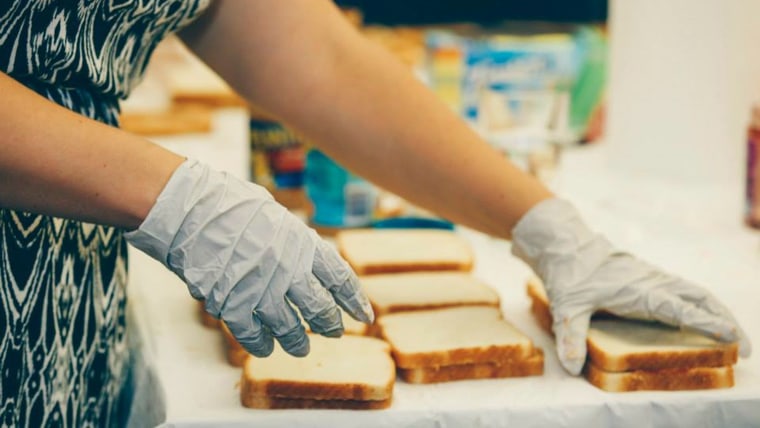 Two October events may help make that expansion a reality. On Oct. 16, to mark World Food Day, the charity is collaborating with The Doe Fund and inviting the public to join them in trying to make 10,000 sandwiches at the Peter Jay Sharp Residence in New York City. And on Oct. 22, the New York City lounge Pranna will host the organization's third annual 'Wichfest fundraiser.
There's other good news, too: Dinan's mother beat breast cancer 2½ years ago, and recently celebrated her 65th birthday.
"I feel like it's been a blessing from above," Dinan said. "It's just been a beautiful journey."
Follow TODAY.com writer Chris Serico on Twitter.