Are you ready for a feast of all-you-can-eat lasagna, soup, salad, fettuccine and, of course, breadsticks?
Olive Garden is hoping you're hungry (like really, really hungry) because the pasta chain's Never Ending Pasta Pass promotion is coming back — and this year, the deal is going to be bigger than ever.
The restaurant — which has offered unlimited soup, salad and bread sticks to its dine-in guests every day since it opened — can't stop cooking up new twists on its tasty deals. Of course, the Pasta Pass promotion hasn't just filled stomachs with comfort carbs for the past four years, it's become a sensation in the world of food and pretty much set the gold standard for viral marketing stunts.
Here's a look back at the pasta pandemonium.
1995
Olive Garden first opened its doors in 1982 but it took the chain over a decade to start offering its first ever "Never Ending Pasta Bowl" promotion. In 1995, the chain took carbo-loading to new heights by offering diners unlimited servings of pasta, sauce and toppings in a single visit for $6.95.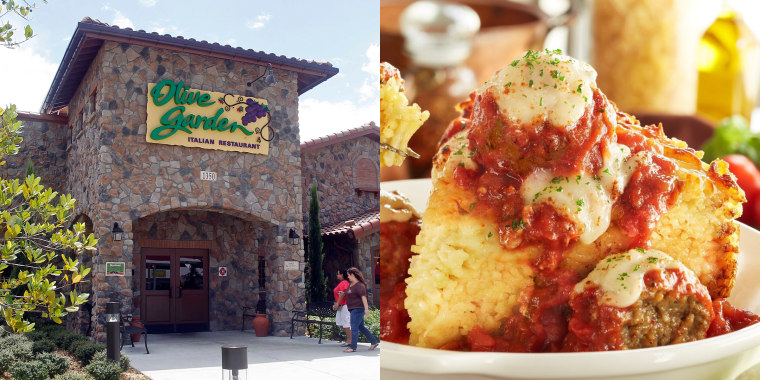 The pasta chain still offers the Never Ending Pasta Bowl deal to those who can't score multi-week passes. This year, the offer runs from Sept. 24 through Nov. 18. All guests can enjoy unlimited servings of their favorite pasta combinations, starting at $10.99.
2014
Just four years ago, the chain really kicked things into high gear. Olive Garden transformed the single-visit Never Ending Pasta Bowl into a seven-week-long love affair with Americanized Italian food.
A thousand of Olive Garden's biggest fans purchased "season passes" to visit the restaurant as many times as they wished during a 49 day stint, enjoying unlimited servings of pasta for one set cost of $100.
The demand for the limited-release passes was so great that it crashed the site twice before selling out in 45 minutes. Millions of disillusioned Olive Garden fans missed the pass opportunity, while other people, like Pastor Alan Martin from North Carolina, vowed to eat pasta every day, twice a day, to take full advantage of the offer.
2015
A year later, the chain offered a total of 2,000 Never Ending Pasta Passes ... which promptly sold out in less than one second.
Customers who didn't get the pass this time around were directed to a link offering 10 percent off any adult entree at Olive Garden — but many across social media were left in total shock by how quickly the passes seemed to evaporate.
2016
Two years ago, Olive Garden got super serious with its big stunt and sold 21,000 passes to eager fans. Even in the five figures, however, the coveted passes were gone in just seconds online. On eBay, a lot of people tried to cash in on their good fortune by listing Pasta Passes for double, triple or even 10 times their original value.
2017
Olive Garden spread the Never Ending Pasta Pass love even more, selling 22,000 Pasta Passes.
While some Olive Garden fanatics still lost out on the deal:
Others fully adopted the Pasta Pass lifestyle:
And for the first time, alongside the standard pass, 50 superfans indulged in the first-of-its-kind "Pasta Passport to Italy." The indulgent upgrade featured an all-inclusive, weeklong trip to Italy (the pasta capital of the world, of course) for the pass holder and one friend. That trip was in addition to all of the original Pasta Pass benefits.
This year…
Olive Garden told TODAY Food that it's planning to sell 23,000 Pasta Passes, in honor of the 23rd anniversary of its first Never Ending Pasta Bowl.
The pass allows access to eight weeks of the Never Ending Pasta Bowl deal, with unlimited servings of all pasta combinations, sauces and toppings, for just $100.
Of course, it wouldn't be too exciting if the chain didn't throw something really unusual into the mix. In addition to the standard-length Pasta Passes, Olive Garden will offer 1,000 Annual Pasta Passes for the first time. This special pass extends the benefits of a regular Pasta Pass to lucky diners for a full 52 weeks. The annual passes go on sale at the same time as the regular passes and cost $300. That's less than $1 a day for unlimited pasta, all year long.
Get ready, get set and go to www.PastaPass.com on Thursday, Aug. 23 at 2 p.m. ET for a chance to purchase one of these highly-coveted passes.
This article was updated on Aug. 21, 2018 with the price of the Never-Ending Pasta Bowl in 1995.