Move over Never Ending Pasta Pass and cookie butter cake, there's a new crave-worthy item now available at Olive Garden: the Meatball Pizza Bowl.
The aptly named dish title leaves little to the imagination since it's literally a bowl made of pizza crust, filled with melted Italian cheeses, then topped with meatballs and finished off with a hearty helping of meat sauce.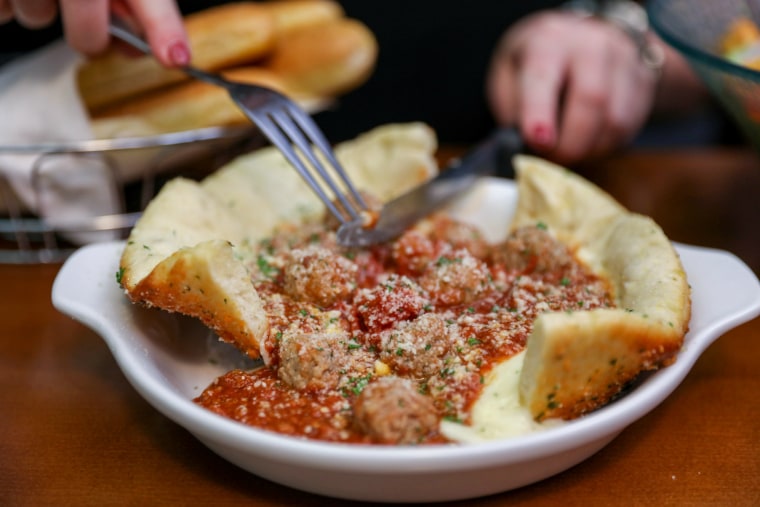 To create the pizza bowl, Olive Garden chefs place the dough on a cup of Italian cheeses, which helps the dish maintain its shape while it bakes. When inverted, the cheeses, now melted, are then poured into the bowl, then the whole dish is topped with meatballs and meat sauce. An Olive Garden spokesperson told TODAY Food by email that the pizza crust is brushed with oil and more cheese, which is similar to how the chain makes its famous breadsticks.
The Meatball Pizza Bowl, available for $8.99, is a new option in the Italian restaurant chain's Lunch Duos, which gives customers unlimited salad or soup and breadsticks, along with your choice of entree.
While the cheesy dish might sound like a healthy eater's nightmare, it's actually far from the highest-calorie item on Olive Garden's menu. At 860 calories, it's the second highest calorie selection on the Lunch Duo menu, behind the Chicken & Cheese Piadina, which clocks in at a whopping 1,430 calories. But the Pizza Bowl is still significantly lower in calories than classics like the spaghetti with meat sauce and meatballs (1,210 calories) or the famous chicken Alfredo, which boasts 1,480 calories.
Of course, the Meatball Pizza Bowl isn't the only wild new item to grace Olive Garden's menu recently. In February, the chain debuted Loaded Pasta Chips just in time for the Super Bowl. A pasta lover's dream, the dish includes chips made out of lasagna noodles that have been "lightly fried and layered with Italian cheeses and a hearty meat sauce. Topped with cherry peppers and an alfredo drizzle."
If you're craving Italian food but looking for a healthier choice, consider the chain's Spiralized Veggie Pasta made with zucchini noodles, or "zoodles," at 560 calories. Or, if you have some serious willpower, you could try to just skip the bread bowl and eat only the meatballs and sauce like this customer:
While the Meatball Pizza Bowl is currently only available as part of the chain's lunch menu, an Olive Garden spokesperson says locations will try to accommodate special requests for the dish outside usual lunch hours.