Are you already looking to prep for the holidays by carboloading this fall? Great news! Olive Garden's wildly popular Never Ending Pasta Pass is returning this Thursday — and this year, the Italian chain has some new offerings for fans.
To celebrate the third year of the almost all-you-can-eat offering, Olive Garden is offering 22,000 Pasta Passes in honor of the the twenty-second anniversary of its Never Ending Pasta Bowl. Each pass will cost $100 and be good for eight weeks of unlimited pasta, homemade sauces, pasta toppings, soup or salad and breadsticks from Sept. 25 through Nov. 19.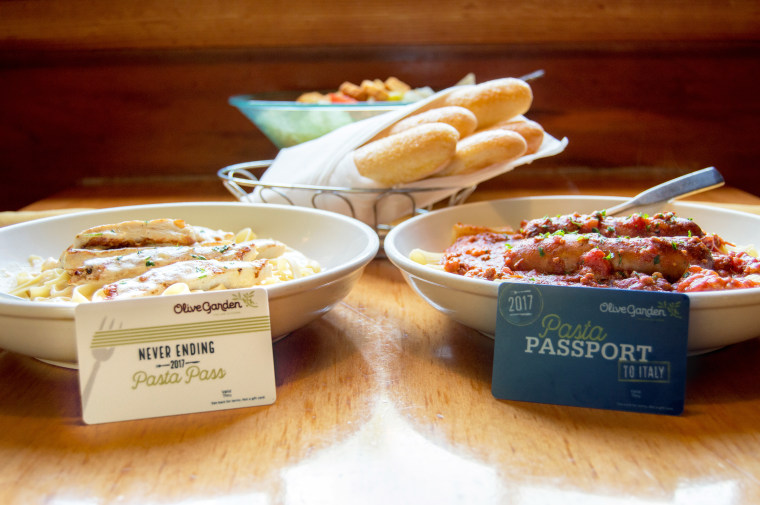 The access is unlimited, which means there's no rule against coming in for lunch and then going back for dinner.
In addition to the $100 passes, the chain will also be selling 50 "Pasta Passports to Italy" for the first time ever. With this deal, 50 people will be able to buy an all-inclusive trip for two to Italy for just $200. Olive Garden has yet to release details about the trip but we hope those lucky travelers get to indulge in as much Italian food as they desire during the tour.
"The passion of our guests have helped make Never Ending Pasta Pass an annual phenomenon," MaryKate Rosack, Olive Garden's director of marketing, told TODAY Food over email. "Now, with the introduction of our Pasta Passport to Italy, we're excited to send our biggest superfans on a trip of a lifetime."
Those "superfans" are indeed already freaking out over the return of the pasta deal:
Both types of passes will be available at PastaPass.com for one hour beginning Thursday, Sept. 14 at 2 p.m. ET. but in the past, they've usually sold out within just a few seconds once the link to buy them goes live.
We're betting these passes, especially those Passports, will sell out fast again this year, so you may want to be prepared at your keyboard early if you want to nab the deal.