Forget fighting villains: Bruce Wayne of Tiffin, Ohio — not to be confused with Bruce Wayne of Gotham City — has better things to do than destroy than the Joker. In 2016, Wayne set his sights on crushing the previous record of 425 consecutive days of meals eaten at the fast casual chain Chipotle. And he finally claimed victory on Dec. 30.
Wayne (yes, that's his real name) told TODAY Food that his celebratory order was a steak quesarito. "I think they packed a little extra in," he said. "What I ate that day could have fed a family of four."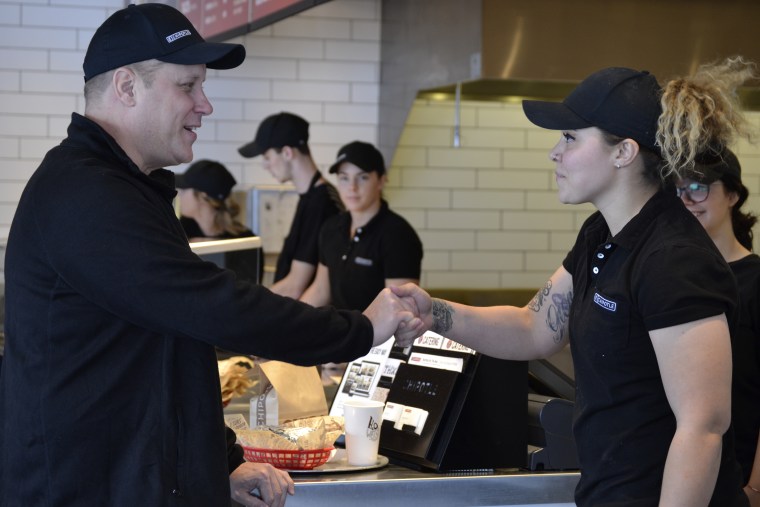 To honor Wayne's achievement, Chipotle employees and a group of friends gathered at Wayne's "second home" in the Tiffin Chipotle and presented him with a custom-made Chipotle superhero cape and cufflinks.
"To say that day was memorable would be an understatement," Wayne told TODAY Food. "My heart is SO full," Wayne posted on Instagram, where he's been chronicling his efforts. Fans responded, calling him a "hero," a "legend" and "inspirational." Chipotle also pledged to donate the amount Wayne has spent at the restaurant over the past year to a charity of his choice. Wayne choice FACT, an Ohio-based nonprofit that provides financial assistance to people diagnosed with cancer.
Wayne began his quest on Oct. 31, 2016, with a $3 Steak Boorito bowl (an annual promotion for Halloween). He posted on Instagram "And so it begins."
He was initially aiming for 426 days to beat the previous record of 425 days, held by Devin Cunningham of Bellevue, Washington. Wayne told TODAY he came across Cunningham's story after researching "healthier choices in dining out" and looking for some sort of challenge he could do involving Chipotle.
Keeping the streak going required a little planning, however. As another previous Chipotle-record holder, Andrew Hawryruck, told TODAY in 2015, it can be "nerve-wracking" to schedule all those Chipotle visits.
"Before I I even go out of town, I know where the nearest Chipotle is," Wayne told TODAY Food. And since Chipotle was closed for Christmas, he bought an extra bowl the day before to take home. Though that's nothing compared to the challenges presented to Cunningham, who once had to drive to Canada to stockpile two week's worth of Chipotle burritos to continue his streak.
But was there ever a day when Wayne just didn't want to eat food from Chipotle? "Not a single day," he told TODAY. (Pro tip: One of his secrets is pouring Chipotle's vinaigrette on just about everything he orders. "It's a flavor home run.")
So are there any hard feelings among the Chipotle-eating titans of the world? Cunningham's reaction to having his record broken was pure class. "He gave me a shoutout on Instagram and he got Chipotle to celebrate," Wayne told TODAY Food.
Although he's now the reigning Chipotle champ, Wayne says he's "not close" to ending his streak. He said that he has a number of days in mind he'd like to reach, but admitted, "Truthfully, I give anyone who asks a different number." He's still enjoying the challenge and is hoping it can somehow translate into more donations to charity. And while he jokes that it's been awhile since he's had a six-pack like Devon Cunningham, he claims he's stayed healthy on the Chipotle diet. "I am happy with my weight," he told TODAY. "I am happy in general."
So that just leaves one question for Bruce Wayne: Who would play him in a movie? "Affleck is my Batman," he says. You heard it here first!