The last thing you need — or want — while making your morning smoothie is a blender that explodes.
But according to a lawsuit filed in November, at least 22 people are alleging that is exactly what happened when they used a powerful NutriBullet blender. This isn't the first time safety concerns have been raised about the device, but how do you avoid becoming a victim if you're an avid NutriBullet user? TODAY Food talked to culinary experts to find out how blender owners can protect themselves from potential injury and alternatives to consider in the kitchen.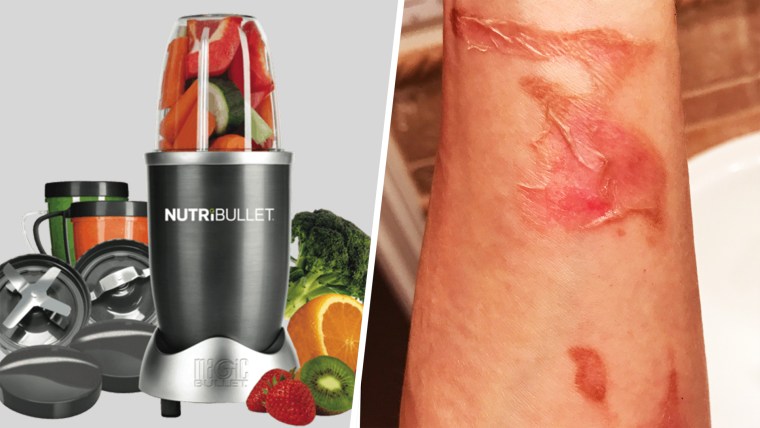 Doug Rochen, an attorney representing some of the people who allege that they've been severely burned by exploding NutriBullets, told TODAY that when the alleged incidents occurred, his clients were using the devices correctly (with cool or room temperature ingredients), but that a manufacturing defect caused pressure and heat to build up in the blender pitchers, making them blow up.
He added that more people have come forward with claims and his firm, ACTS Law, is currently running ads seeking additional people who've been injured by the blender.
However, NutriBullet attorney Michael Suzomoto told Fox News that the likely culprit is misuse of the blender and, in a statement, NutriBullet said, "Reports of blenders, which have operated normally for years, suddenly turning cool ingredients into scalding hot mixtures after less than 20 seconds of normal operation are perplexing and contrary to the hundreds of millions of uses by satisfied NutriBullet customers worldwide."
While an investigation is ongoing to determine the cause of these accidents — and who or what may actually be at fault — there are some easy precautions that you can take when using a NutriBullet, and all blenders, as safely as possible.
Marilyn Haugen, author of "175 Best Superfood Blender Recipes: Using Your NutriBullet," says she used the NutriBullet at least 300 times in the span of two months to test recipes for her cookbook, and continues to use the machine at home several times a day.
"I've never had any problems with it," she told TODAY Food. We asked Haugen to share her NutriBullet safety tips.
Read the safety manual! While Rochen claims that most people don't read instruction manuals, it's a pretty good idea to do so with any powerful kitchen device. "There are five pages of safety tips in the manual highlighted in red — you can't miss it," Haugen said.
Never blend for more than one minute. "For almost everything, I would use it for 30 seconds at a time, jiggle it around, and then blend for another 30 seconds. When it gets close to the minute mark, it can start smelling like rubber burning on tires, turn it off!"
Never blend hot items in the NutriBullet. It may work in other blenders, but this machine is not designed to handle warm or hot liquids.
Don't fill it over 2/3 full. "Stuff starts oozing out of the cups and can get into that base unit — it's a sticky mess that can kill the motor over time."
Keep the machine clean and avoid putting the blades in the dishwasher. "Just clean it immediately and hand wash it if you can. Small prongs on the cups can break and then the blade won't fit as well. There's a rubber ring around the edge of the blade that seals it tightly to the cup [and] the heat from the dishwasher can damage it or change its shape, and it won't seal properly when blending."
Don't try blending just ice or mostly ice. "You need to have plenty of liquid in there so it won't overheat."
If you don't want to take a chance with the NutriBullet, there are plenty of other high-speed blenders on the market that will do what the NutriBullet does — and much more.
These items were hand-picked by our editorial team because we love them - and we hope you do, too. TODAY has affiliate relationships, so we may get a small share of the revenue from your purchases. Items are sold by the retailer, not by TODAY.
Consumer Reports rates three models of the Vitamix as the best-tested blenders, but at $530 to $650 a pop, they're a huge investment. You can get a refurbished Vitamix for about half the cost (I've had mine for three years, use it multiple times a day and have never had any issues).
For more affordable options, the Dash Chef Digital Series ($158) and the Ninja Professional NJ600 ($100) also received high marks from Consumer Reports.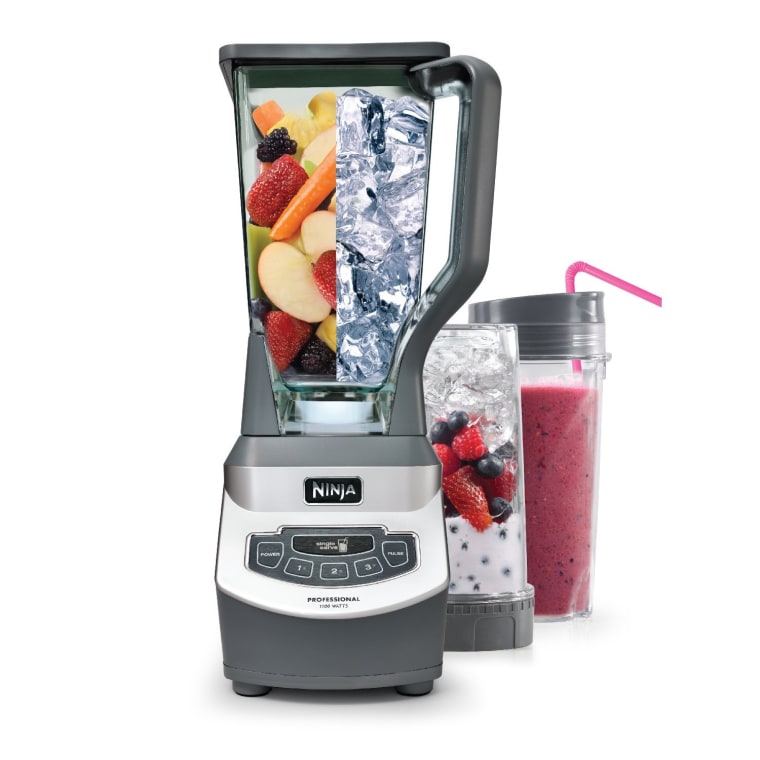 "I love my Vitamix, but I don't think everyone needs one," said Celine Beitchman, a chef instructor at the Natural Gourmet Institute, a health-supportive cooking school in New York City.
"I like an immersion blender for blending soups right in the pot and my food processor for making chunkier mixtures and shredding vegetables in a flash. Professional blenders by Oster, Cuisinart, and other trusted brands are workhorses and great for everything from smoothies to pesto, and are easily 1/20th the price of a Vitamix."
But if you're looking for something that can handle heavier-duty tasks like crushing ice or "grind greens into a liquid," Beitchman suggests "a bar blender which will cost a little more than a general-use one, but with a stronger motor it may be worth the price."
No matter what blender you end up using, keep safety in mind. "Probably the most common mistake I've encountered is my students not checking that all the parts of the machine are intact and working, and that the little plastic insert that fits into the lid isn't in the bottom of the plastic or glass pitcher. I've seen many a little plastic insert gobbled up by those strong blades!" Beitchman said.
Added the chef, "Also, set the dials to 'off' or zero, so when you plug it in, food doesn't go flying around the room!"
Unlike the NutriBullet, other high-speed blenders are able to grind up hot food without any issues, but you still have to be smart while cooking. "Blend in batches," Beitchman advised. "You want the ingredients below the half-way point on your pitcher so there's room for mixing and for steam to vent."
And while you're blending? Make sure to cover the seam between the lid and the pitcher with a kitchen towel. Beitchman recommends draping a towel over the lid and holding it in place, "so if there's any spurting out of hot liquid or steam, you're protected."