Diehard Nutella fans may have noticed a slight difference in their favorite chocolate-hazelnut spread in recent months — but it took a little bit of sleuthing to figure out exactly what changes had been made to the popular product.
On Nov. 2, the Hamburg Consumer Protection Centre, a consumer agency based in Germany, flagged the noticeably lighter-colored, newer version, and hypothesized that Ferrero, Nutella's parent company, had tinkered with the beloved original recipe.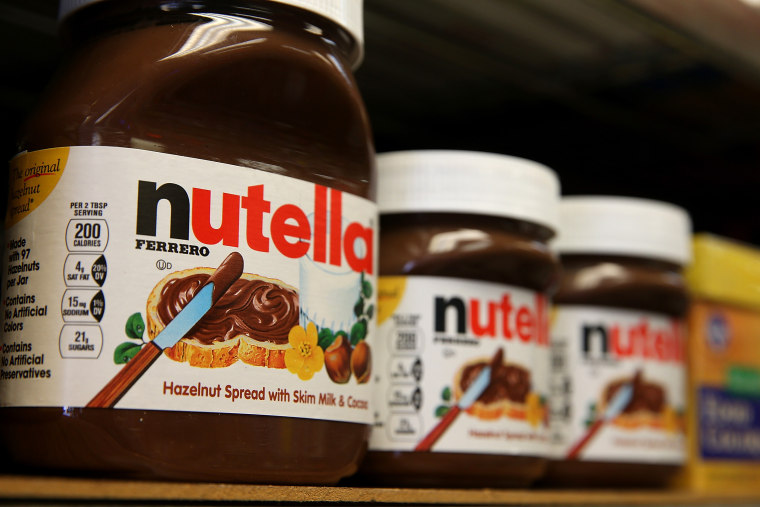 According to the center's Facebook page, Ferrero, an Italian manufacturer of chocolate and confectionery products, quietly altered the recipe to have a higher sugar content, while decreasing the amount of cocoa used.
"Ferrero has been the first to change the recipe of Nutella for many years," the now-viral post reads. "The proportion of skimmed milk powder is now 8.7 % in the list of ingredients. Since the colour [sic] of the new nutellas [sic] is brighter, we assume that more milk powder was added at the expense of cocoa.
"Cocoa slipped back in the list of ingredients."
According to its Facebook page, the Hamburg Consumer Protection Centre serves as a watchdog for "age-appropriate nutrition," "food waste," and "additives" in common consumer products. The consumer center further alleges that Ferrero "does not want to give its customers too much transparency."
In the week following the center's post, Twitter users have had a figurative meltdown, using the hashtag "#NutellaGate" to bring attention to the sly recipe change.
A representative for Nutella confirmed to TODAY Food that while there has been "a small fine-tuning of the Nutella recipe," any changes that have been made are "only minimal in relation to the whole product, and all relevant nutritional aspects remain similar."
According to a statement issued by Ferrero sent to TODAY Food, that fine-tuning consisted of "substituting whey powder with an equivalent quantity [2.1 grams per 100 grams] of milk powder (from 6.6% to 8.7% of total product)."
"This enables [Ferrero] to improve the overall quality of the milk content and to ensure a better consistency of our unique taste over time," the statement continued. "That's all. Our recipe contains seven simple ingredients, with no colorings and no preservatives."
The representative added that the "amount of total sugar has not increased," countering the consumer group's claims. "Quality and sourcing of all other Nutella ingredients have remained the same." The company also reiterated that the new formulation passed "numerous" taste tests among consumers.
The representative confirmed that the recipe's "fine-tuning" took place this summer and that the change affected all Nutella products, not just those available and flagged in Germany.