Get ready to revolutionize your life. Well, at least your wine-drinking life.
Mirabeau Wine is out with a new video that talks us through how to open a bottle of wine without a corkscrew. All you need is a bottle, a shoe, a wall and a thirst for wine — a thirst that cannot wait for someone to ask a neighbor to borrow a corkscrew. Luckily, those things are all pretty easy to come by, if you ask us.
First, you remove the protective foil covering the top of the bottle (known as the "capsule.") Then, you place the bottom of the bottle inside the shoe to protect the glass, and then bang the sole of the shoe against the wall repeatedly until the cork eases out of the bottle. It looks so easy!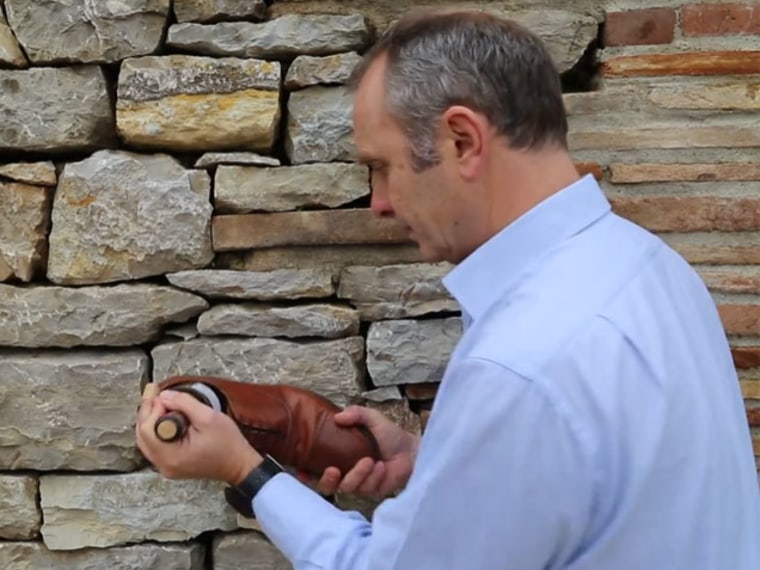 But is it? You tell us what happens when you try it (gingerly the first time) at home and see for yourself. We tried it in our offices and it didn't do the trick — but to be fair, we tried it with a plastic-corked bottle (don't judge). You may have more success with real cork. 
Also: Don't try this with your most prized bottle, because shaking it could damage the wine. But we're thinking this would be amazing for picnics as the weather warms up (as long as there's a wall in the park!), and at parties where the corkscrew is nowhere to be found. How cool would you look in front of your friends? 
By the way, if you have $300 to spare, there's another way to enjoy a bottle of wine without uncorking — the Coravin, a gadget that pierces the cork and pressurizes the bottle so no oxygen gets to the wine. We love how easy it is to use and that it allows us to nurse an expensive bottle over a few days, weeks or months. Sure, it's pricey. But so are our shoes. 
Alesandra Dubin is a Los Angeles-based writer and the founder of home and travel blog Homebody in Motion. Follow her on Facebook, Google+ and Twitter.