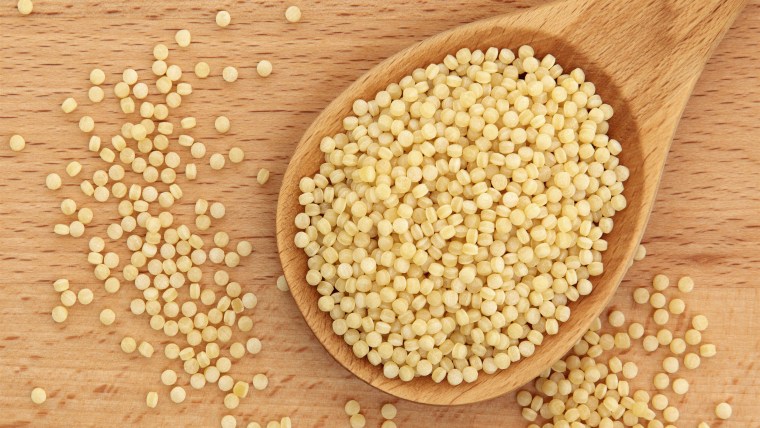 No inclination to turn on your oven and cook dinner? We don't blame you—it's hot out there! But you can still eat healthy, flavorful homemade meals if you take advantage of a secret weapon: nutritious, filling grains like couscous, quinoa and bulgur. They can all be cooked ahead over the weekend and stashed in the fridge; they'll keep all week! These toss-together dishes serve four, and all are a snap to make. Hint: Some taste even better the next day. For more summery ideas, check out the complete recipes and shopping list for our No-Cook Week.
Tip: To steam a batch of bulgur, quinoa or couscous, bring three cups water to a boil. Pour in 1 1/2 cups of the grain, then cover and remove from the heat. Let the grain steep for 15 minutes until it has absorbed all the water and doubled in size. Fluff with a fork before serving, and cool to room temperature before refrigerating.
Tuna Niçoise
Go French—and no-fuss—with this bistro classic, updated with nutty, nutritious bulgur. Toss together:

2 cans Italian oil-packed tuna (undrained)

4 hard-boiled eggs, sliced into rounds or wedges

1 cup steamed green beans sliced into 2-inch lengths

1 cup pitted and sliced kalamata olives or other black olives

3 cups precooked bulgur

Season with salt and pepper, and a squeeze of lemon to taste.
Lemony chicken couscous 
One quick vinaigrette and a rotisserie chicken make this hearty dish a no-brainer. Whisk the juice of one lemon with 1/4 cup extra virgin olive oil, a pinch each of salt and pepper, and one tablespoon minced fresh oregano. Toss the dressing with:
4 cups shredded rotisserie chicken

3 cups precooked couscous

Salty-sweet watermelon and quinoa salad
The traditional savory watermelon salad gets even more summery when you mix it with corn and fresh mint. Toss together:

1 pound watermelon, cut into bite-sized cubes

2 ears corn, removed from the cob (have a bundt pan? use this quick tip to slice kernels off fast!) 

1 cup crumbled feta cheese

2 tablespoons julienned fresh mint

3 cups precooked quinoa

Season with salt and olive oil to taste.
Shrimp "sushi" salad 
Throw together this cool, refreshing salad—inspired by fresh sushi rolls. Whisk two tablespoons unseasoned rice vinegar with one tablespoon granulated sugar and 1/4 cup vegetable or grapeseed oil to make a light vinaigrette. Toss the dressing with:

2 dozen small, peeled precooked shrimp

1 avocado, diced

1 cup seedless cucumber, peeled and diced

1 tablespoon toasted sesame seeds

2 scallions, minced

3 cups precooked bulgur

Optional: 1/2 cup shredded wakame, soaked and drained (found in the international foods section of specialty supermarkets)

Broccoli and quinoa salad
Boost your potluck cred with this superfood version of the picnic staple. Whisk together 1/2 cup nonfat Greek yogurt with two tablespoons white wine or Champagne vinegar and two tablespoons honey. Toss the dressing with:
1 pound steamed broccoli florets

1 cup roughly chopped toasted walnuts

1/2 cup dried cranberries

3 cups precooked quinoa