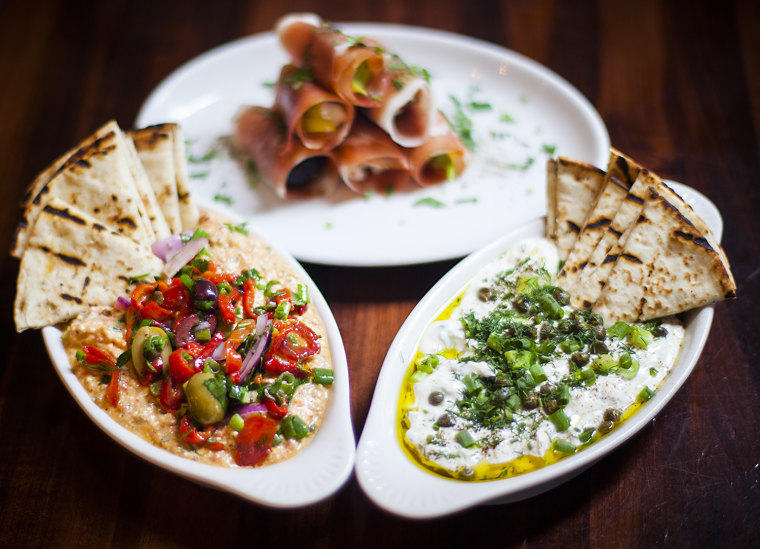 For dinner, lunch or brunch this weekend, pull together a vibrant Mediterranean mezze (or tapas) platter instead of a labor-intensive main course. The best part? There's nothing to cook. Just assemble the ingredients according to chef Michael Psilakis's easy recipes, then gather friends or family and dig in. Hint: Don't forget to put a bowl of olives and some warm pita bread on the table to round out the meal. For more great summer ideas, check out the complete recipes and shopping list for our No-Cook Week.
No-cook Mediterranean mezze platter, by chef Michael Psilakis of Kefi, Fishtag and MP Taverna
Serves 2-4

Figs stuffed with feta and wrapped with prosciutto
10 ripe black Mission figs

3 to 4 ounces feta cheese, in a block

2 small, picked sprigs of thyme, leaves only

Cracked black pepper

10 thin slices of prosciutto 

Halve the figs through the stem (if you find very large figs, quarter them). 
Scoop up about 1 teaspoon of the feta and place in the center of the cut side (the feta should be just big enough to cover the pink part of the fig). 

Push a few little leaves of thyme into the cheese and grind a little pepper over the top.

Halve the prosciutto slices crosswise. Place a stuffed fig on one short end and wrap up snugly. 
Prepare the remaining figs in the same way. Serve the figs as is. 


Cucumber-garlic tzatziki

1 English cucumber, peeled

10 cloves garlic, smashed and finely chopped

1 cup distilled white vinegar

4 shallots, thickly sliced

1 cup small, picked sprigs dill

2 ½ cups strained or Greek yogurt

2 tablespoons extra-virgin olive oil

2 tablespoons fresh lemon juice
Kosher salt and cracked black pepper
Quarter the cucumber lengthwise and trim off the triangular wedge of seeds. Cut the cucumber into a very small, even dice. Transfer it to a mixing bowl.
In a food processor, combine the garlic, vinegar, shallots and dill. Pulse until finely chopped but not pureed. Add the mixture to the cucumbers; add the yogurt. 
Fold together with a rubber spatula, adding the olive oil and lemon juice. 

Season liberally with kosher salt and pepper, starting off with 1 tablespoon salt. Taste for seasoning.  

You can store tzatziki in a covered, clean jar in the refrigerator for up to one week.

Roasted pepper and feta spread

Extra-virgin olive oil

Kosher salt and cracked black pepper

1 cup crumbled feta cheese

2 fire-roasted red bell peppers, store-bought, cut into strips

1 to 2 pepperoncini (pickled yellow peppers) to taste, sliced

½ teaspoon dry Greek oregano

2 pinches ground coriander

2 pinches ground cumin

4 small, picked sprigs parsley

4 small, picked sprigs dill

1 tablespoon snipped chives or scallion greens, sliced

¼ teaspoon grated lemon zest

In a food processor, combine all ingredients and process until very smooth. Taste for seasoning but be careful not to add too much salt, as the feta is very salty.