Looking beyond shakers and muddlers, the most advanced mixologists are now using unusual tools like sous vide water baths, vacuum pots and even paint-can shakers to expand their repertoires of delicious cocktails.
In New York City at Momofuku Ssäm Bar's new experimental bar annex, Booker and Dax, the French Culinary Institute's director of culinary technology Dave Arnold has brought in cutting-edge equipment. Though some of Arnold's techniques are captivating for patrons—the Red Hot Poker, for instance, rapidly heats winter cocktails before your eyes—he's less concerned about showmanship. "The concept of the bar is to use any means at our disposal to make delicious drinks," Arnold says. "We're not primarily focused on interesting presentation."
The Bangkok Daiquiri is one of Arnold's favorite examples. By employing technology he calls "nitro muddling," his team can avoid the unpleasant side of muddled herbs: namely, pieces of bruised, dull-colored vegetation getting caught in your straw or your teeth. In a mixing tin, he pours liquid nitrogen over fresh Thai basil, freezing it. The frozen basil is muddled with rum, topped with lime juice and simple syrup, then shaken. When the drink is strained through a tea strainer into a glass (pre-chilled with liquid nitrogen), only minute flecks of vividly green basil come through.
Relatively straightforward orders benefit from behind-the-scenes preparation. Manhattan cocktails are made in advance for consistency and pre-bottled in individual servings with liquid nitrogen to stave off oxidization. Though not as visually striking as a glowing poker or flash-frozen basil, according to Arnold, the wow effect is still there because the drink is not diluted with ice and there's enough extra left in the bottle for a second pour. "We actually serve you more liquid than can fit into your coupe," he says, "which people seem to enjoy."
Here's where to find more high-tech cocktails: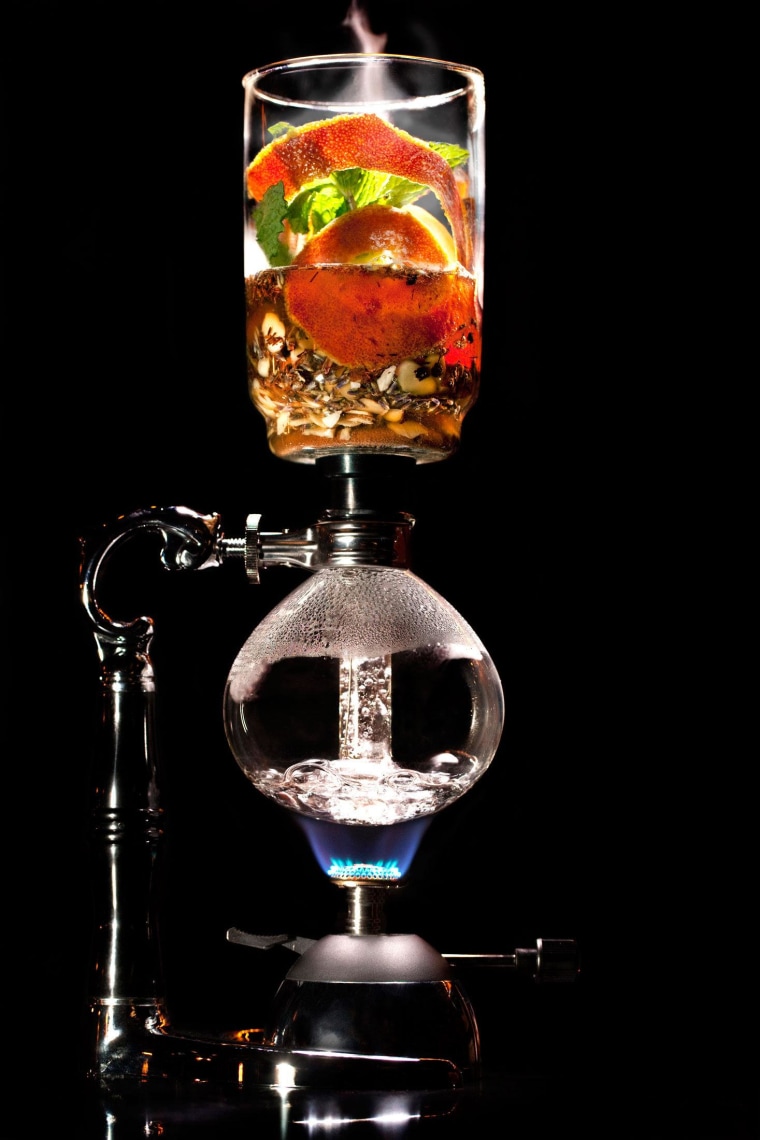 Aviary, Chicago: At Grant Achatz's buzzy state-of-the-art cocktail lounge, expert mixologists use a double-chamber vacuum pot to create the Rooibos cocktail tableside. In the bottom pot, gin is heated over a flame until it's sucked into the upper pot where it is infused with Rooibos tea, grapefruit, lemon zest, crushed almonds, herbs and spices. When the heat source is removed, the drink gets muddled back into the lower pot and served warm.
The Cocktail Bar at the Windsor Court Hotel, New Orleans: The newly opened lounge borrows sous vide techniques from the kitchen for the Lion Amongst Ladies cocktail. The sealed mix of herbal Damiana liqueur, lemon, flamed orange peel and tequila is infused with kumquats in a warm, sous vide bath over the course of two hours.
Citizen R+D, Phoenix: At this bar-cum-research-lab, mixologist Richie Moe creates ice-cold rum-based Paint Can Punch with a repurposed antique paint-can shaker, which is so loud and vigorous that it shakes the room. Also in his workshop: a cold-drip coffeemaker used to make a Three-Hour Margarita, which for obvious reasons needs to be ordered well ahead of time.
Bourbon & Branch, San Francisco: The Bay Area's popular speakeasy offers classes in molecular mixology for the home bartender. The class covers everything from foams and spherification to working with liquid nitrogen. Students are encouraged to invent and test their own high-tech tipples.
More from Food & Wine: