We all remember the iconic oozy green slime from the Nickelodeon Kids' Choice Awards — and almost all 1990s tweens dreamed of getting "slimed" alongside Jesse McCartney and Victoria Justice (or Alasdair Gillis on "You Can't Do That on Television" if you were a kid in the 1980s).
Now, we finally have the chance. That's because Nickelodeon's recreated the bright green goo as a ketchup-like "slime sauce" which retails for about $2.28 and is now available exclusively at Walmart.
Once the slime sauce arrived at TODAY headquarters, we decided that we had to taste test the neon ooze.
Several editors found the color so startling that they refused to try it. Many, however, who were brave enough to taste it thought that the slime sauce had pleasant flavor, but a thinner consistency than normal ketchup. One of our co-workers pointed out that the green goo is perfect for Halloween parties!
"It really does taste like a watery, but pretty delicious ketchup. Looking at it, I would expect it to taste greener, like kale," said one taster.
Overall, our tasters liked the flavor of the slime sauce and would be willing to eat it on burgers and fries, although one noted she might have to close her eyes while eating. Another taster noted that the slime turned her tongue bright green!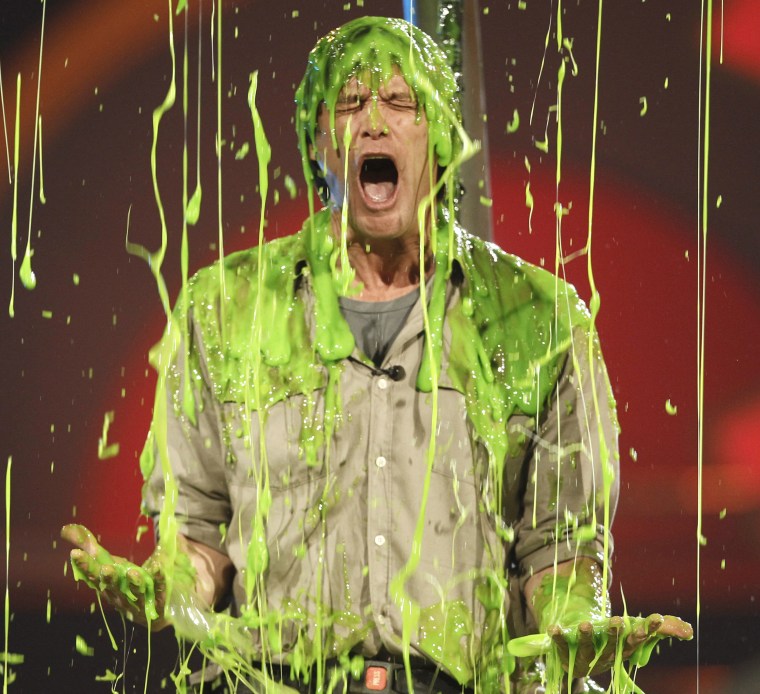 The opaque lime green color is a bit shocking at first (it even rivals the new dill pickle juice slush at Sonic) but after the first few bites people seemed to get used to the idea. It really tastes just like normal ketchup, only with a splash of nostalgia as an added bonus.
While the new bottled slime is a savory sauce, the original green concoction was actually very sweet, "Double Dare" host Mark Summers recently revealed to The Daily Meal.
"Back in the day it was officially made out of vanilla pudding, apple sauce and green food coloring because the insurance company that covered our show said that if it got in kids mouths it had to taste good and it had to be edible," said Summers.
These days, the rebooted show uses a different formula: "Now, they've got a whole other way of making it that is edible, but we have a company that makes slime especially for us — I don't know exactly what's in it but from what I understand, it tastes pretty good!"
For the casual home slimer, squirting on the new bottled sauce is oddly fun and overall our inner 1990s selves seemed satisfied to say the least.
Want to try it yourself?
Slime Sauce, $2, Walmart