Toblerone is changing its chocolate bar's iconic packaging as the company moves to comply with new "Swissness" laws. But don't worry: The chocolate will stay the same.
The wrapper will no longer include the Matterhorn mountain logo, and will remove its reference to being "Swiss chocolate" on the front of the bar, Toberlone's parent company Mondelez said in a statement to TODAY.com.
"For legal reasons, we have to adapt our packaging to the Swissness legislation and, among other things, remove the Swissness notice on the front of the Toblerone pack," Mondelez said in the statement, adding Toblerone bars will still continue to be produced in Switzerland.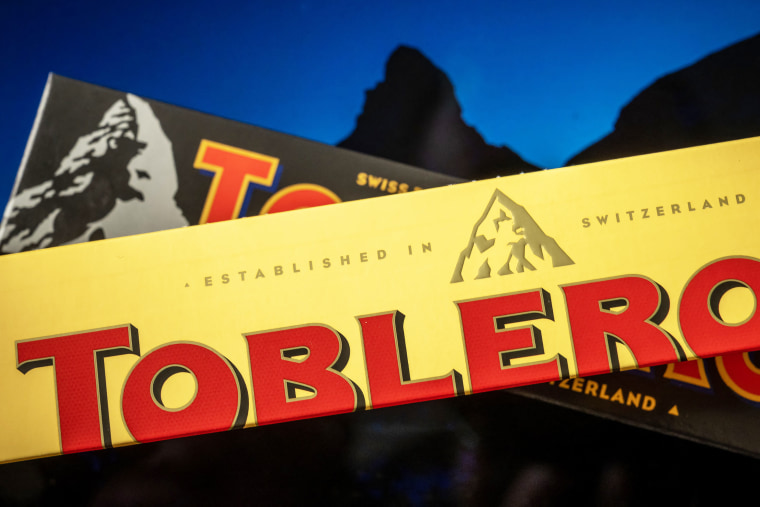 Switzerland's "Swissness" laws have been in place since 2017, and requires any product advertising that it's made in the country to pass a set of criteria.
For food, at least 80% of the raw materials must come from Switzerland, and for milk and dairy products, 100% of the milk must be taken into account, including processing stages, according to the Swiss government.
These regulations help protect the credibility and value of the Swiss label, the government says, citing studies that show the value added by the Swiss brand can be up to 20% for certain products, and up to 50% for luxury goods.
The bar's redesign will feature a new mountain logo that is "consistent with the geometric and triangular aesthetic," Mondelez said, and will retain its famous hidden bear outline on the mountain.
"The other changes to the packaging also reflect Toblerone's heritage," the company said. "The font and brand logo are inspired by the Toblerone archives and include the signature of our founder Tobler."
The move comes after Mondelez said it will be moving some production to Slovakia in July, CNBC reported.
Mondelez said the bars will still be produced in Switzerland and that it will continue to invest in its factory in Bern, Switzerland.
The company said the investments will allow it to increase production of chocolate bars in the "medium to long term," and ultimately producing 90 million additional bars per year.
"Berne plays a central role in Toblerone's history and will continue to do so in the future," the company said.