SpongeBob always says he's "ready," but is he ready for his gumball eyes to be taken from him?
Popsicle has confirmed to TODAY.com after rumors bubbled up online that the SpongeBob SquarePants Popsicle will no longer have gumballs for eyes.
On June 5, Instagram user @markie_devo posted to his more than 90,000 followers about the change. In the post, the snack-focused influencer shared apparent news that the SpongeBob Popsicle, which has been delighting children with its fruit punch and cotton candy flavors since 2001, will have chocolate for eyes rather than gumballs.
"Wait a forking min here!! What in the heck did they do to the Spongebob Popsicle?" writes @markie_devo in a post with hundreds of comments and thousands of likes. "Welp, like all good things that come to an end…The Spongebob Popsicle will no longer have gumball eyes!! The flavor remains the same, fruit punch & cotton candy. The eyes are now (chocolate.)"
As of this writing, the SpongeBob Popsicle on the Popsicle site still has an image with gumball eyes, but they are indeed on the way out.
"The Popsicle brand is always looking for ways to improve their products and made the decision to remove the gumballs," a Popsicle representative tells TODAY.com in an email. "Gumballs will be replaced with a thin chocolatey layer for the eyes instead. This new version is available in stores now. We know that this product is beloved by many, and we hope our fans will enjoy the new and improved design."
News of a summer without the unique pleasure of chewing on a talking sponge's sugary eyeballs has obviously hit the public hard, with many folks taking to social media to lament.
"Bro @Popsicle why did you change the eyes to the SpongeBob Popsicle," asked one Twitter user.
"Whos idea was it to change the eyes from gum to chocolate with the spongebob popsicle," asked another. "Why is he so wide now?"
"I'm sorry why would I want chocolate with my fruit punch and cotton candy ughhhhh always gotta ruin a good thing," commented someone on Instagram.
"This is an absolute crime against humanity," commented another. "Farewell gumball spongebob, you'll be missed."
"I'm gonna need you guys to bring the old spongebob popsicles back I'm so distraught right now," tweeted another person, to which another replied, "Taking away the gumball eyes is insane."
"They took the gumballs off the spongebob popsicle and replaced them w chocolate chips," wrote another. "End of times."
Still, some users welcomed the change.
"Tbh I never liked the gumballs," commented one TikTok user.
"I always picked off the gumballs when I ate these, not a huge loss imo," wrote another.
There's one party particularly interested in this change: Social media star Brent TV, who has devoted a large portion of his online life to finding the perfect Spongebob Popsicle for his more than 3 million YouTube subscribers.
He even got the attention of Big Popsicle, who sent him a case of its SpongeBob pops in 2021 to aid in his quest.
"This cannot be happening," says Brent TV in a TikTok that garnered 2.7 million views in less than two days, detailing his journey in finding out the truth. "What are you doing? I cannot believe after 21 years they would replace the iconic gumball eyes Popsicle."
Although Popsicle has remained tight-lipped on the exact reason for the change, a quick jaunt over to its product page will uncover more than a few reviews from customers complaining that their SpongeBob pops either were missing one gumball eye or came without any gumball eyes at all.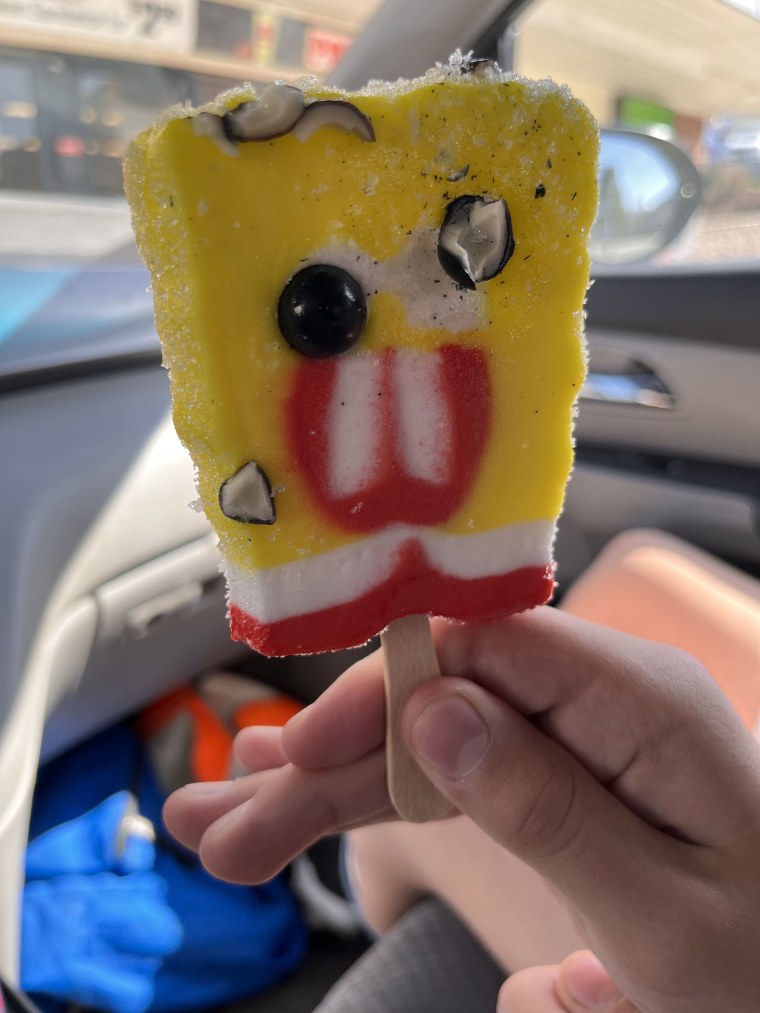 But some folks on social media are reporting that there are still some gumball-eyed SpongeBobs out there. So for fans wanting to have one last taste of bubblegum nostalgia, do a little digging and you might just find the endangered treat in your local freezer section.