A couple has filed a lawsuit against a decades-old Korean restaurant over claims they found a rodent in their takeout order.
On March 15, a complaint was filed with the New York County Clerk over what a couple, Eunice Lucero-Lee and Jason Lee, allege is "negligent infliction of emotional distress" regarding a meal ordered from a Gammeeok, a Korean restaurant in Manhattan's Koreatown (aka K-town).
"After seeking legal counsel, my husband and I now feel free to share something that happened to us over the weekend," Lucero-Lee wrote in an Instagram post on March 13. "We ordered in from a well-known restaurant called Gammeeok in K-Town and found the most disgusting thing in our food."
The second slide in the Instagram post shares a video of what appears to be a dead rodent in a takeout container of soup with rice, vegetables and beef. "So disgusting. There's a dead rat in our soup. We just puked," Lee says in the video. Images from the post are attached to the complaint.
The subsequent slides show close-ups of what appears to be an animal's remains floating atop the dish.
Before the couple disabled comments on their Instagram post, citing the now-ongoing lawsuit against Gammeeok and Hanpool Inc., which owns both the location in question and a New Jersey location, the restaurant responded to the claims in the comments section refuting the presence of the rodent in the couple's order, according to Eater.
"Hi. This is Gammeeok. We are sorry for this situation. What is posted on SNS is not the truth. We have been regularly inspected every two weeks by a disinfection company for several years, and there have been no traces of mice," the comment read. "They demanded money and threatened, and since we refused, they are attacking us through social media. Therefore, we plan to take legal action."
Multiple calls and emails to Gammeeok and Hanpool Inc. went unreturned to TODAY.com.
However, on March 15, Gammeeok shared a trio of posts on its Instagram refuting the claims of the couple. In addition to a screenshot of a comment and a Yelp review the restaurant claims the couple left previously, the account posted a video showing a security feed of cooks in a kitchen, with an extensive caption recalling the restaurant's side of the incident, although said video has no visible timestamp.
"This is Gammaeok. It is understandable but regrettable that public opinion has deteriorated," reads the Instagram post in part, saying that the food was delivered by Gammeeok to the couple through Uber Eats. "If a 'rat' came out, it could be argued as evidence saying 'Look at this' when they came to our store, but we didn't see any real thing."
In a detailed caption, Gammeeok mentions that a manager told the couple he would give them an Uber Eats refund and a $100 gift card "in the spirit of always treating customer complaints in keeping a low profile, but he immediately asked for $5000."
Uber Eats, which was not named in the complaint, declined to comment on this story.
Gammeeok's Instagram caption also details an apparent argument over a hospital bill, a disagreement over restitution, and that they planned on hiring a lawyer.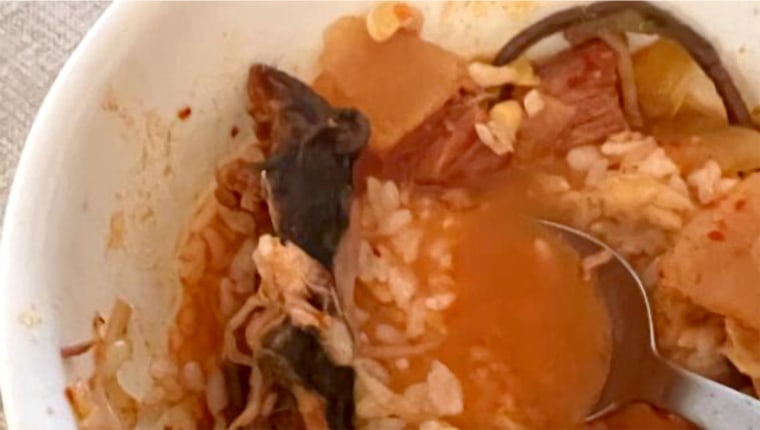 Lucero-Lee and Lee emphasized in the final slide of their Instagram post that they do not condone any racist interpretations of the alleged events.
"Also: We have been going to this restaurant for a decade and are otherwise proud supporters of Asian cuisine and culture," they wrote. "This incident is in no way to be used to fuel race-based hate or prejudice and I will have an issue with anyone who uses these posts to fit that narrative."
Lucero-Lee told NewsBreak by email that the couple ordered sogogi gukbap, which is a spicy beef soup served with rice. Gammeeok's menu lists an item, Beef Gukbap, which is a "Spicy ox-bone broth with beef brisket and vegetables," according to its website.
When reached for comment, Lucero-Lee put us in contact with their legal counsel, Carrion Accident & Injury Attorneys, who provided a copy of the filing to TODAY.com.
The court filing outlines the events in question, describing how the now-plaintiffs began eating their meal on March 11 when they observed that there was a rodent in their food. The document provides further photographic evidence to bolster its claims, showing another image of what appears to be the rodent on its back, with teeth, nose and paws all visible.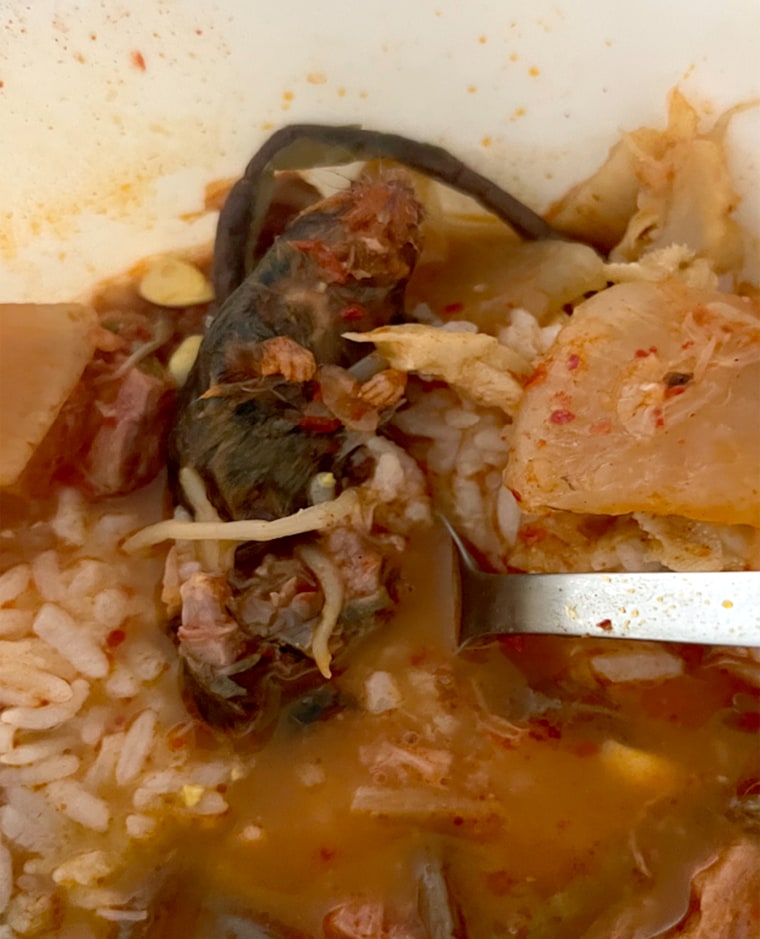 "Upon observing this, plaintiffs became disgusted and violently sick, causing them to vomit and seek medical attention," the filing reads, adding that both Lucero-Lee and Lee sustained "severe, serious and permanent personal injuries." The plaintiffs do not list a monetary amount in the filing, but are seeking a "judgment against defendant in an amount in excess of the jurisdictional limits of all lower courts, including compensatory and punitive damages."
According to Lucero-Lee's Instagram caption, the couple reported the incident to the NYC Health Department. "Thanks to everyone for their support. Stay safe," they wrote.
The Office of New York City Mayor Eric Adams and the NYC Health Department both confirmed to TODAY.com that they have closed Gammeeok's Manhattan location.
"The Department of Health closed Gammeeok on March 15, following an inspection," a spokesperson for the NYC Health Department told TODAY.com. "No New York City restaurant is authorized to have mice or rats on the menu and we are investigating further. Our top priority is protecting the health of New Yorkers and if a restaurant has conditions that threaten our city's diners, they will be shut down."
According to the NYC Health Department website, Gammeeok's latest inspection on March 15 revealed 67 health code violations, including food from an "unapproved or unknown source" on the premises, animals "slaughtered, butchered or dressed (eviscerated, skinned)" in the establishment and "evidence of rats or live rats in establishment's food or non-food areas." Before this inspection, the eatery had a health code rating of C, which indicates more than 28 violations.
"Establishment is not free of harborage or conditions conducive to rodents, insects or other pests," the report reads, also mentioning violations over the shop's food protection certification, and that food, supplies or equipment were also found to be not "protected from potential source of contamination during storage, preparation, transportation, display, service or from customer's refillable, reusable container."
"My clients are deeply disturbed by this incident," Dennis Carrion, lawyer for the plaintiffs, told TODAY.com via email, in part. "My clients support small business owners but feel they must take action to do their part to help protect all New Yorkers. The public deserves to feel safe when they order food for their families."