The Girl Scouts' newest cookie flavor is making headlines once again.
The Girl Scouts of the USA introduced Raspberry Rally in August and announced it was the first cookie to be exclusively sold online. Called the sister cookie to the Thin Mint for its identical look and raspberry flavor instead of mint, the chocolate coated cookie was a hit and quickly sold out.
The cookie has now made its way over to eBay, selling well over the Girl Scouts' price of $5 or $6 a box. A quick search on the e-commerce company's website shows resell prices ranging from $15 to $180 for 10 packages — black market-like prices.
However, in a statement given to TODAY.com on March 3, Girl Scouts have expressed their "disappointment" in the "unauthorized resales" of their products, stressing that it deprives the organization of its proceeds.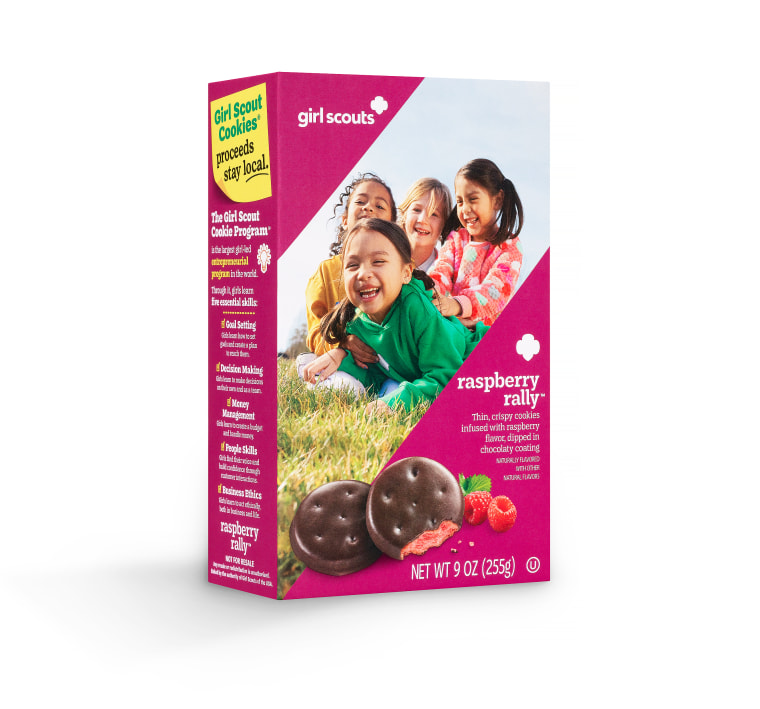 "Girl Scouts of the USA is disappointed to see unauthorized resales of Girl Scout cookies online through third-party e-commerce platforms. While we are happy that there's such a strong demand for our cookies year-over-year, we're saddened that the platforms and the sellers are disregarding the core mission of the cookie program and are looking to make a profit off of the name without supporting our mission and the largest girl-led entrepreneurship program in the world," a Girl Scouts of the USA spokesperson said. "When cookies are purchased through an unauthorized third-party seller, Girl Scout troops are deprived of valuable experience and, more importantly, proceeds that fund critical programming throughout the year."
The spokesperson noted that the only authorized points of sale are in person or online through a local Girl Scout troop.
"Girl Scouts of the USA, your local Girl Scout council, and our licensed cookie bakers cannot guarantee the freshness or integrity of cookies bought through unauthorized sites," the spokesperson added. "In many instances, these cookies are expired, or the sellers are using Girl Scouts' intellectual property without permission. We encourage everyone interested in purchasing Girl Scout Cookies to visit www.girlscoutcookies.org to connect with Girl Scouts in your community."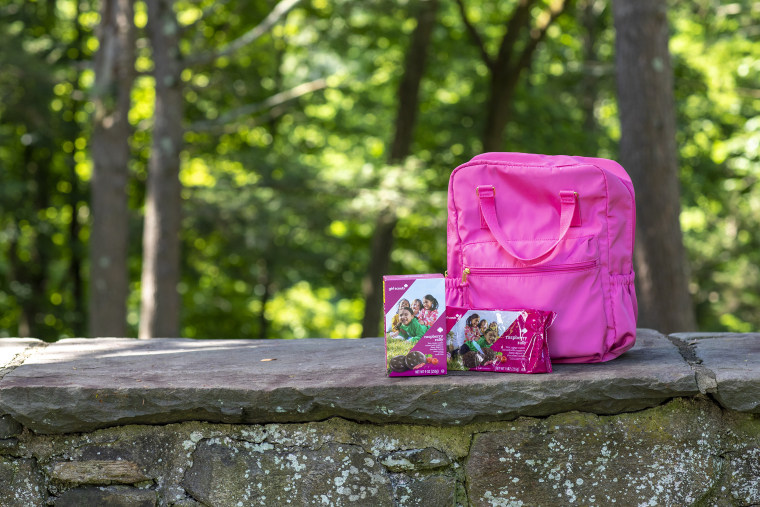 While the Raspberry Rallys are now being sold outside of the organization, in an email to TODAY.com, an eBay spokesperson noted that the sale of the cookies on their website don't violate their policies.
"eBay's purpose is to connect people and build communities to create economic opportunity for all," the spokesperson stated. "We strongly support the entrepreneurial spirit of hardworking local Girl Scout troops and encourage cookie-seekers to also support their local Girl Scouts, however the sale of Girl Scout cookies does not violate eBay policies."
For over 100 years, Girl Scouts have encouraged their members to build their business and entrepreneurial skills, as well as give back to their community while making friends and learning new life skills.
Girl Scout cookie season is among the organization's most popular programs and runs from January through April, with local programs varying.
Before the season began, the organization announced possible shortages or delays after "Little Brownie Bakers, one of Girl Scouts' bakers, reported projected inventory shortages for the 2023 season," per a previous press release.
This year, the selling of Raspberry Rally online was a way for Girl Scouts "to learn new skills and build their ecommerce business," the website states.
Proceeds of the annual cookie sale directly benefit local councils and Girl Scout troops. The event is also intended to teach the scouts "how to interact with customers to creating budgets and taking orders."
The Girl Scouts emphasized that they have plenty of other flavors in stock. For example, Adventurefuls, last year's new flavor, are back again this year and fully stocked.
"If you're buying these cookies at a huge markup, you could and should instead be using that money to support girls by buying other varieties or supporting the program in other ways," they said.