With this year's Oscars now behind us, it's likely many of the winners and nominees are recouping, sleeping off either the joy or the disappointment of the night, dresses and tuxes in garment bags waiting to be steamed. We know that, on the Champagne carpet, several of the well-dressed glitterati "ate," as the kids say, but what did they, like, actually eat?
On March 12, thanks to the chefs, caterers, waiters and even the Oscars host himself, we know that the attendees did not go hungry on Hollywood's biggest night.
As in past years where Jimmy Kimmel was tapped to emcee the event, attendees of the ceremony were treated to a goodie box under their seats provided by the primetime talk show host himself.
"We don't like it when people are hungry, so Jimmy provided snacks for everyone at the #Oscars and included a donation to the @LAFoodBank for each one!" tweeted the official account for Jimmy Kimmel Live.
In the box, attendees were treated to a bottle of water, candy like Good n' Plenty, Milk Duds or Hot Tamales, and a note from Jimmy Kimmel stating "Isn't this a nice surprise?" adding that a donation had been made to the Los Angeles Regional Food Bank.
Also provided in the snack boxes was a soft Philly-style pretzel from actor Adam Shapiro's Shappy Pretzel Co. The snack is not only a Kimmel favorite but a frequent mainstay in the craft services tables of many Hollywood productions.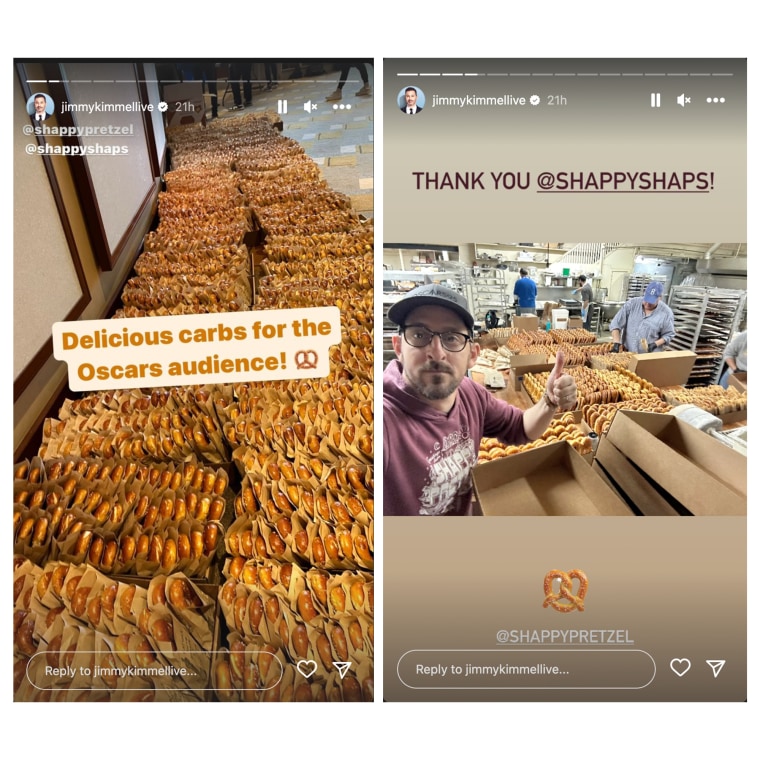 "I think we catered six out of the 10 nominees so there will be a lot of people sitting in those seats at the Dolby on Sunday that will be like, 'Oh wow, Shappy Pretzels!'" Shapiro said to The Hollywood Reporter.
After the event, Wolfgang Puck again crafted delectable bites for the post-Oscars Governors Ball, marking his 29th year as the event's caterer.
The chef, who conceived this year's menu with Wolfgang Puck Catering's vice president of culinary, Eric Klein, made the smorgasbord possible along with a team of 115 chefs from across Puck's global restaurant empire.
Ten of those culinary talents were designated to handle any additional dietary requests and the menu featured several vegan and vegetarian options as well.
These included a taro root taco with charred pineapple "al pastor," shallot and cilantro, puri (an Indian deep-fried bread) with sumac hummus, a house made "ranch dusted" taco which boasted jackfruit carnitas and salsa verde and much more.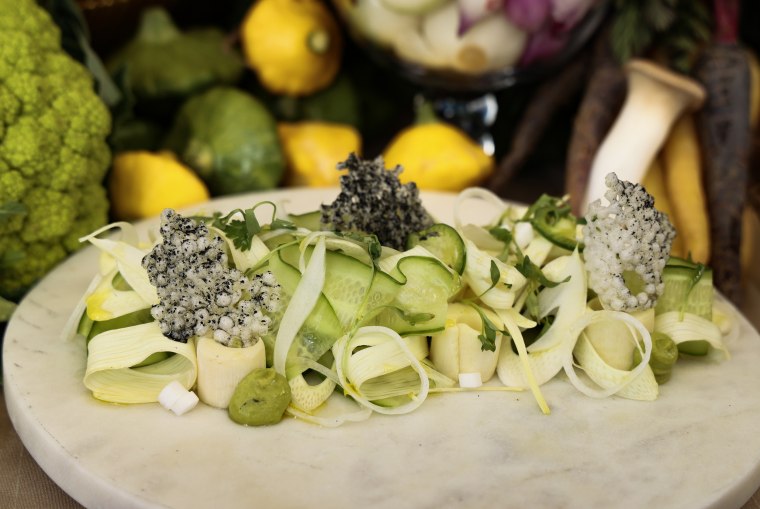 "We have five kinds of pasta, from agnolotti to pasta with truffles, vegan pizzas, the Chinese-spiced, Hunan eggplant over rice and a vegetarian version of West Hollywood's Merois restaurant's crispy rice crab salad," Puck told Variety ahead of the Ball.
Puck added that tofu was used instead of crab in the "crab salad," and topped with a lime and honey vinaigrette.
Puck and his catering company divided the offerings into several categories. The first, "Tray Passed" denotes the platters that rotate around the room, passing through the crowd of stars like little food comets.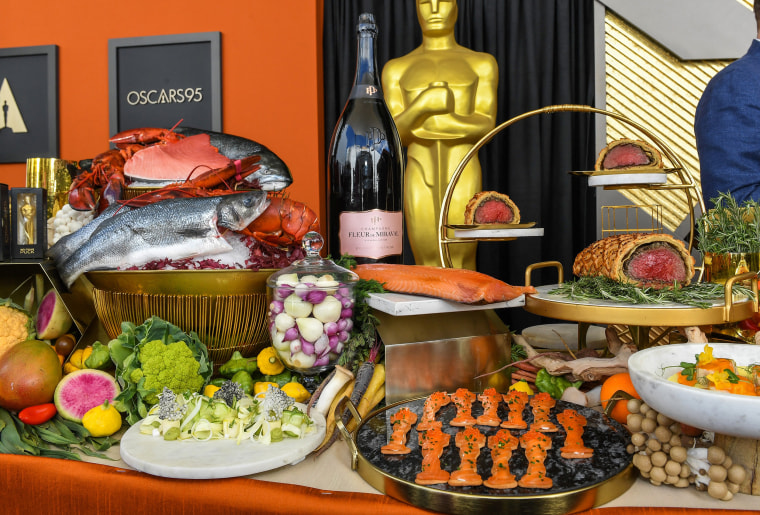 These dishes include a Puck staple: Oscar-shaped matzo-topped with smoked salmon and also treats like a miniature Wagyu burger with sharp cheddar and remoulade, spicy tuna, tartare, mushroom potsticker soup dumplings, miso sesame cones and an assortment of Puck's signature pizzas.
In addition to a grazing table with cow, goat and sheep's milk cheeses, almonds, jams and charcuterie, small plates included cold dishes like a poached pear with burrata, pear butter and arugula and beet napoleon salad with goat cheese, soft herbs and a citrus shallot vinaigrette.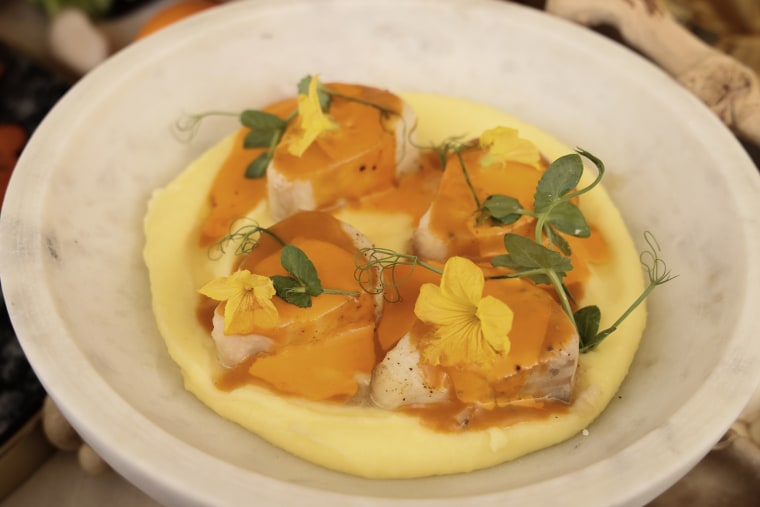 Hot dishes included mini fish and chips, cacio e pepe macaroni and cheese, sliders with fries and another popular item, according to Puck: chicken potpie. A brave choice when it's possible you'll be making eye contact with Cate Blanchett at any moment.
New this year as well was a food station featuring beef Wellington (a hearty beef fillet surrounded by a mushroom mixture and baked in puff pastry) made by Elliott Grover, executive chef of CUT restaurant at the 45 Park Lane Hotel.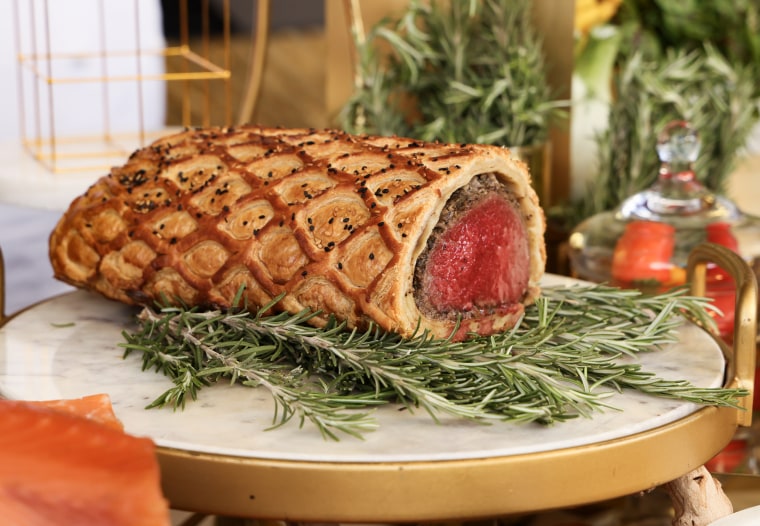 Although he wasn't nominated this year, Brad Pitt still was featured, at least at the bar: He's one the partners behind Fleur de Miraval Rosé Champagne, served at the Ball.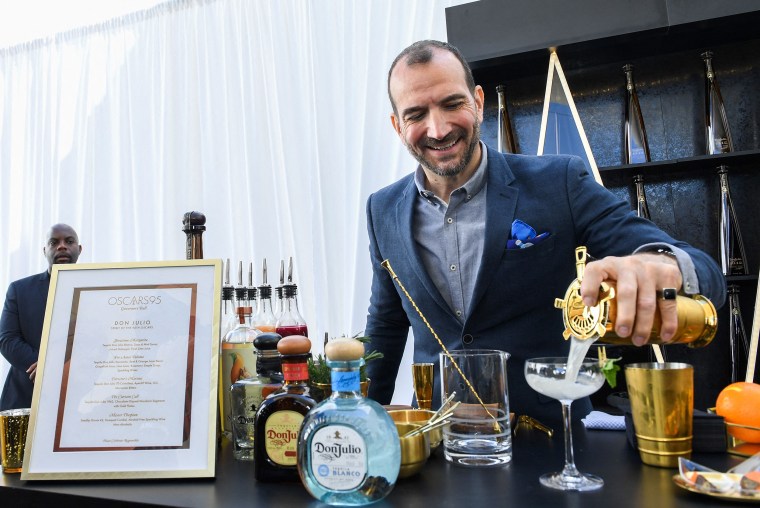 Other beverages included a white Bordeaux blend from the Clarendelle family of French wines, a Le Dragon de Quintus Saint-Emilion Grand-Cru and the much more down-to-earth option of Don Julio tequila.
For dessert, Puck and his team did not skimp, providing dark chocolate bark with inclusions of fruit and flowers like lavender, rose or jasmine. Also offered were chocolate cigars, served inside of a replica cigar box.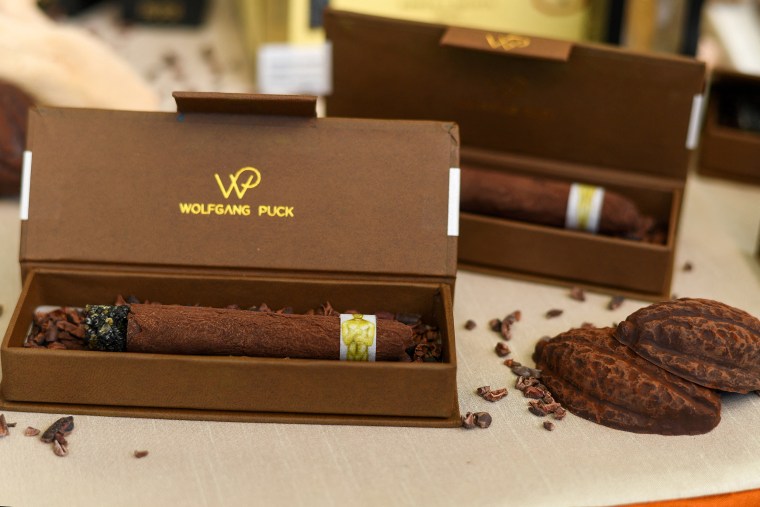 Other sweets included s'mores cookies, whoopie pies, raspberry brownies, a made-to-order ice cream station with scoops placed in waffle cones and, finally, Puck's signature dessert for the Academy Awards: the chocolate Oscar.
The edible statue featured vegan, "fair and sustainable chocolate" with edible gold paint sprayed on it fresh at the ceremony. Well, at least every nominee could leave with trophy if they wanted.