A small but vocal few have a bone to pick with their boss, Ronald McDonald.
On Feb. 28, Bloomberg reported that some McDonald's franchisees are alleging that the chain's latest celebrity promotion, the Cardi B & Offset Meal, violates a set of internal rules, known as the "Golden Arches Code." Because of this, they are calling for McDonald's to stop selling the meal, claiming that the family-focused restaurant chain partnering with an entertainer whose songs contain profanities and explicit content "will hurt the brand."
The meal promotion premiered just before the Super Bowl when McDonald's dropped an ad about the partnership ahead of Valentine's Day. In the accompanying ad, the couple, who have been married since 2017, share their go-to date-night order.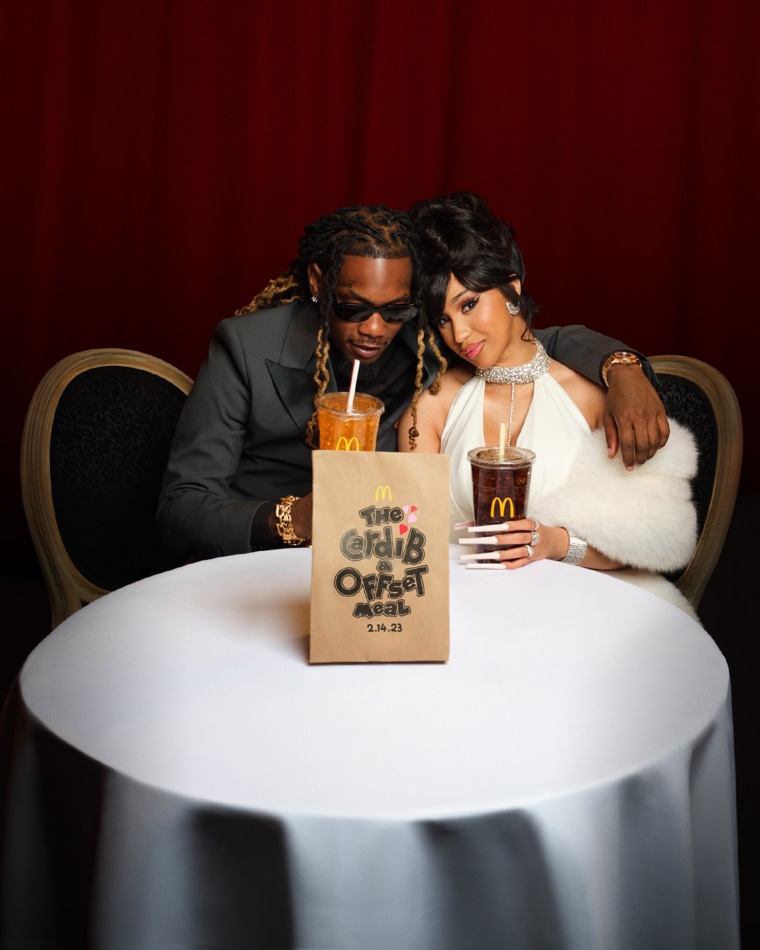 This includes Cardi B's order of a cheeseburger paired with BBQ sauce and a large Coca-Cola, and Offset's preference of a Quarter Pounder with cheese and a large Hi-C Orange Lavaburst. The order also includes an apple pie and a large order of fries to share.
According to a 2021 copy of the internal Golden Arches Code reviewed by Bloomberg, "partnerships with celebrities and influencers that have potential risk to damage our brand based on statements they have made or their positions on certain issues" aren't permitted by the brand, although the franchisees that have this issue aren't specific about which positions Cardi B or Offset hold that led them to speak out.
Representatives for Cardi B and Offset did not immediately respond to TODAY.com's request for comment.
The code outlines that "music partnerships associated with content that includes offensive language in the lyrics" are also not permitted. It's worth noting that previous partnerships McDonald's has had — with BTS, who have used curse words in some songs including "Cypher Pt. 3," J Balvin, who explores sometimes controversial sexual themes in his music and videos, and "Rick and Morty," an adult-themed cartoon that has included many instances of "offensive language" — all appear to violate this code.
"It's kind of a culture-shock thing when you consider the McDonald's brand over the years," Dick Adams, a former McDonald's restaurant owner and consultant to franchisees, told Bloomberg. "Especially if you're a franchisee and you're 50 or 60 years old and you don't have any kids and haven't been exposed to any types of these lyrics."
According to a copy of the Golden Arches Code acquired by Business Insider in 2020, the global set of marketing, advertising, legal and trademark policies has quite a few interesting rules. One rule states that Ronald McDonald "cannot be shown in or visit a nightclub or lounge," and another bans the use of the nickname "Ronnie," but many other rules cover trademarks, logo colors and more. 
When reached for comment, a rep for McDonald's USA confirmed that the negative feedback is coming from a small group of franchisees and is not representative of the widespread support and excitement it's seen among franchisees across the country.
"McDonald's stands behind our partnership with Cardi B and Offset. They have been incredible partners and we support them as a family," the rep told TODAY.com in a statement.
The brand also noted that safety is a top priority, adding that it is always thoughtful in what it posts on McDonald's channels and careful to avoid language that might offend.
"Across our marketing, we're focused on putting McDonald's at the center of culture. Artist collabs have helped reignite fans' love for our food and fueled significant business momentum, both for the company and our restaurant owner/operators," Tariq Hassan, McDonald's USA's chief marketing and customer experience officer tells TODAY.com in an emailed statement. "And the reason they've been so successful is that our partners are real fans of the brand themselves — that authenticity is our secret sauce." 
The company also said that it partnered with Cardi & Offset because it believes they'll help drive excitement for the brand, adding that it has seen significant buzz around the new campaign. 
Previous "famous tray" partnerhips have driven major business to the company. In fact, the Travis Scott Meal, which included a Quarter Pounder with bacon and cheese, fries and a Sprite, was so popular it caused burger shortages in 2020.
In 2021, the BTS Meal resulted in significant increases in Chicken McNuggets sales. And in 2022, the Cactus Plant Flea Market Box (aka the Adult Happy Meal) helped drive the highest weekly digital transactions ever for McDonald's in the States. That partnership even led some customers to list the free toys included in the meal on eBay for exorbitant sums of money after the meal swiftly sold out.