Matt Damon is sharing details about a stinky onscreen kiss he shared with his "We Bought A Zoo" co-star Scarlett Johansson — right after the actress ate an onion sandwich.
"I had to kiss Scarlett Johansson. Can you imagine how horrible that was for me? ... It was hell!" the Oscar winner, 52, joked during a conversation with his "Oppenheimer" co-star Emily Blunt filmed for LADbible TV.
Damon explained that he and Johansson, 38, believed they had finished filming the scene when they took a break for lunch.
"What happened was, we did a shot before lunch and it was this nice little two-shot that ended in the kiss. And it was really good," said Damon.
"And we went to lunch. She and I both thought it was over," he continued. "She ate, like, an onion sandwich for lunch."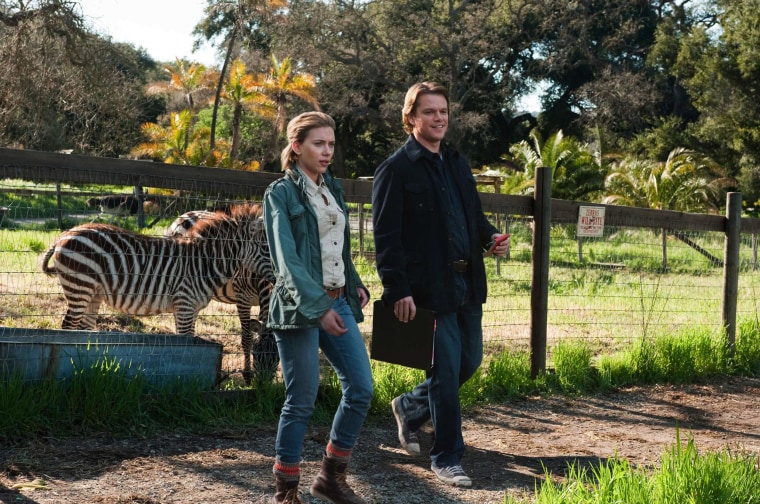 When they returned to set of the 2011 movie, Johansson was mortified when director Cameron Crowe decided to resume filming the kiss.
"She came in, and Cameron Crowe had set the camera up, and it was like a tight shot of the kiss. She goes, 'Ah s---! I literally just had an onion sandwich!'" Damon recalled, laughing.
"I was making fun of her the entire time about her onion breath, which I didn't even smell," he added. "Because her breath smell like roses."
During Damon's conversation with Blunt, the pair also hilariously sparred over the merits of American food versus British food.
"Have you ever had a lovely roast, a Sunday roast?" asked the "Mary Poppins Returns" star, 40.
"Do you know you're known for having horrible food?" Damon teasingly replied.
"Do you know what I don't like eating?" asked Blunt. "Cheeseburgers and nuggets all the time."
"OK, that's all we have in America?" asked Damon.
"And everything fried," added Blunt.
Damon then pointed out that the U.S. was a "melting pot" of cultures.
"Do you not think London is?" asked Blunt, noting that one of England's most popular dishes is the Indian-inspired chicken tikki masala.
"How cultural is that?" she asked.