Lunchables could soon be coming to a school cafeteria near you.
Kraft Heinz is working on rolling out two of the popular prepackaged lunches as part of school lunch programs this fall.
In a email on March 14, Jenna Thornton, the director of external Communications & Brand PR for Kraft Heinz, confirmed to TODAY.com that school administrators can buy the Turkey and Cheddar Cracker Stacker and the Extra Cheesy Pizza Lunchables for the upcoming 2023-2024 school year.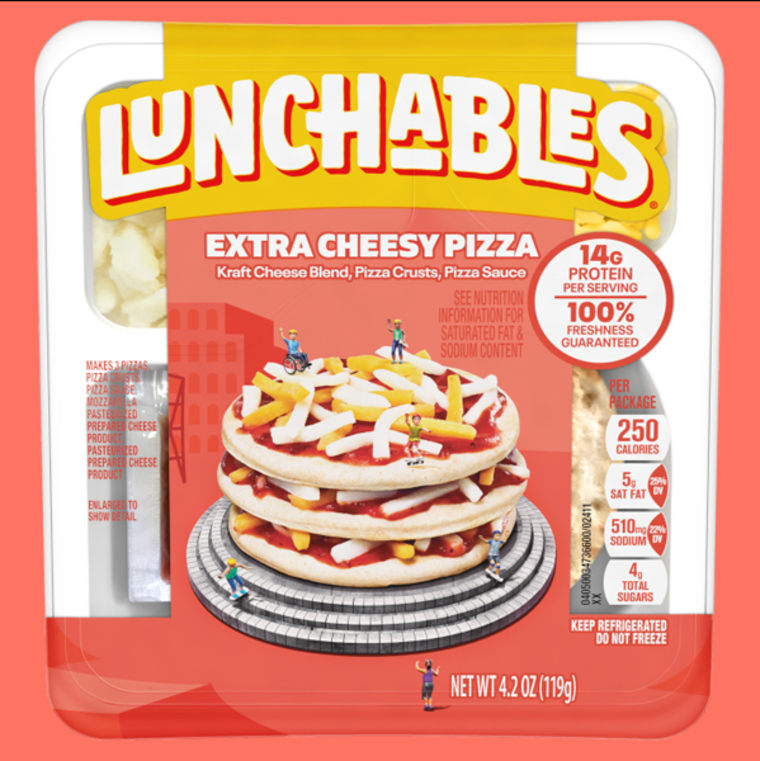 Thornton said the school-specific lunchables have "a specialized recipe that incorporates more protein and whole grains to keep kids powered throughout the day, reduced saturated fat and sodium, and an increased serving size."
Both options have been brought up to meet the National School Lunch Program guidelines.
The NSLP program is a federally assisted meal program in public and nonprofit private schools and residential child care institutions. It helps provide free and reduced-cost lunches to millions students in need across the United States.
"As part of being NSLP-approved, this lunch will help provide more wholesome options to students for purchase or through the free school lunch program," Thornton said in her email. "Not only does Lunchables keep kids powered throughout the day but it powers kids' creativity and fun during mealtime."
The Kraft Heinz Away From Home website has a PDF of information about the new Lunchables, showing that the two offerings — the Turkey and Cheddar Cracker Stacker and the Extra Cheesy Pizza — had been adjusted to meet the NSLP guidelines. The flyer also touted the Lunchables have "93% brand name recognition" and can be stored in a refrigerator instead of a freezer.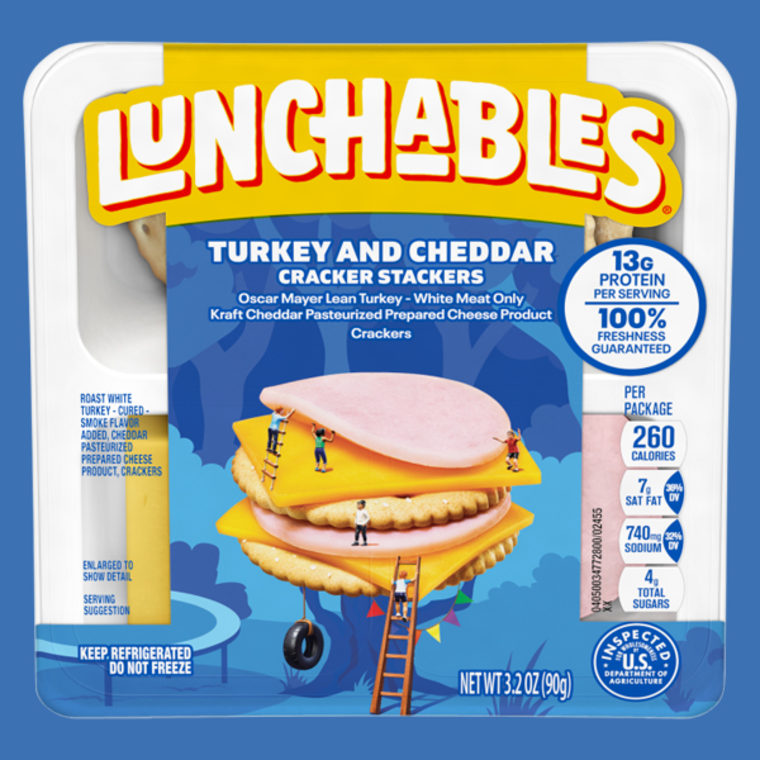 The Turkey and Cheese Cracker Stackers meal is listed as having 2 ounces of "MMA" or meat/meat alternative and 1 ounce of grain. The Cheesy Pizza option is stated to have 2 ounces of meat/meat alternative, 2 ounces of grain and 1/8 cup of red/orange vegetable.
Thornton said the new NSLP-approved Lunchables have a "renovated ... nutrition profile by adding more whole grains and protein."
Frances Largeman-Roth, RDN, a nutrition expert and author of the upcoming "Everyday Snack Tray," told TODAY.com she is excited to see Lunchables with updated nutritional value.
"It's great to see that the improved Lunchables provide more protein and whole grains than the previous ones. And we know how important a nutritious lunch is for a child's growth, development and ability to learn," Largeman-Roth said in an email. "I'd be even more excited if these lunches contained apple slices and carrot sticks too, because we know kids aren't eating enough fruits and veggies each day. And if they came with a glass of milk, that would be great too!"
The U.S. Department of Agriculture, which oversees the federally assisted school meal program, is currently considering changing its school food guidelines to reduce added sugars and sodium levels in school-provided lunches.