The sweetest time of the year (aka Girl Scout Cookie season) is back once again.
The Girl Scouts of the USA (GSUSA) kicked off its 2023 season on Jan. 10 with two exciting changes: a new flavor (Raspberry Rally) and national sponsor (Planet Oat Oatmilk).
Cookie season typically lasts from January to April, but can vary across the country. So if you're eager to know when you can sink your teeth into your flavor, we've rounded up all the essential information you need to know about this year's cookie season.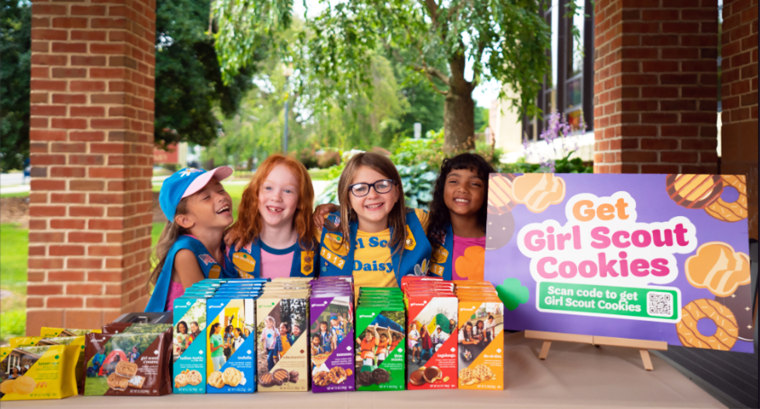 The newest Girl Scout Cookie flavor is only available online.
There's a new cookie in town for 2023 and it's called Raspberry Rally. The thin, crispy cookie is filled with raspberry flavor and dipped in a chocolate coating, and the Girl Scouts describe it as the sister cookie to Thin Mints.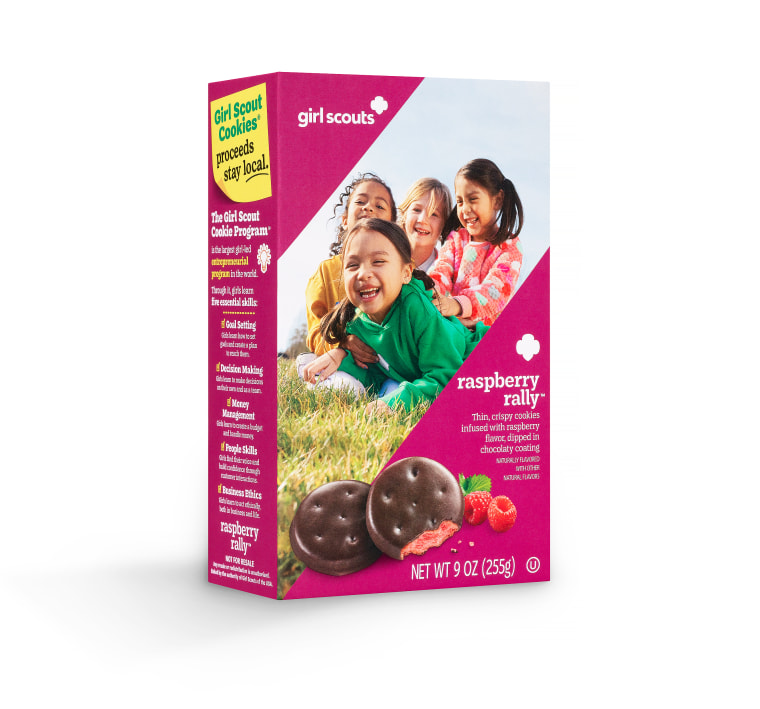 Ready to pick up a box from your local troop? You'll actually have to log on to your computer to order a box.
"Raspberry Rally is GSUSA's first cookie to be exclusively offered for online direct shipment only to help Girl Scout entrepreneurs hone their e-commerce skills," GSUSA's Chief Revenue Officer Wendy Lou tells TODAY.com.
The new flavor doesn't go on sale online until Feb. 27. but it's worth the wait — trust us. TODAY food reporter Joe Lamour tried the new treat over the summer and described it as "delicious."
"I don't often go for many raspberry-flavored treats, as the flavoring often reads artificial to me (like blue-raspberry anything, for instance) but there's something about the flavor in these that dodge any of those raspberry pitfalls," he wrote at the time.
2023 Girl Scout Cookies lineup
Craving a dose of nostalgia? The following Girl Scout Cookies you've come to know and love over the years will be returning to the lineup this year alongside Raspberry Rally:
Thin Mints
Peanut Butter Patties/Tagalongs
Samoas/Caramel deLites
Toffee-tastic
Lemon-Ups
Lemonades
Girl Scout S'mores
Do-si-dos | Peanut Butter Sandwich
Trefoils
There might be cookie shortages or delays this year.
By now, we're all used to ongoing supply chain shortages, and the Girl Scouts might be affected by them as they enter prime cookie season this year.
"Recently, Little Brownie Bakers, one of Girl Scouts' bakers, reported projected inventory shortages for the 2023 season. As a result, the shortage will impact select councils' timing of their local cookie sales," a Girl Scouts press release reads.
Where to buy Girl Scout Cookies
There are multiple ways to get your cookie fix this year. The most traditional method, of course, is buying a few boxes from a Girl Scout you know. You can also reach out to your local council or use the online Girl Scout Cookie Finder to search for local cookie booths.
If you prefer to shop from the comfort of your own home, you can order cookies online starting Feb. 27. via the Girl Scout Cookie Finder. Or, you can text COOKIES to 59618 to get cookie updates.