A 72-year-old woman was killed and two others were injured after a Denny's sign fell on top of their vehicle, police said.
First responders were called to the Denny's on the 2000 block of North Mulberry Street in Elizabethtown, Kentucky around 1:30 p.m. on Jan. 19 following a report that the restaurant's sign had fallen onto a car with passengers inside.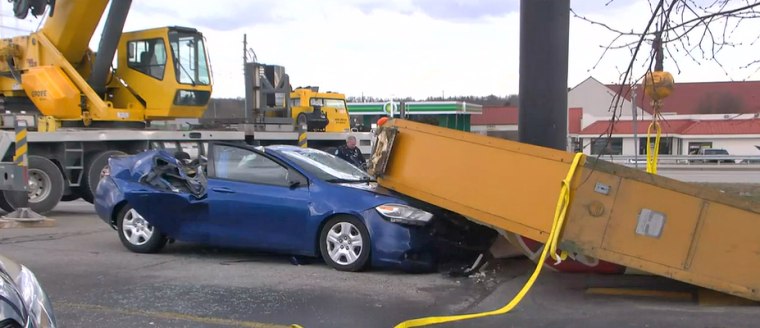 EMS and fire personnel were able to rescue the three trapped passengers, police said. A photo from the scene showed a large yellow sign on top of a blue vehicle with a crushed roof.
Two women, one in critical condition, and one man were transported to area hospitals, according to police. The woman in critical condition was later pronounced dead at the hospital, police said.
Police said it will not release the woman's identity until her family has been notified.
A Denny's spokesperson said in a statement to TODAY.com it was aware of the incident.
"Safety is our top priority, and we are working with the authorities to better understand what led to this situation," the spokesperson said. "Our thoughts are with all of those involved."
An investigation into what caused the sign to fall is ongoing, and police said high winds were likely a factor.
"I am able to say with certainty the wind was a factor. Very, very sad situation," Chris Denham, a public affairs officer for the Elizabethtown Police Department, said in a statement to NBC News.
The National Weather Service in Louisville said peak wind gusts in the area reached 45 to 55 miles per hour on Thursday. Elizabethtown is about 45 miles south of Louisville.