Dave Grohl spent over 24 hours volunteering at a Los Angeles shelter to prepare barbecue for hundreds of people experiencing homelessness, once again proving he's everyone's hero.
The Foo Fighters frontman had brisket, pork butt, ribs and more delivered to Hope the Mission's Trebek Center in Northridge, California, on Feb. 22, Grace Ancheta, director of development at Hope the Mission, tells TODAY.com.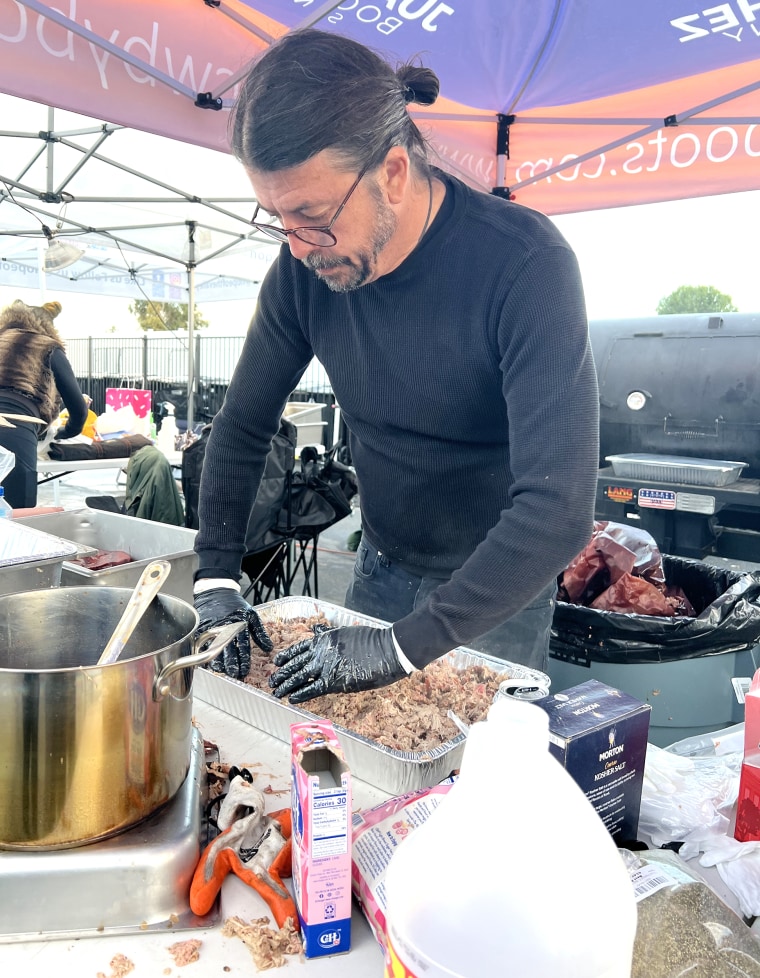 "He arrived around 3 in the afternoon, and then he was in our kitchen," Ancheta says. "He was prepping the meat, he was cutting it up and he was there until he put it in the smoker."
"The meat didn't go into the smoker until midnight that night because he's like, 'Oh, it has to season and it has to do this,'" Ancheta adds. "He's definitely a craftsman when it comes to that, and then he spent the night."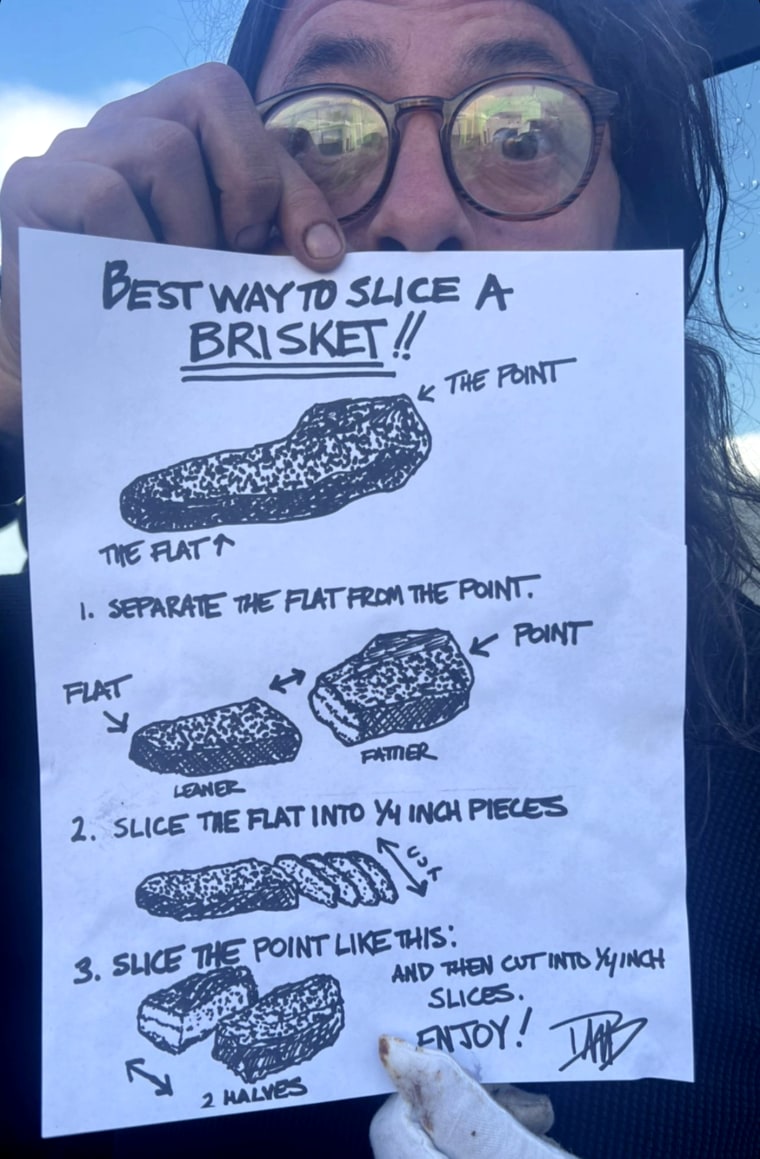 Ancheta says Grohl and his fellow barbecuers took turns smoking the meat overnight — even as a major winter storm moved through Southern California, dumping hail and rain on the shelter that night — until it was ready at about 3 p.m. on Feb. 23, or about an entire day after he started cooking.
Hope the Mission's shelters serve dinner around 6 p.m., so Grohl was working toward that deadline to be able to serve the meals after they were prepared, Ancheta says.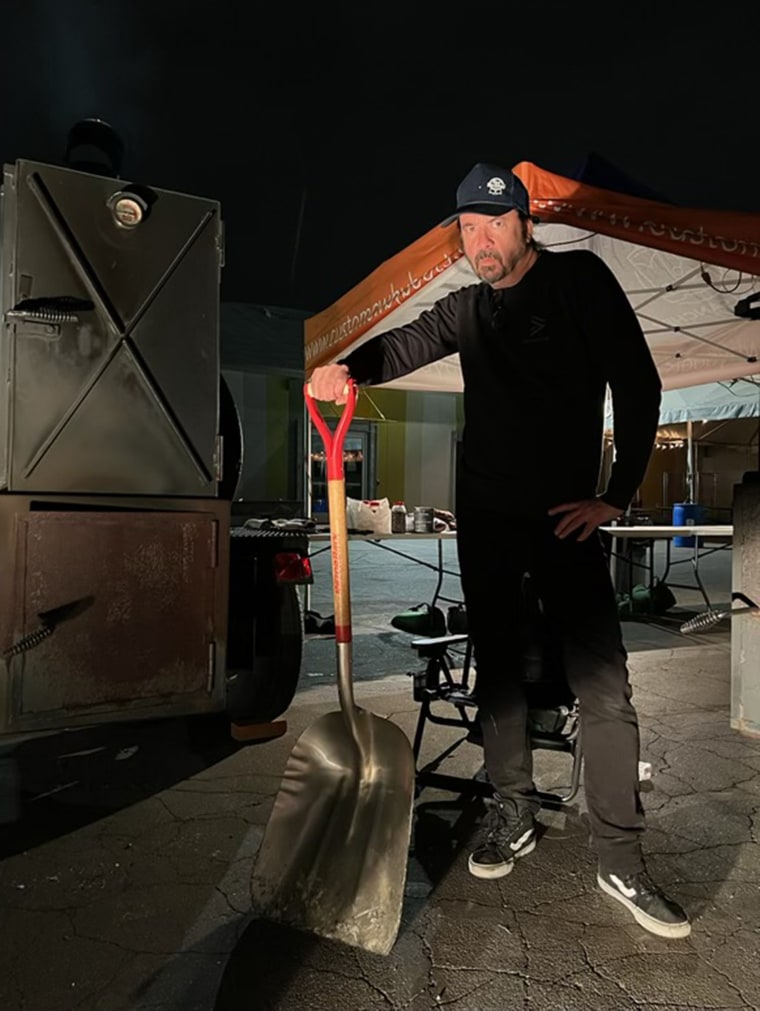 "He actually served to our guests, he came out and was very gracious and took pictures with the people that recognized him," Ancheta says. "He wanted no glory for it, he was like, 'I just want to do this for you guys and give back in that way.'"
Ancheta says Grohl told staffers at Hope the Mission he finds getting into the barbecue pit therapeutic after he comes offstage.
"Whenever he comes off of work or anything else, that's what he wants to do," Ancheta says. "He wants to cook for people."
She continues: "And by the way — it was amazing. It's the best barbecue we've had."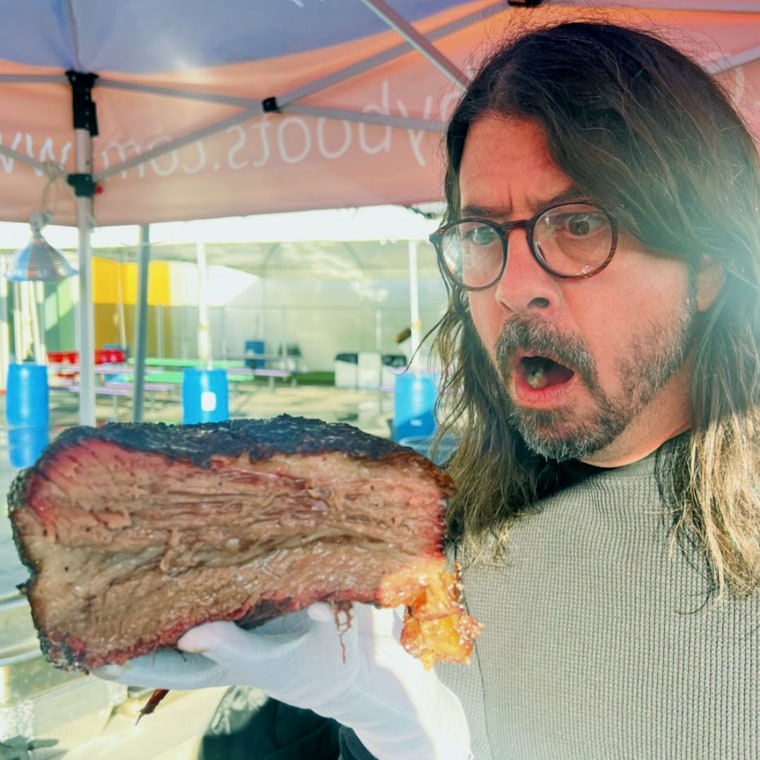 Grohl's visit comes as Hope the Mission's CEO Ken Craft and president and CFO Rowan Vansleve are running 350 miles across the desert from the Las Vegas Strip back to Los Angeles to raise money for the mission's latest campaign.
Vansleve posted a video Grohl sent to support the "All in for Housing" campaign. "Keep it up, we've been out here all night cooking," Grohl said. "You got to get back here soon, because we're all in."
A representative for Grohl did not immediately respond to a request for comment from TODAY.com, but he has written about how he found his love of barbecuing after breaking his leg on tour in a 2019 essay for Bon Appetit.
"The process of making music is a lot like cooking for a crowd: You create a recipe as you would a song," he said. "You prepare a meal as you would record in a studio. And you serve it as you would perform live. When people come back for seconds, well, that's your encore."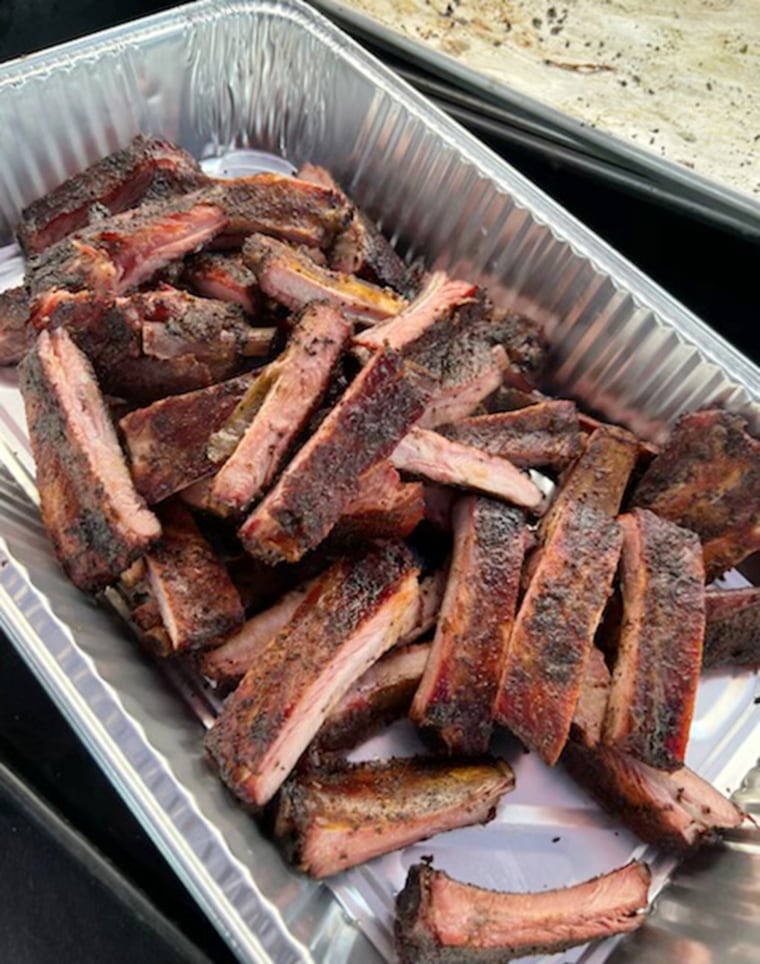 Grohl wrote that his love of cooking for a crowd inspired him to create his catering company, Backbeat BBQ.
"I didn't want to open a restaurant, but I did want to pull up at a Slayer show or a Harley dealership or a church or the L.A. Food Bank benefit and cook," he said. "It's kinda cool that I'm able to do that — and it's f------ fun!"
Related: