With Valentine's being the season to get your mack on, lovebirds Cardi B and Offset are here to help you make a meal of it.
On Feb. 12, just before the Super Bowl, McDonald's dropped a commercial to celebrate Valentine's Day and serve up the first-ever celebrity couple meal that the fast-food giant calls "perfect for sharing with your plus one, your situationship, your best friend, or anyone in between."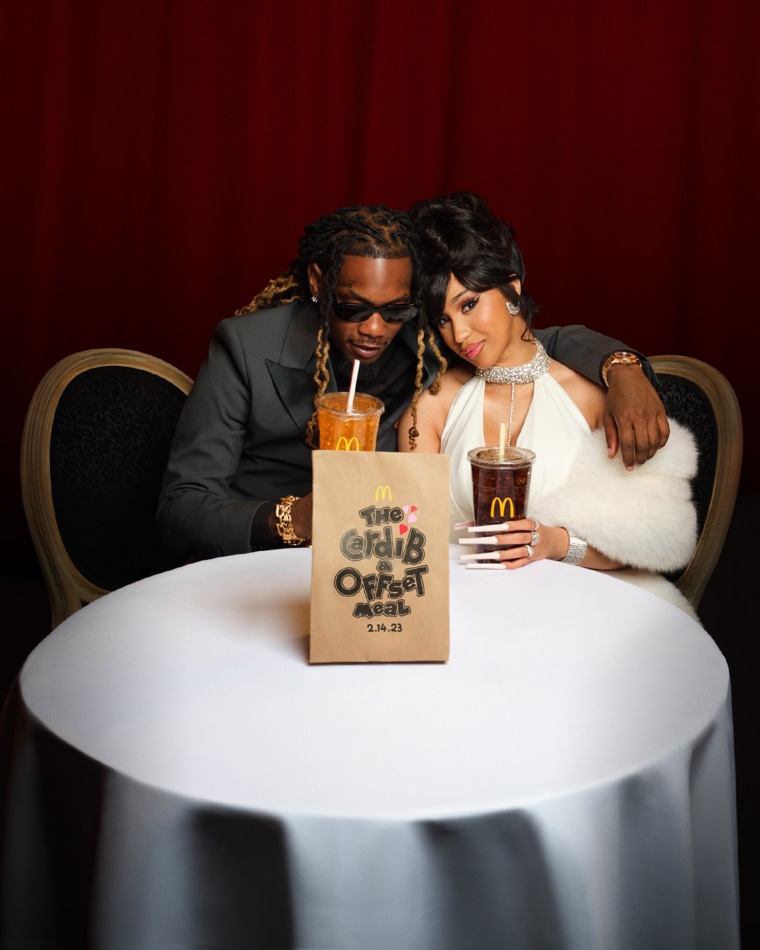 "We're dropping something big for fans — a new collab inspired by the universal idea that knowing your person's McDonald's order is a true sign of love," McDonald's explained in a statement to TODAY.com. "At the center is an iconic couple in music and two of our biggest superfans – Cardi B and Offset."
Starting Feb. 14, McDonald's fans can head to participating restaurants nationwide and order the Cardi B & Offset Meal.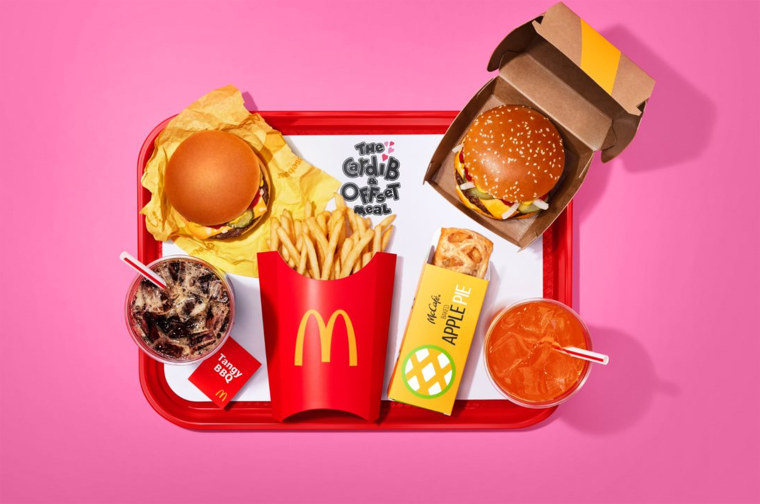 "Let me tell you, McDonald's is date night done right," Offset said in the statement provided the fast-food chain. "It doesn't have to be all boujee. Get your date, grab some good food, and have fun, that's it."
"Whether it's going for a date night or grabbing a bite after late-night studio sessions… I'm always asking Offset to take me to McDonald's," Cardi B added in the statement. "And now, Offset and I have a meal named after us! I want all my fans to try it — especially with that BBQ sauce."
Inside the McDonald's bag order, customers will find each of the rappers' menu favorites, including Cardi B's go-to classic McDonald's cheeseburger, paired with BBQ sauce and a large Coca-Cola and Offset's Quarter Pounder with cheese and a large Hi-C Orange Lavaburst. The order also includes apple pie and a large order of fries to share.
According to McDonald's, customers can purchase the Cardi B and Offset Meal at participating restaurants nationwide via the McDonald's App, drive-thru, McDelivery and in-store.
It's not the first time a big name in the music industry has paired up with McDonald's to show fans they're capable of lovin' it.
In 2021, the Golden Arches teamed up with K-pop megastars BTS to highlight their favorite order. The "BTS Meal" debuted on menus in nearly 50 countries spanning six continents including the United States, Croatia and Honduras.
The K-pop group's signature order included medium fries, a medium drink, as well as its Sweet Chili and Cajun dipping sauces inspired by recipes from McDonald's South Korea.
Rapper Travis Scott's collaboration with the franchise in 2020 was so popular it caused ingredient shortages. That same year, the "J Balvin Meal" — which included a Big Mac, medium fries with ketchup and an Oreo McFlurry — also appeared on its menu. His collaboration became the second time since 1992 for the franchise to feature a celebrity name on its bill of fare.