A Japan Airlines passenger found the vegan meal option on a recent flight to be "underwhelming," to say the least.
Kris Chari requested a vegan breakfast on a trip from Jakarta, Indonesia, to Tokyo, Japan on Feb. 21 and wrote on the air travel forum FlyerTalk that they ended up being given a single banana and chopsticks.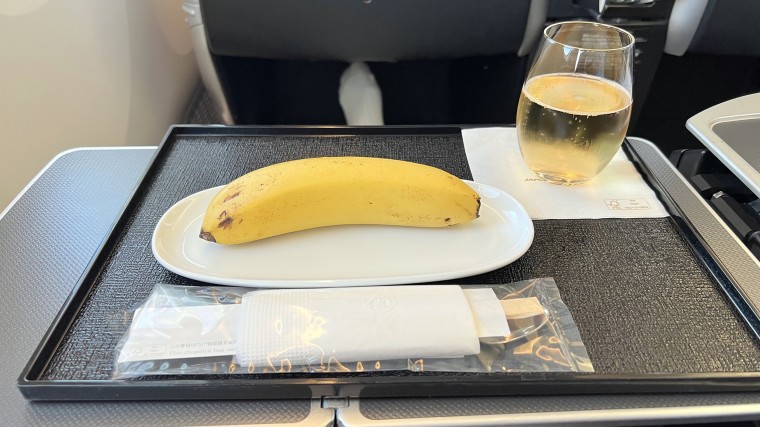 "Before takeoff today my flight attendant confirmed that I ordered VGML and that my breakfast was a banana, by which I mistakenly assumed she meant that breakfast included a banana," they wrote. "When she served the banana after takeoff I thought it was just an underwhelming appetizer, but it was in fact the entire meal service!"
While Chari wrote that the one banana was "really good," they were surprised at the "underwhelming" offering.
The flight featured a snack upon takeoff followed by a meal for lunch. The non-vegan snack options included seared tuna with a Moroccan-style eggplant salad, two kinds of cheese with orange salsa, and a baguette, according to the airline's menu.
"We take customer satisfaction seriously and we will continue to respond to our menus in light of the growing interest and diverse needs of customers requesting special meals, including the valuable feedback from this customer," a spokesperson for Japan Airlines tells TODAY.com.
The spokesperson added that the current snack/refreshment for all "special meals" on the route flown by Chari is a banana.
TODAY.com has reached to Chari for comment but did not immediately hear back.
Chari added that his lunch was "barely seasoned spaghetti." The non-vegan lunch options included grilled beef tenderloin and grilled salmon between the airline's Japanese and Western menus.
They wrote that their other meals were bad, but "nothing quite as insubstantial as this" in reference to the banana.
"It was cute of the crew to serve the banana with chopsticks, though!" Chari wrote.
A "vegetarian vegan meal" listed on the airline's website is accompanied by a photo showing a spread of halal sorbet, a baguette, a dish with rice and multiple vegetable bowls.