You wake up and need coffee and a bite to eat, so you head for the door, but then your eyes meet those of your puppy — and you just can't part with her. Do you order in?
No way! Soon, you can just take your pooch to Boris & Horton, New York's first official dog-friendly cafe, which is scheduled to open this week. There, you can grab food for yourself and your furry friend — and you can eat it together at the same table. So say goodbye to tying up your buddy outdoors.
It is a dog-friendly cafe and not a dog cafe — and that's an important distinction. If you're imagining hoards of leashless dogs bounding around the place, like cats in a cat cafe, you've got the wrong picture. You have to BYO dog (no pups provided), no more than two dogs per person are permitted, and they've gotta stay on their leashes the whole time. Oh, and no cats allowed (per co-founder Logan Mikhly, it's "for the safety of the cats").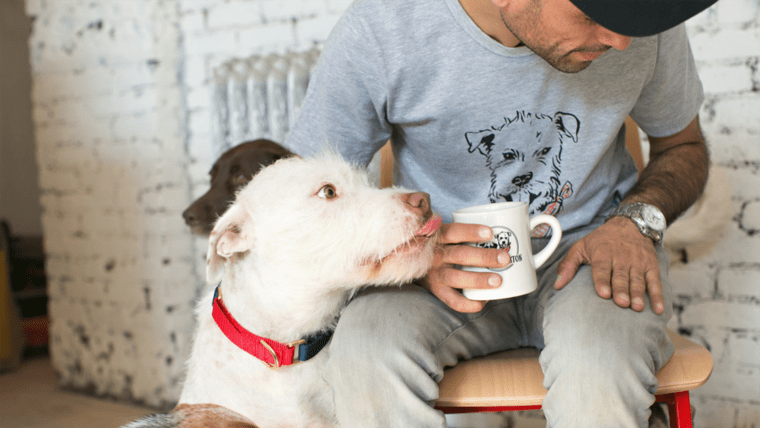 But father-and-daughter co-founders Coppy Holzman and Logan Mikhly (whose canine companions are named, of course, Boris and Horton) plan to host weekend adoption events, partnering with Foster Dogs NYC, Badass Brooklyn, Hearts & Bones, Rescue Dogs Rock, PupStarz and many more, so the place will be packed with pups on those days.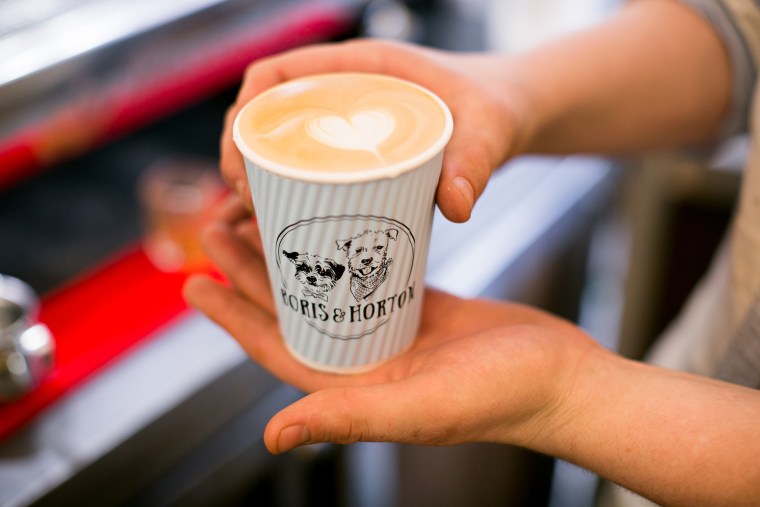 Holzman and Mikhly decided to open the canine-centric cafe after growing frustrated with the lack of dog-friendly coffee shop options in New York — plus they're both passionate about promoting dog rescue.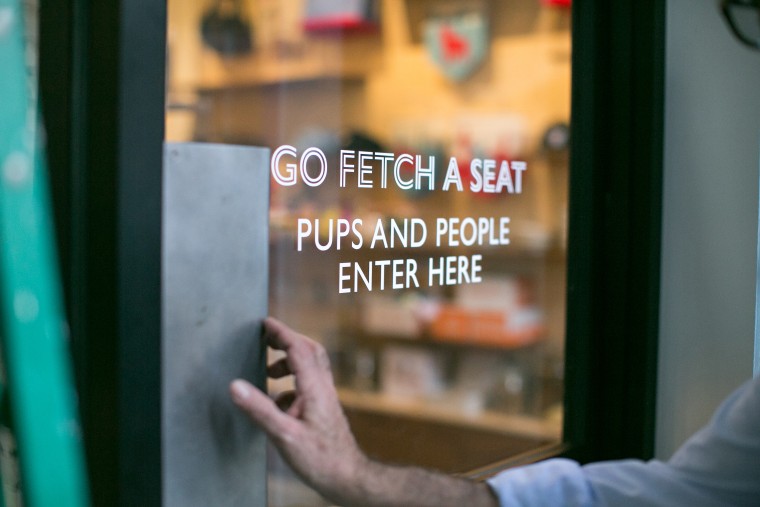 But they had the tough task of designing a space that complies with the Department of Health's strict code. According to Mikhly, there aren't any other places in the city that are serving food and drink and allowing dogs in a way that follows health department guidelines.
"The space is split in two [by a plexiglass wall] so dogs are not allowed at the coffee bar," explains Mikhly. "If someone comes by themselves with a dog they will get their coffee from our walk-up window then come to the dog side. There is also an interior connection between the two spaces so guests can go back and forth."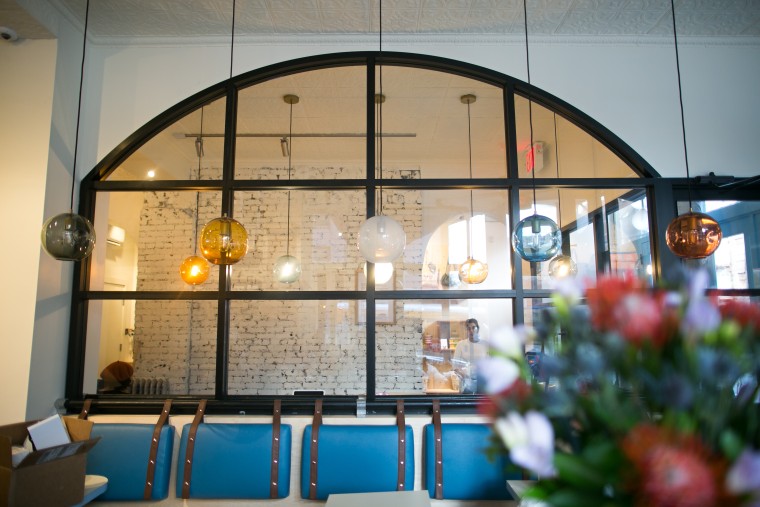 It sounds like a labyrinth, but once you see it, it makes sense.
Most importantly, though, the snacks: For the humans, Boris & Horton has a decent-sized vegetarian selection, including pastries from Bien Cuit, Balthazar and Husk, cold-pressed juice from Montauk Juice, avocado toast, labne-and-banana toast, Murray's cheeses, coffee from City of Saints Coffee Roasters, plus craft beer and wine at night.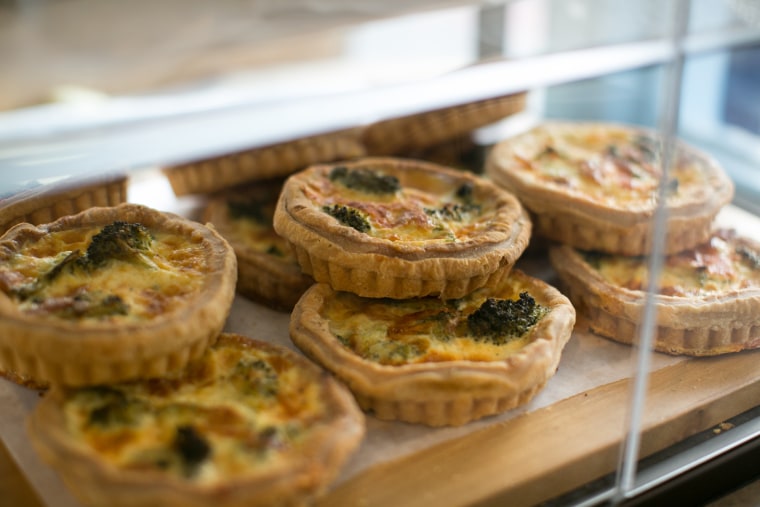 There's plenty of puppy chow, too: The cafe has a bakery case by maison de pawZ which will be filled every day with their Pupcakes, PAW-reos, doggy doughnuts and "other gluten-free, grain-free and human-grade dog biscuits."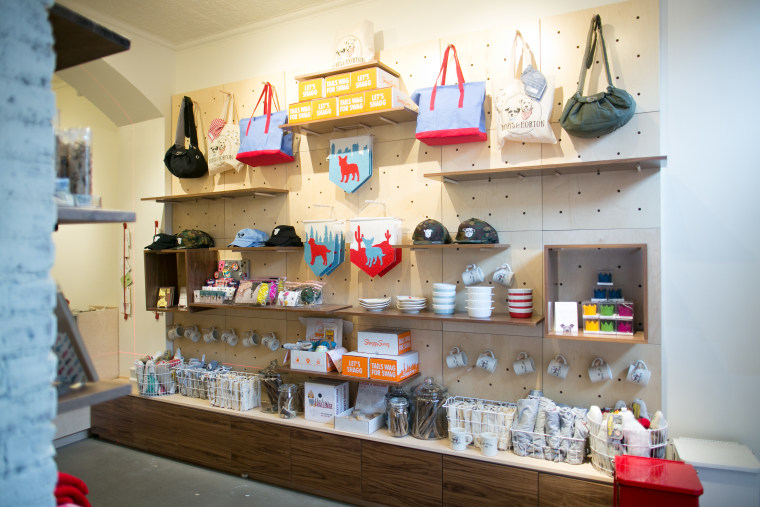 But if you're really in the mood to spoil your pal, you can buy her a toy, like a crochet pizza, and deck her out in swag, like leashes, collars, harnesses, sweaters and bandanas from SHED, Dog + Bone, Found My Animal, Lucy & Co. and more. Then you can show off your dog's new look in the on-site GIF-making photo booth, complete with dog costumes.
If all dogs go to heaven, and this is their heaven, then we're going with them. And eating all of the avocado toast alongside them, forever.