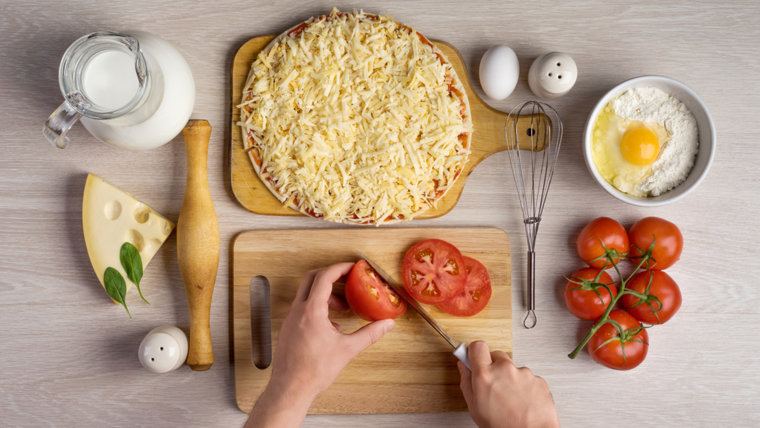 With the success of meal kit services like Blue Apron and Plated, new, diverse and more specialized companies are popping up all over the country. Whether you're vegan, paleo, pescatarian, or just plain picky, new companies are filling the niche. Here are a few you should know about:
Marley Spoon: Best for the curious cook
Currently available in 10 states, this meal delivery service launched in the U.S. in April and like Blue Apron, they deliver ingredients to your door. They create seasonal recipes that incorporate trendy and gourmet ingredients into the rotation. This week's menu features dishes with kimchi, caramelized fennel, cornmeal crusted catfish - it's more than just your standard meat and potatoes and would satisfy the adventurous eater. There are rotating recipes each week and you choose from seven options.
Price: From $8.90/per meal ($106.80 for 3 meals a week for 4 people).
Purple Carrot: Best for vegans
If eating veggies of all colors, shapes and sizes is your goal, this service is for you. The service launched last fall, after founder Andy Levitt and his wife watched the documentary "Forks Over Knives" and saw the positive impact a plant-based diet could have. They deliver vegan, plant-based meals with no heavily processed ingredients and no animal products.
The recipes are submitted by guest chefs and reviewed by nutritionists. The meals are delicious, but the recipes aren't for cooking beginners.
Meals change weekly, and each week there are four dinner options — choose two and they deliver everything to your door (all ingredients are clearly labeled, in pre-measured bags) via FedEx and add a healthy snack to nosh on throughout the week.
Price: $7.38/meal, $59 a week (4 portions/2 meals + snack). Available in 25 states.
How a trucker lost 65 pounds by cooking vegan meals on the road
Platejoy: Best for custom cooking
This two-year-old company is more than just dinner — there are also options for breakfast, lunch or snacks. But PlateJoy does not deliver ingredients, it's more of a menu-planning service.
You fill out a personalization questionnaire, then you get a list of meals tailored to your preferences. After you select your meals, PlateJoy sends recipes and shopping lists (you choose the grocer) that you can print or access on your smartphone.
Customers can work around dietary restrictions such gluten-free, dairy-free, paleo, vegetarian, pescatarian, vegan, cleanse, and you can also specify half-portions for children. There are also a wide variety of meal choices here as compared to other services.
While other services send the ingredients pre-portioned for each recipe, you end up buying the whole bag or carton of the ingredient since it's from the grocery store. This is a part of PlateJoy's "surplus reduction algorithm" to save money and reduce food waste and packaging over the long term. The site logs what you've ordered and will incorporate it into future meals.
Price: About $14/meal - you must place a minimum order of $79. Available in 10 metro areas nationwide.
No-waste dinners! 1 grocery list, 7 days of meals re-using ingredients
Freshology: Best for the time-strapped dieter
Freshology is not new to the scene, but this is an option where no cooking is necessary. This is a meal delivery service - no chopping, mixing or measuring required – and it's perfect for someone who wants to lose a few pounds while eating fresh, healthy food at home, but without all the prep time.
Freshology ships pre-made meals right to your doorstep – you get breakfast, lunch, dinner and dessert. All the meals are fresh, not frozen. The shipment includes half a week of meals, plus nutritional information and heating instructions. There are eight different programs you can choose from to fit your lifestyle
Price: It's definitely an investment: $47.95/day for 2-week program (includes breakfast, lunch, dinner, dessert and snack). Shipping for Freshology is $35 per shipment. Freshology is available throughout the 48 Continental United States.
Forage: Best for the foodie
Restaurant chefs create the recipes for this service, rather than an in-house culinary team – and, even better, they do some of the prep steps for you, and claims that each meals takes just 20 minutes to make.
Price: Each serving is $15, and you can get two meals for two people each for $60 per week. Forage is only available in California and Nevada at this time.
Green Blender: Best for the smoothie enthusiast
Meal kit services aren't just for dinner; Green Blander lets you get your smoothie fix out of a box. Each week, the service sends ingredients for two servings of five different smoothies chock full of fruits, vegetables and super food boosters like hemp seeds, chia seeds and acai powder. The recipes are interesting and pair unique ingredients together. The downside is that you do need to wash and chop all the fruits and veggies, which can be time consuming.
Price: Each week's box costs $49, and they deliver to the Northeast United States.
11 easy, healthy smoothie recipes to freshen up your breakfast
Lighter: Best for the picky food lover
With recipes for breakfast, lunch, dinner and snacks, this service eliminates the need for frequent grocery trips. The highly customizable plan creates your meals based around a variety of preferences, from your goals (like weight loss or saving time in the kitchen) to your cooking skill level and allergies. You can also choose how many breakfasts, lunches or dinners you want to receive in your package.
Pricing: Starts at $65 for up to nine meals and snacks per box.