Leave that sad deli salad behind and eat a (power) lunch like real New Yorkers do. The international fast-fresh chain Pret a Manger is every Manhattan office worker's favorite way to get a big boost of energy, serving up super healthy and crazy tasty "power lunch" bowls loaded with healthy, delicious ingredients.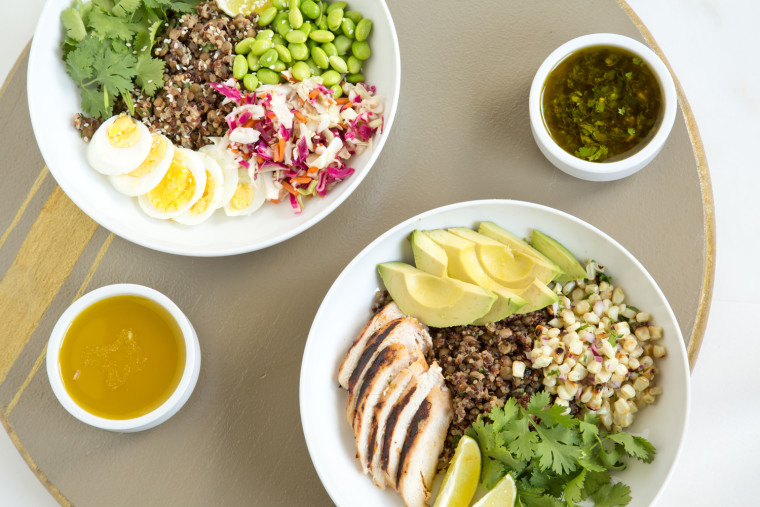 Want one? We know you do! The great news is that they're almost as easy to make ahead in your own kitchen as they are to pick up in the store – and you'll save a bundle too.
Related: 7 tabbouleh recipes — bulgur, quinoa, spicy and more spins on the grain salad
With a protein-packed base of lentils and quinoa, this bowl can be topped with anything you want — take our Pret-inspired suggestions or choose your favorite vegetables, nuts, meats, and cheese to make the power bowl of your dreams!
Egg and Veggie Power Bowl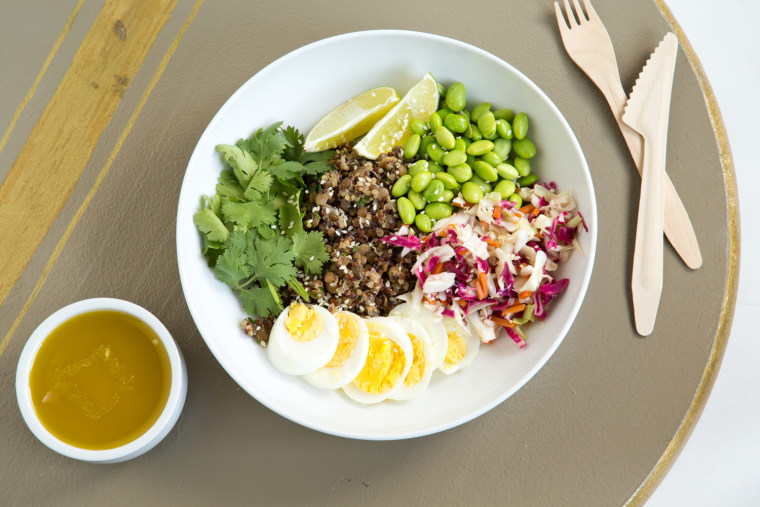 1 hardboiled egg, sliced
1/2 cup pickled cabbage and carrots (recipe follows)
1/4 cup thawed edamame
1 handful fresh cilantro
1-2 lime wedges
1 teaspoon sesame seeds
Pickled Cabbage and Carrots:
Whisk 1/2 cup white vinegar with 1/4 cup sugar together until the sugar dissolves. Stir in 1 cup bagged coleslaw mix, then let sit at room temperature for 1 hour or up to 3 hours. Drain and serve.
Lemon Shallot Vinaigrette:
Use lemon juice and 1 small minced shallot to make the vinaigrette. Whisk in the zest of 1 lemon and 1 teaspoon Dijon mustard before whisking in the olive oil.
Southwestern Chicken and Avocado Power Bowl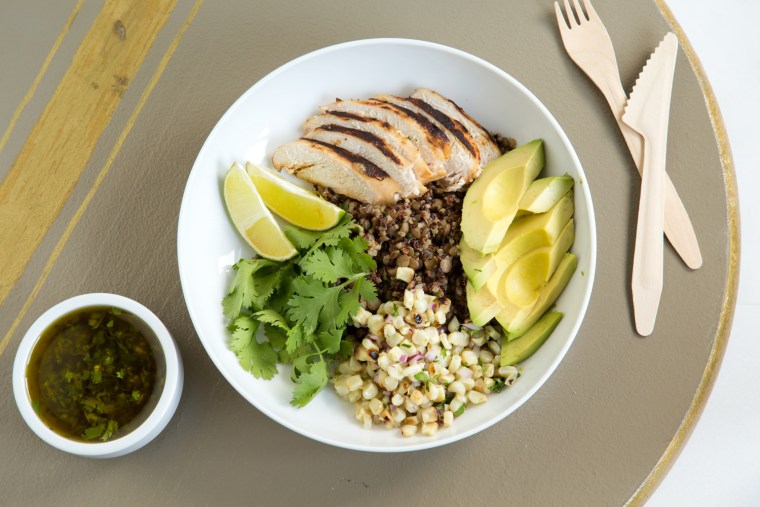 1 small grilled chicken breast, sliced, or 1 cup chopped rotisserie chicken
1/2 avocado, thinly sliced
1/3 cup corn salsa (from Chipotle-inspired burrito bowl recipe)
1 handful fresh cilantro
1-2 lime wedges
Chimichurri Vinaigrette:
Use sherry or red wine vinegar and 1 small minced garlic clove to make the vinaigrette, and stir in 1 heaping tablespoon chopped fresh parsley and 1 heaping tablespoon chopped fresh cilantro or oregano before whisking in the olive oil.
Related: Why the rice bowl is your easy, budget-friendly, healthy dinner solution
Roasted Beet and Feta Bowl
1/2 cup sliced roasted beets
1/2 a small apple, sliced into thin julienne strips
1/4 packed cup rinsed baby kale leaves (or regular green kale leaves, torn or shredded into bite-size pieces)
1/4 cup feta cheese
1/4 cup toasted walnut pieces
Balsamic Vinaigrette:
Use balsamic vinegar and 1 small minced garlic clove or 1 small shallot to make the vinaigrette.
Watch: AL Roker makes his recipe for Tuna and Quinoa Salad
Casey Barber is a freelance food writer, photographer, and recipe developer, the editor of the online magazine Good. Food. Stories, and the author of Pierogi Love: New Takes on an Old-World Comfort Food and Classic Snacks Made from Scratch: 70 Homemade Versions of Your Favorite Brand Name Treats.