As part of the Fresh Cooks Live: TODAY's Spring Cookalong series, Brandi Milloy, host of PopSugar.com's "Eat the Trend" cooking show, showed us how to make a spring meal full of fun, trendy ingredients on Wednesday morning. Watch the full cooking demonstration as Brandi takes us through making ramen-crusted chicken, asparagus pizza and more, step by step, while also answering viewers' cooking questions. Tune in Thursday at 8:20 a.m. ET to see British model-turned-cook Lorraine Pascale make some mouthwatering baked chicken and more. 

"These dishes are not only delicious but perfect for entertaining," Brandi told TODAY.com. "[The ramen-crusted chicken] was the result of my love affair with fried chicken and the comfort food staple I grew up eating, ramen – so I couldn't think of a better way to pair two of my ultimate favorite foods but with a little sophistication."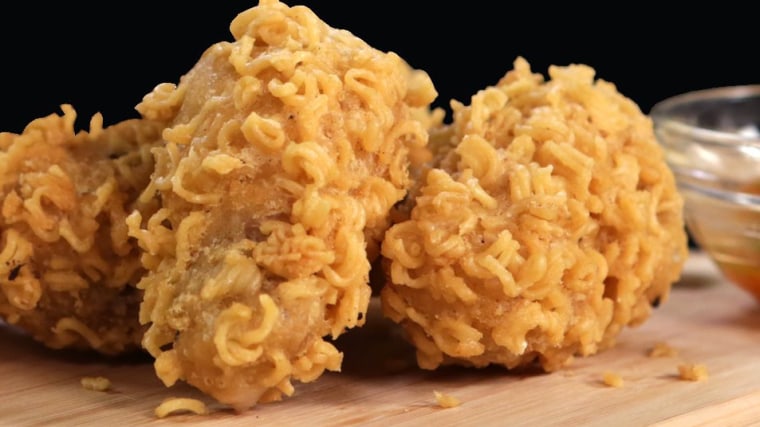 Ramen-crusted chicken wings

Yield: 2-3 servings
Ingredients:
2 packages Top Ramen, crumbled
For dry batter:
2 teaspoons kosher salt
1/4 cup cornstarch
1/2 teaspoon baking powder
For wet batter:
1/2 cup cornstarch
1/2 teaspoon baking powder
1/2 cup all-purpose flour
2 teaspoons kosher salt
1/2 cup cold water
1/2 cup vodka
1 packet ramen seasoning
1 quart vegetable, peanut, or canola oil
For the dipping sauce:
1 teaspoon Sriracha
2 tablespoons rice vinegar
1 tablespoon scallions, finely chopped
1. Rinse chicken wings in cold water, and pat dry.
2. Mix together dry batter ingredients in a bowl and set aside. Mix together wet batter ingredients in a separate bowl. Break apart the dry ramen into a third bowl. You want the pieces to be small enough that they will stick to the chicken but large enough so they still have their shape.
3. Heat the oil in a heavy-bottomed Dutch oven or electric deep fryer to 350 degrees. Line a half-sheet pan with paper towels.

4. Working in small batches, dredge the chicken wings in the dry batter. Shake off any excess, and dip the wings in the wet batter. Brush off any excess batter with a food-safe brush.

5. Fry the wings for 5 to 6 minutes, turning occasionally for even browning. Let the wings drain on the paper-towel-lined half-sheet pan. Repeat with the remaining wings.

6. Dip the par-cooked wings back in the wet batter, and brush off any excess batter. Coat the wings in the crumbled ramen.

7. Fry for an additional 2 to 3 minutes or until the outside has browned and is crisp.

8. Meanwhile, mix together the Sriracha, rice wine vinegar and scallions. Serve the wings hot with the dipping sauce.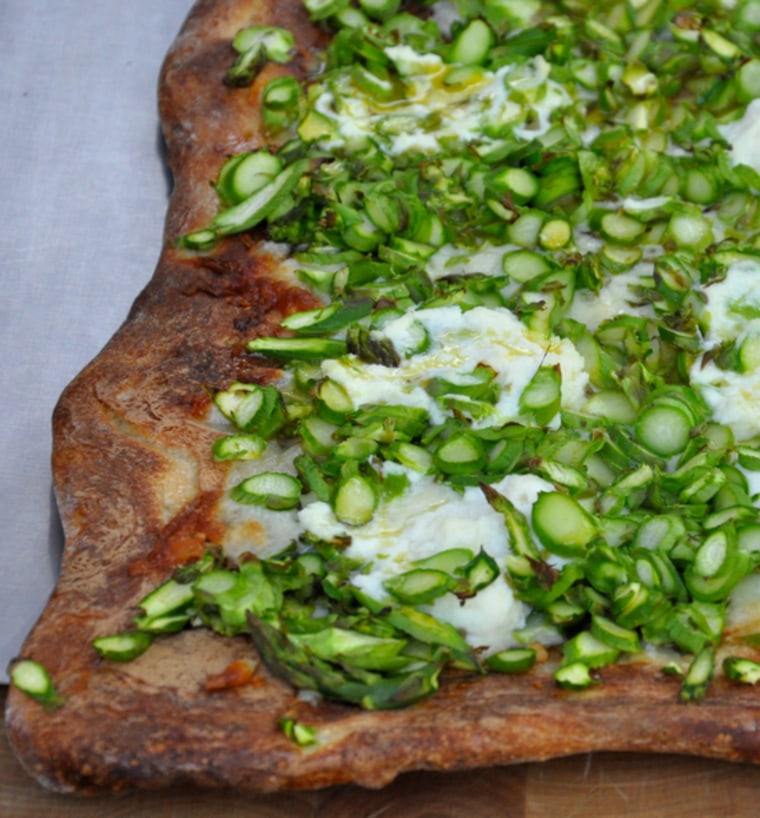 Asparagus pizza with lemon vinaigrette

Yield 8 slices
1 package of pre-made pizza dough
3/4 cup mozzarella cheese, grated
1/2 cup ricotta cheese, preferably full fat
1 bundle of asparagus, thinly sliced
1 lemon, juiced plus 1 teaspoon zest
2 tablespoons champagne vinegar
6 tablespoons extra virgin olive oil
Pinch of salt
1/4 cup green garlic or scallions, thinly sliced
1. Preheat the oven to 500 degrees.

2. On a large cookie sheet lightly covered in flour, prepare the pizza dough. Roll or stretch the dough until it's thin and covers the whole sheet. To prevent large bubbles, prong with a fork, punching small holes all over the dough.
3. Place the pizza dough in the oven and cook halfway until it is just golden brown, about 5-7 minutes.

4. Once the dough is golden brown, flip it over to ensure a crispy crust. Top with grated mozzarella, spoonfuls of ricotta cheese and the sliced asparagus. Cook until the cheese is golden, about 4-6 minutes. If the pizza is not browning, try using the broiler for just a couple minutes but be sure to keep a close watch.
5. While the pizza is cooking, whisk together lemon zest, lemon juice and champagne vinegar. Slowly pour and whisk in olive oil until the mixture is emulsified.

6. Move the cooked pizza to a cutting board and top with lemon vinaigrette and sprinkle the green garlic or scallions over the top.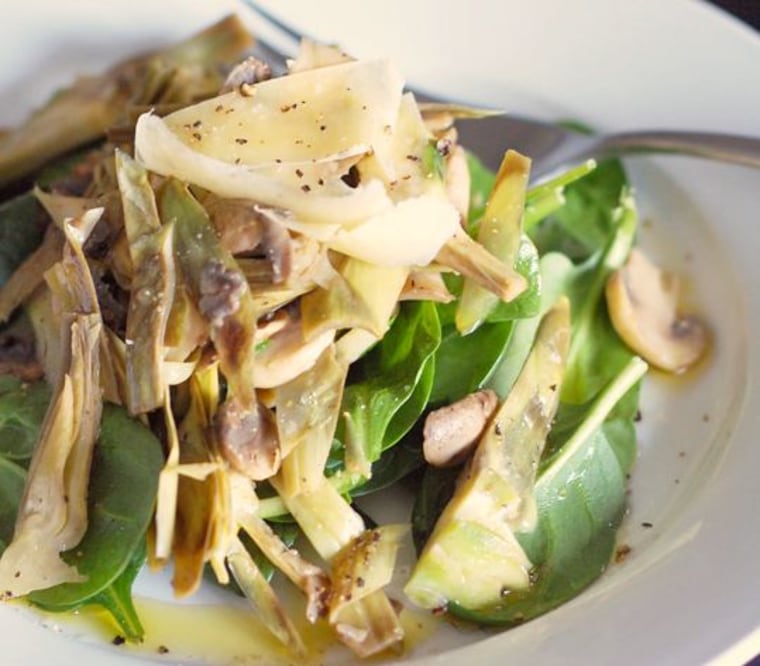 Warm artichoke and mushroom salad

Yields 4 servings
6 small artichokes

3 cups small white mushrooms, thinly sliced

1 lemon

3 tablespoons olive oil

1 clove of garlic, crushed

2 sprigs of thyme

1 teaspoon salt

1/2 teaspoon black pepper

1/4 cup dry white wine

4 cups baby spinach

Wedge of Parmesan cheese, for serving

Extra virgin olive oil, for serving
1. Fill a large bowl with water. Cut a few slices from the lemon and squeeze them into the water. Drop them in the bowl as well.

2. Peel back the outer layers of each artichoke until you reach the pale yellow leaves. Cut off the first inch of the stems and tops of the artichokes. Cut each in half and remove the purple leaves in the center and the fuzzy choke. Place each cleaned artichoke half in the lemon water.

3. Slice up each artichoke half lengthwise.

4.Heat three tablespoons of olive oil in a large saute pan over medium-high heat. Add sliced artichokes, mushrooms, crushed garlic and thyme to the pan. Season with salt and pepper. Cook for about five minutes.

5. Add wine to the pan and let this cook down for about 15 minutes, or until artichokes and mushrooms are soft.

6. Place one cup of spinach on each plate and top with the artichoke and mushroom mixture. With a vegetable peeler, shave as much Parmesan over the salad as desired, then drizzle with as much extra-virgin olive oil and lemon juice as you like. Add salt and pepper to taste.
Kale and burrata bruschetta

Yields 6 to 8 servings
1 rustic baguette, sliced diagonally to form long slices

1/4 cup plus 2 tablespoons extra-virgin olive oil

2 cloves of garlic, peeled

1 bunch of curly kale, roughly chopped

1/2 teaspoon salt

1/4 teaspoon black pepper

1/2 cup water

16 ounces of burrata

1. Set your oven to broil.
2. On a baking tray, line up baguette slices.
3. Pour 1/4 cup of olive oil into a small bowl, and with a pastry brush, brush onto the tops of the baguette slices.
4. Broil until tops are slightly brown and crispy.
5. While the bread is toasting, in a sauté pan, heat 2 tablespoons of olive oil over medium heat. 
6. Using a microplane [1] grater, grate one clove of garlic into pan. Add kale, salt, and pepper. Stir everything together. Add water and cover until kale becomes wilted and tender. Set aside.
7. Using the other clove, rub the tops of baguette slices with garlic.
8. Spread 1 to 2 tablespoons of burrata on each slice of bread and top with a spoonful of sautéed kale. Serve warm.