We've seen a lot of wacky flavored M&M's over the years but the latest limited-edition offering might just be prettiest.
The taste, however, left candy fans divided.
Neapolitan ice cream-flavored M&M's, previously only available in Australia, have made their way to the U.S., just as the weather starts to warm up.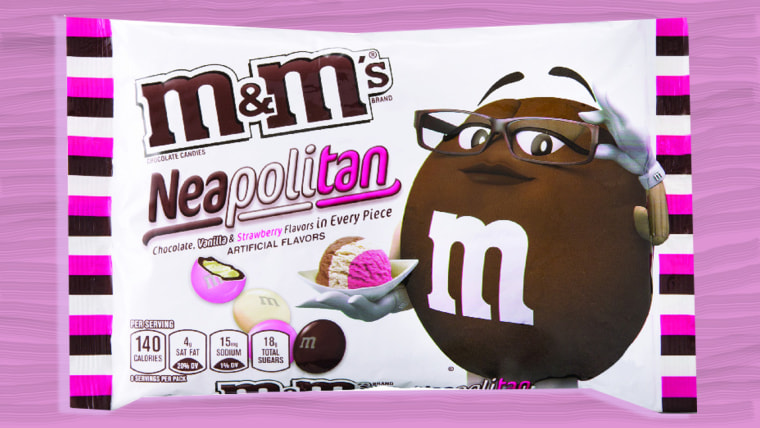 The new chocolates, which are now available exclusively at Target, sport the traditional Neapolitan flavors and colors: chocolate (brown), vanilla (cream) and strawberry (pink). Though the bag contains three different colors, each candy is supposed to taste like all three ice creams swirled together, plus the shell is super crunchy and the interior is creamier than a traditional M&M. The layers of flavor result in larger-than-average candy pieces, too.
Most TODAY staffers who tried the new candies agreed that this new version definitely tastes like its ice cream inspiration but many found the candy to be too sweet to enjoy more than a few at a time.
"Mars definitely nailed the Neapolitan flavor with these M&M's," said one TODAY taster. "The strawberry taste was the strongest, but there were definitely subtle hits of chocolate and vanilla. Plus, I loved the bright color of the pink M&M."
"They are intensely sweet," said another staffer. "I was surprised by how pronounced the strawberry was."
However, others felt that they couldn't taste the strawberry at all and reported feeling like it would have been better if each candy reflected just one Neapolitan flavor.
And on social media, more tasters were similarly divided.
Of course, since M&M's are pretty universally beloved, it's going to be hard for Mars to top the original.
"I would not choose these over the regular M&Ms," said another TODAY staffer.
Of course, these multi-colored candies are just the latest in a line of creatively-flavored M&M's.
Last year, Mars came out with caramel-filled M&M's (which TODAY's Hoda Kotb loved!), cookies and cream-flavored M&M's, and even a white chocolate pumpkin pie flavor.