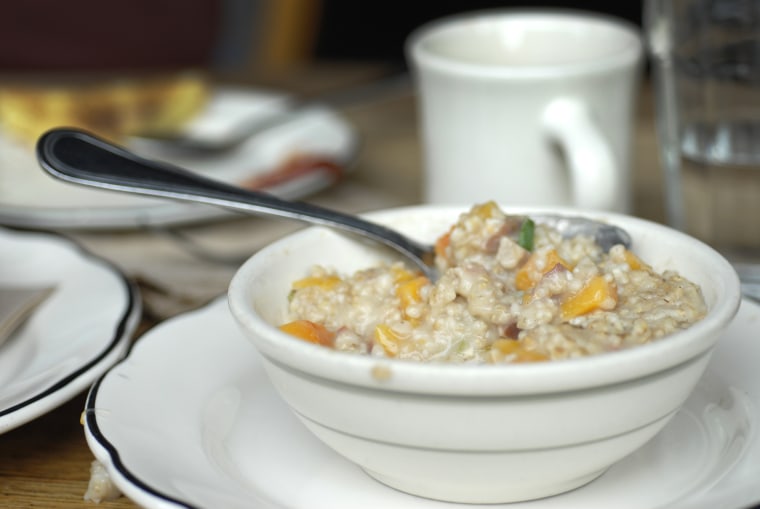 I recently overheard a father talking to his son about food.  He was explaining the difference between sweet and savory and after deciphering between the two, he quizzed his son. "Bacon," he offered. "Savory," the son replied.  "Strawberries?" asked dad. "Sweet," the son answered.  Then dad said, "Popcorn," and the son answered, "Sweet." The dad laughed and said, "Try again."  The son said, "Sweet! It was covered with caramel." Dad paused and said, "Oh, you're right.  Popcorn can be sweet or savory."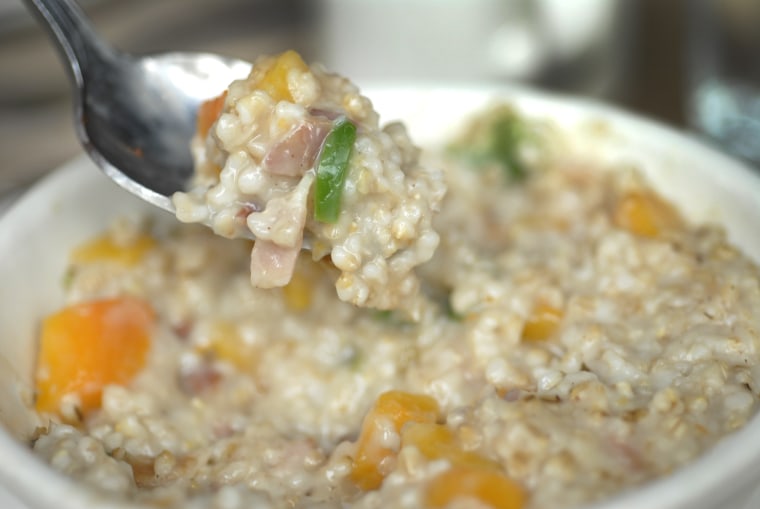 There are few foods that can get away with being equally as awesome either sweet or savory, and oatmeal is one of them.  Savory is the lesser-experienced oatmeal variety, but it's just as delicious. So in honor of National Oatmeal Day on Oct. 29, consider giving savory oatmeal a try!
Ditch the brown sugar, raisins, bananas and maple syrup, and try adding ingredients like eggs, scallions and soy sauce or sharp cheddar, sea salt, olive oil and black pepper. New York Times food columnist Mark Bittman, who has shared some delectable oatmeal recipes on TODAY, says that he actually prefers savory oatmeal to sweet.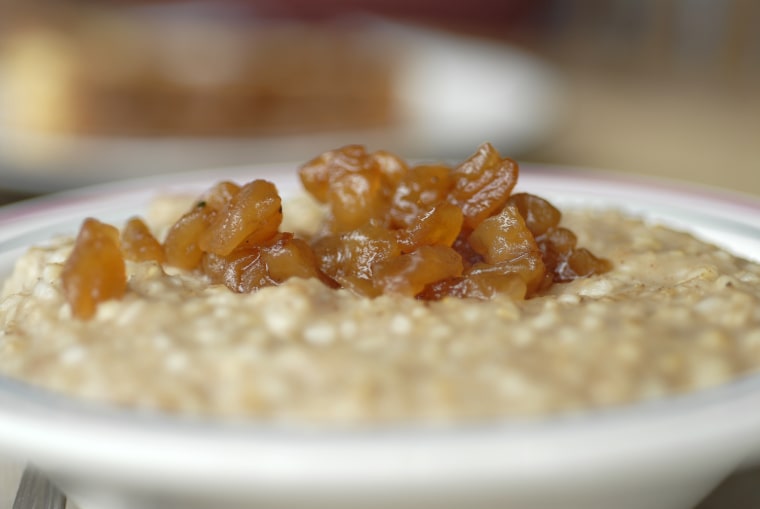 Though savory oatmeal is gaining momentum and starting to pop up with more frequency at restaurants in America, the idea of a porridge with savory foods is not a new one!  For centuries, Asian countries have eaten rice porridge, often known as congee, with add-ins like salted eggs, pickled vegetables and dried fish.  And consider grits. They're best with foods like shrimp, sausage, cheese and butter.  
Do you prefer your oatmeal savory or sweet? What are your favorite add-ins?  Tell us in the comments below.
Want to try your hand at making the drool-worthy savory oatmeal pictured in the first two photos of this post?  Here's the recipe, from The Farm on Adderley in Brooklyn, New York:
Butternut Squash Oatmeal with Chilies and Smoked Bacon
1C Steel Cut Oats (Anson Mills in North Carolina is a great Brand)
2C Water
1t Salt
1/2 Serrano or Jalapeno chili (finely diced)
1/2 C Butternut Squash (1/4" dice)
1/4 C Smoked Bacon (Cut into lardons and rendered)
2T Unsalted Butter
Black Pepper to taste
-Rinse oatmeal
-Combine the oatmeal, water, squash and chilies.
-Bring oatmeal to a boil, lower heat to a simmer, stirring frequently for about 6-8 minutes. The oatmeal should have a plump opaque look to it and the liquid should now take on a creamy texture. At this point at this point you can add the bacon, butter and make any adjustments to seasoning with salt and pepper.