Just in time for Super Bowl Sunday, the snack gods have blessed us with a new snack of epic proportions: Ruffles Mozzarella 'N Marinara Chips.
Yep, that's right: mozzarella stick-flavored chips are now a thing, and we're officially salivating!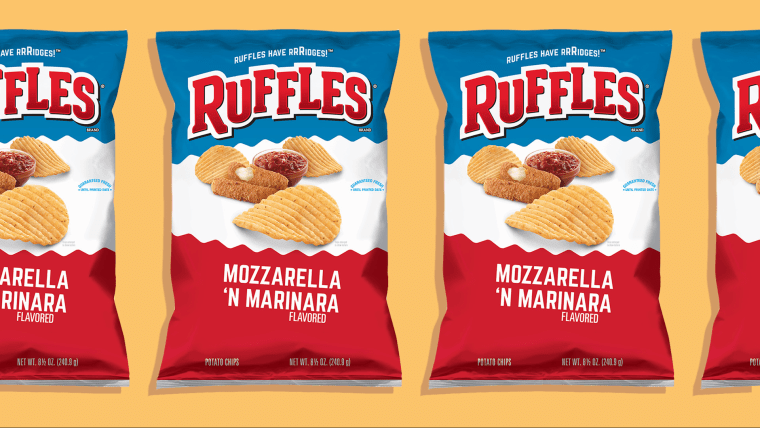 The new flavor combines two of our all-time favorite comfort foods in one tasty snack, and it's a permanent new item in the Ruffles potato chip roster, so there's no need to worry about it disappearing from shelves anytime soon.
Ruffles Mozzarella 'n Marinara chips were just released in the U.S. this month and we can thank food Instagrammer TheJunkfoodAisle for spotting the genius product at a Safeway grocery store Feb. 1. According to Frito-Lay, you can now find bags of the chips nationwide in grocery stores, convenience markets, and drug stores.
The newest release is just the latest in a lineup of flavors that seeks to push the envelope, Senior Vice President and Chief Marketing Officer of Frito-Lay North America Jen Saenz told TODAY Food.
"Ruffles enjoys delighting our fans with awesome flavors we think they will love," she said. "Ruffles Mozzarella 'n Marinara is one of our latest new flavors that's all about the delicious combination of the smooth satisfying taste of mozzarella with the tangy kick of marinara."
Flamin' Hot Cheetos ice cream and mozzarella stick-chips in the same week? We don't know what to eat first!