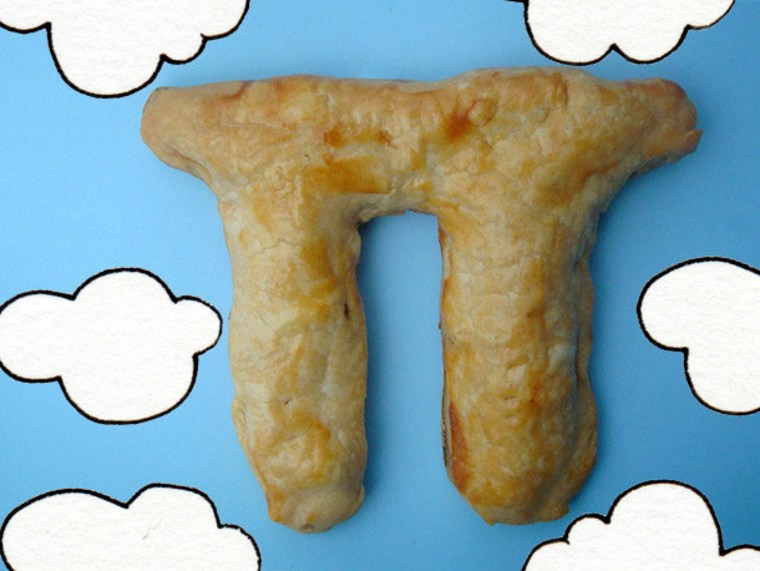 Who knew math could be so tasty? Today is Pi Day, the time when nerds rejoice because the date, 3-14, lines up to the infinite number pi, otherwise known as 3.14159265… And, just as there are thousands of numbers in pi, there are also thousands of types of pie, and thousands of excuses to eat pie.
We found
UPDATE: We came across this awesomeness and just had to include it!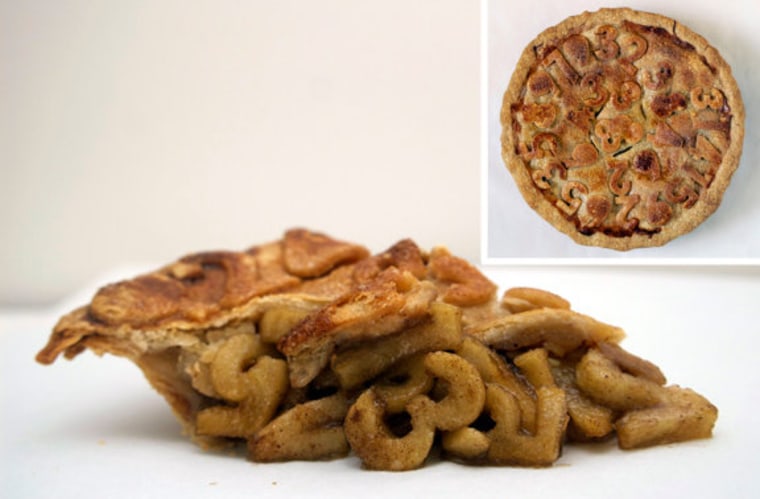 Apple pi
Meet the apple pi, a lovely dessert thought up by Shannon Weber of A Periodical Table. The pie consists of numbers from pi, delicately cut from the apples, tossed with cinnamon and butter, and then gently stuffed into a crust. Weber then covers the apple numbers with a pie shell. The crowning glory is pastry dough numbers to decorate the top.
Related story: Irrational exuberance on Pi Day
Pi pie
Cakespy's Jessie Oleson Moore gets cute with her Pi Pie. Yup, that's a pie shaped like the symbol for pi that she made for the blog Serious Eats. Amazing. It's recommended that you eat it at 1:59 a.m., because 1, 5 and 9 are the digits that come after 3.14. Now that's a gimmick we can get our mouths around.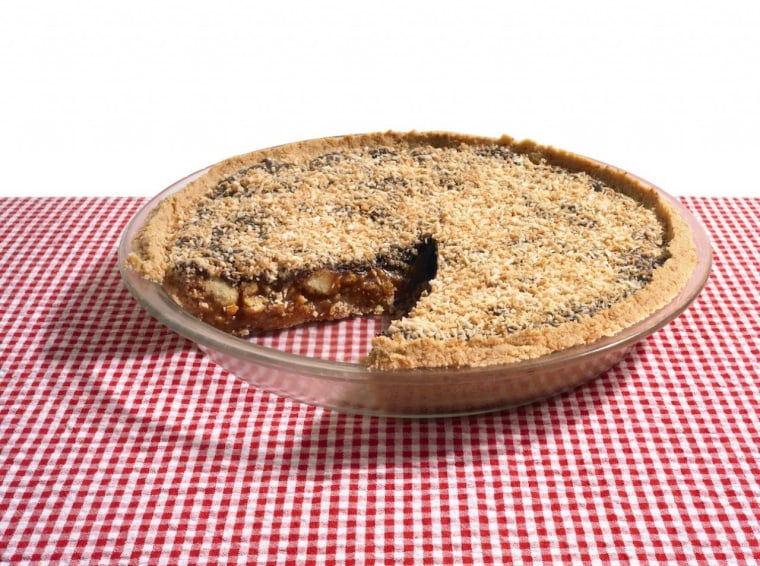 Samoan pie
Allison Kave of First Prize Pies in New York has paid homage to the popular Samoa Girl Scout cookie with this devious pie. The shortbread crust is chock-full of rich coconut caramel and drizzled with dark and milk chocolate and topped with toasted coconut. In honor of Pi Day, Kave is also debuting her line of savory pies at Heritage Meat Shop, which boosts three flavors, including a Moroccan duck pie stuffed with Peking duck, port-soaked apricots, spinach, saffron, cinnamon and ginger.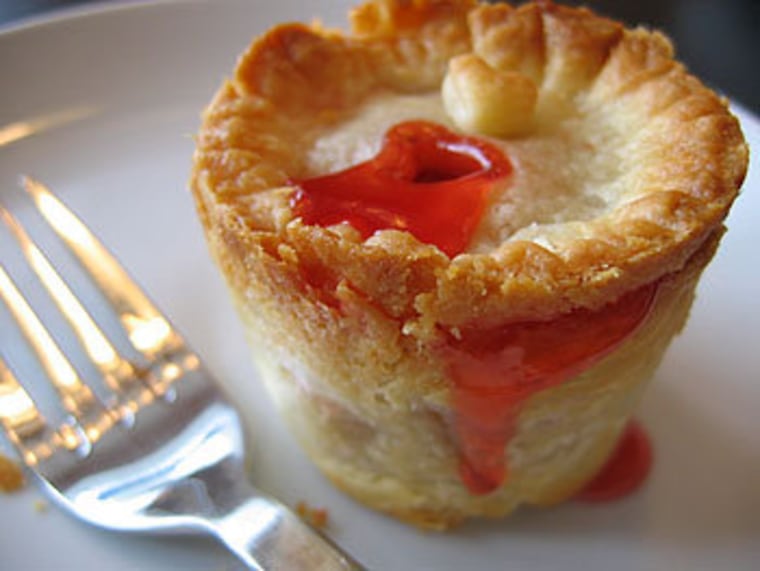 Jar of pie
In a unique take on mini pies, Megan Reardon of the blog Not Martha has reimagined the dish and baked them in jars. That's right, pie in a jar. Not only is this a brilliant idea, but handy for say, taking a car trip, going to the beach, or having a picnic. Plus, they make a super sweet gift. Check out the recipe.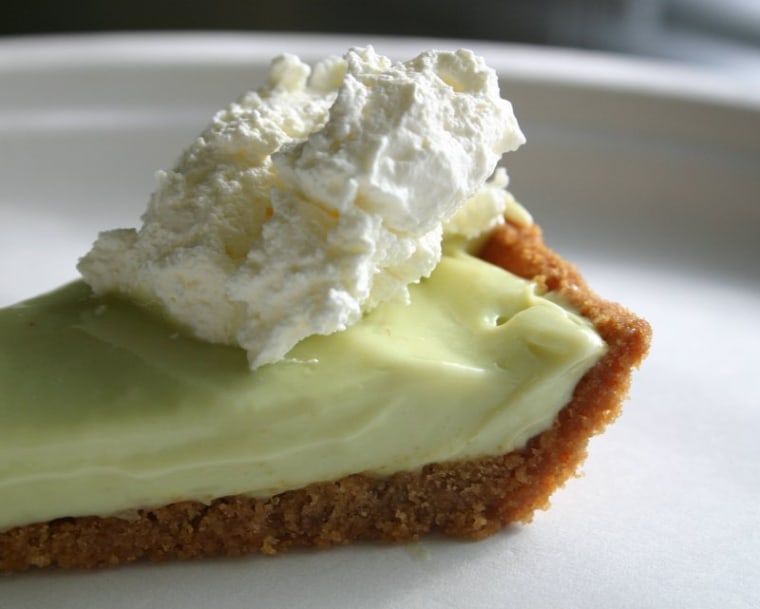 Avocado pie
No, this green pie doesn't taste like guacamole (although, wouldn't that be delicious?). The recipe by Pinch My Salt is simple: just one medium avocado, one can of sweetened condensed milk, some fresh-squeezed lemon juice – all poured into a pie shell, preferably a graham cracker one. Add some homemade whipped cream on top, and voila! A pie that won't taste much like avocado but has a sweet, silky finish and is sure to raise some eyebrows.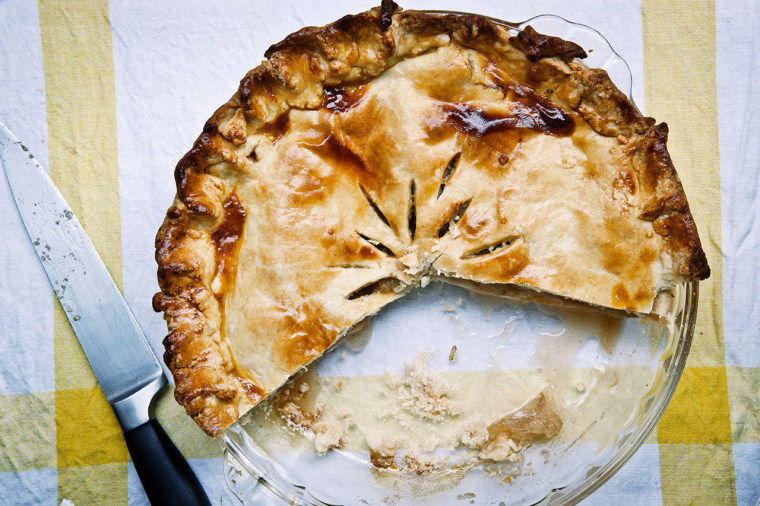 There's nothing unusual about this pie, but it is the quintessential apple pie. Taken from the April 1942 issue of Gourmet magazine, it was made by The Way We Ate photographers Noah Fecks and Paul Wagtouicz as a part of their greater blog project: cooking and photographing dishes from every Gourmet since its inception in 1941. We managed to find the recipe for you so you can re-create this amazing pie and add it to your baker's repertoire.
Perfect apple pie recipe
Adapted from Gourmet, April 1942
Pie pastry
2 ½ cups flour
1 tsp salt
¾ cup shortening
ice water
1 egg
Sift flour with salt into a chilled mixing bowl. Add shortening and fold until the mixture resembles little balls the size of peas.
Add ice water by the tablespoon as needed for binding the mixture. Chill dough for 2 hours or more.
Roll out dough on a lightly floured board and divide in half. Roll out to desired thickness, then place in pan, patting it down lightly.
Brush the top crust of the finished pie with a beaten egg for a glossy brown finish.
Filling
3 ¾ cups sliced apples
½ cup sugar
¼ tsp salt
¼ tsp cinnamon
1 Tbs lemon juice
1 Tbs lemon zest
1 Tbs butter
Preheat oven to 450. Line pie pan with pastry and fill it with apples.
Mix sugar, cinnamon, and salt and pour over apples. Add lemon juice and zest.
Cut up butter and dot around the pie.
Add top crust and slash top so steam can escape.
Bake for 10 minutes to set crust.
Reduce temperature to 350 and bake for 30-35 more minutes.
More from Bites:
Linnea Covington is a freelance writer who is excited to make her own pies, including a concord grape and lemon with bourbon crumble.