Could it be that there's actually no ginger in one of the most popular brands of ginger ale?
A New York woman is suing the Dr Pepper Snapple Group, the maker of Canada Dry Ginger Ale, alleging that she's been tricked for years into believing the drink contains ginger, when in fact it allegedly only contains extract from the spicy root.
Julie Fletcher of Bolivar, New York, filed a class action in the U.S. District Court for Western New York in late July for common law fraud, deceit and unjust restitution, among other claims.
Fletcher says she bought the popular carbonated drink to help calm her children's stomach aches, believing it contained ginger root and was a "healthier" alternative to regular soda.
Had she known it didn't have ginger root, Fletcher claims she wouldn't have bought the product or would have only purchased it for a lower price.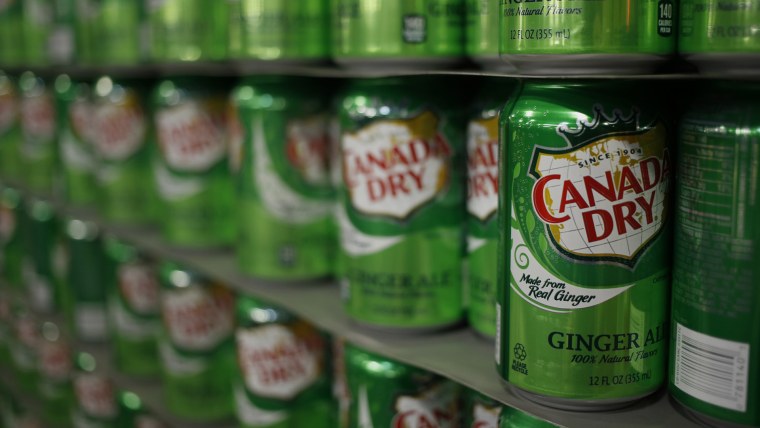 The suit alleges that the labeling and advertising of Canada Dry as "Made From Real Ginger" is false and deceptive, leading consumers to believe the drink is made from ginger root and that those who drink it will enjoy the health benefits of ginger.
The complaint claims that there is no real ginger in the product, only a " miniscule amount of a ginger flavor extract," and alleges that this extract is manufactured in a lab and would have "less than two parts per million of any ginger compounds in the final beverage," and would provide no health benefits. However, the complaint doesn't explain how they came to that conclusion.
The suit also alleges that Canada Dry added its "Made From Real Ginger" claim to its labeling to get consumers, who are becoming increasingly concerned with the health risks of soda and looking for a more nutritious alternative, to buy the drink and pay a premium for it, noting that sales increased by 9 percent within six months of adding the claim.
"[The company's] misrepresentations have misled millions of consumers and caused them to pay a premium for Canada Dry beverages," the complaint states.
Fletcher, who is seeking damages in an amount to be determined at trial, is not alone in calling out Canada Dry for its alleged lack of ginger.
In 2017, Gegham Margaryan filed a class action suit in a U.S. District Court California against Canada Dry for falsely advertising that it contains ginger, and in April, a U.S. District Court in Missouri found that the representation "Made from Real Ginger" could be false or misleading to a reasonable consumer.
While it shouldn't come as a surprise to anyone that sugary sodas and certain snacks aren't really healthy, there is no shortage of lawsuits when it comes to foods allegedly being misleading. Recently, a consumer sued Halo Top over false claims that it is actual ice cream and Dunkin' Donuts was sued for a lack of blueberries in its blueberry doughnuts.