A sizzling steak fresh off of a grill is one of summer's best simple pleasures. After letting the meat rest for a few minutes, it's time to dig in.
But wait! There's a way to make that steak experience even better — by topping it with the perfect sauce.
Here to the rescue is a steak sauce recipe that's so beloved by the internet, it's the most popular sauce on Pinterest right now.
So what's in this magical sauce?
Believe it or not, the most popular sauce isn't an Italian one like marinara, Bolognese or Alfredo. Instead, it's a butter-based recipe with a memorable name: "Oh My!" Steak Sauce. Created by food blogger Jessica Segarra of The Novice Chef, it's been saved over 50,000 times on people's Pinterest boards.
"It is so loaded with flavor and I have yet to find anyone who can resist it," she wrote. "Every single time we have guests over and I serve this steak sauce, they BEG for the recipe!"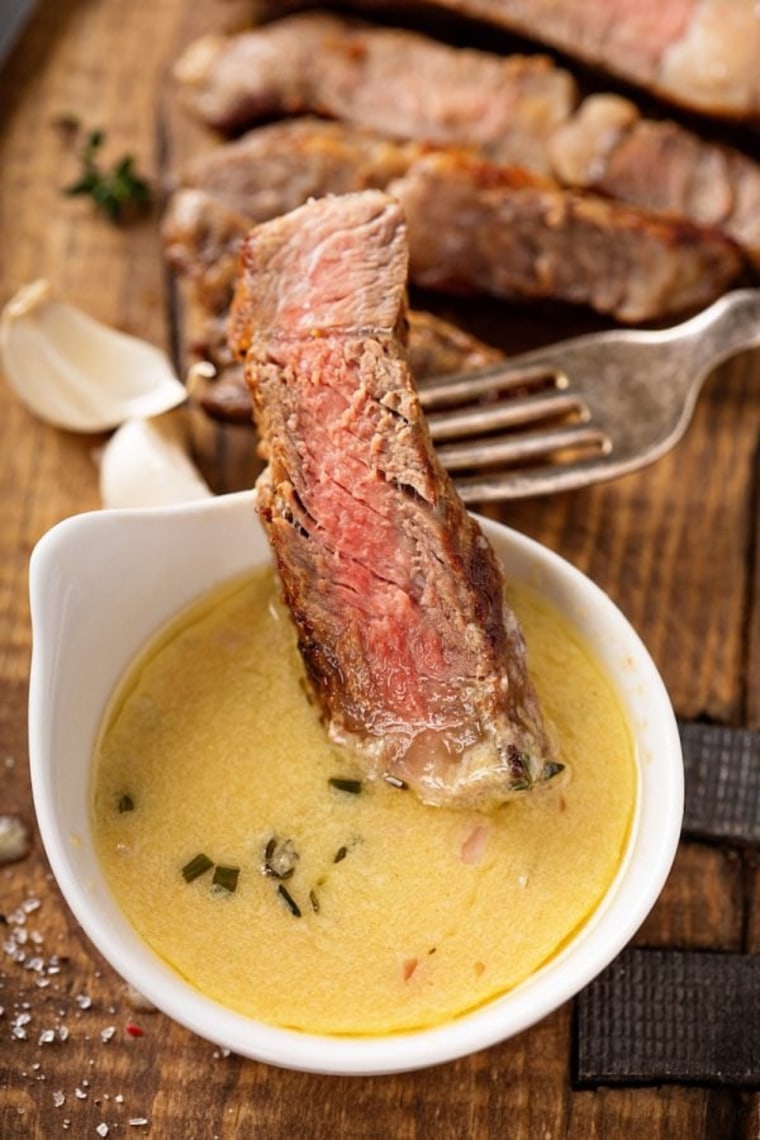 The sauce itself sounds simple enough. It's a combination of melted butter, minced shallots, chives and garlic, grated horseradish, Dijon mustard, fresh thyme and just a pinch of cayenne pepper to give it the tiniest bit of heat.
"I know you are all probably rolling your eyes HARD at the name ... but I seriously could not come up with a better name that would properly describe it," Segarra wrote.
The low-carb, gluten-free and keto-friendly sauce takes just five minutes to prep, but the key isn't in the preparation, according to Segarra. It's what happens after everything has been whisked together.
"If you let it sit for just 10 minutes, the butter will cool and thicken a little and then it's PERFECTION," she wrote.
Then it's time to start dipping ... with pretty much any food you like! Roasted chicken and vegetables are also very good in the butter bath, according to Segarra.
Segarra's fans have agreed and written plenty of complimentary comments like, "OMG I think I'm in love with this sauce!! Putting it on all the things!!" and "I could drink this stuff straight!"
Segarra's sauce, which she posted on her blog in April, is made with many of the same ingredients as a Cowboy Butter recipe that was created by food website Delish in 2017. Delish's Cowboy Butter is the fourth most popular sauce recipe on Pinterest, according to a representative for the social media site.
Segarra's sauce calls for more garlic, chives and horseradish, and does not include lemon juice, paprika or chopped parsley. Also unlike Delish, Segarra advises that it's important to allow the sauce to thicken for 10 minutes before serving.
"This recipe came about from an old family recipe I adapted to make keto-friendly when I was on the keto diet," Segarra told TODAY Food. "I haven't even heard of that [Delish's] sauce."
The second most pinned recipe is a remoulade called "Southern Comeback Sauce" from the food blog A Southern Perspective. The humbly named "Best Chimichurri Sauce" by Ciao Florentina and "Best Ever BBQ Sauce" by Melanie Cooks are the third and fifth most popular, respectively.
Looks like it's time to get saucy for dinner!