With the most romantic date night of the year coming up, you may want to make those after dinner-drinks extra special. Sure, you could whip up a specialty cocktail at home, but why not dazzle the apple of your eye with something truly over-the-top this Valentine's Day?
These hot cocktail spots around the country definitely aren't your average dive bars — and all of these cocktails will set you back a pretty hefty chunk of change. But if you're looking splurge, you've come to the right place. Hey, that diamond ring can wait 'til next year, right?
Oliver's Dream, The French Room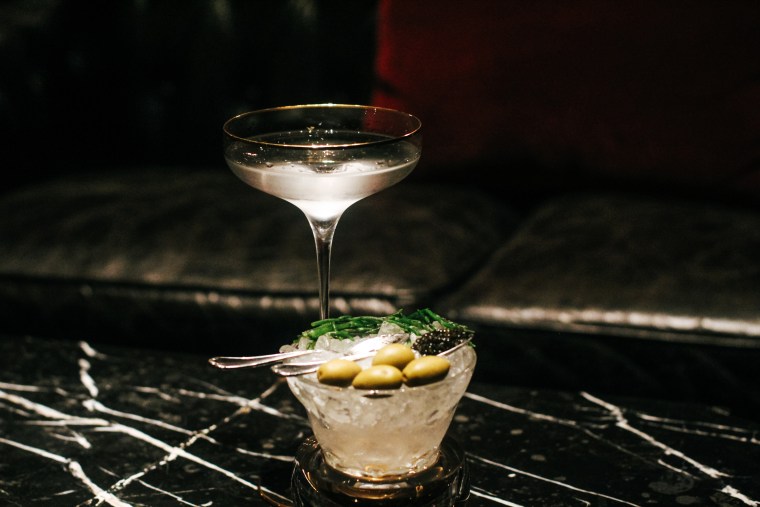 Oliver's Dream, which runs for $75 at The French Room in Dallas, is made with Beluga vodka and blanc vermouth, and it's served with truly over-the-top accompaniments including decadent caviar, sea beans (a salty succulent plant rich in umami), lemon pearls, and Picholine olives.
Ono, Wynn Las Vegas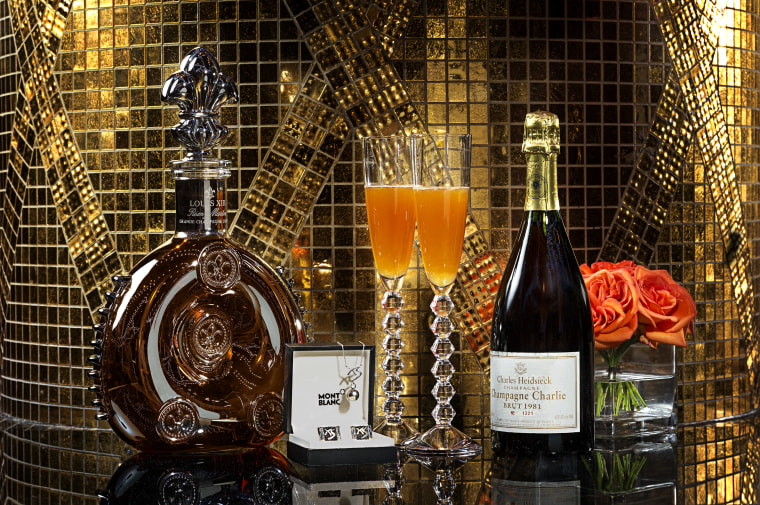 The Ono at XS Nightclub at the Wynn in Las Vegas features Charles Heidsieck 1981 Champagne and Rémy Martin Louis XVIII Black Pearl cognac, and is presented with a tray full of custom glassware, including two gold-rimmed Baccarat champagne flutes for the cocktail. The whole shebang comes with additional gold-rimmed shot glasses, which have orange juice, rose nectar, and apricot nectar. Guests who order the cocktail receive a special set of jewelry, including a set of sterling silver Mont Blanc cufflinks and an 18-karat gold necklace with a black pearl and a diamond. It's a major splurge though, so be prepared: The cocktail runs for $10,000.
Vesper Martini, Bagatelle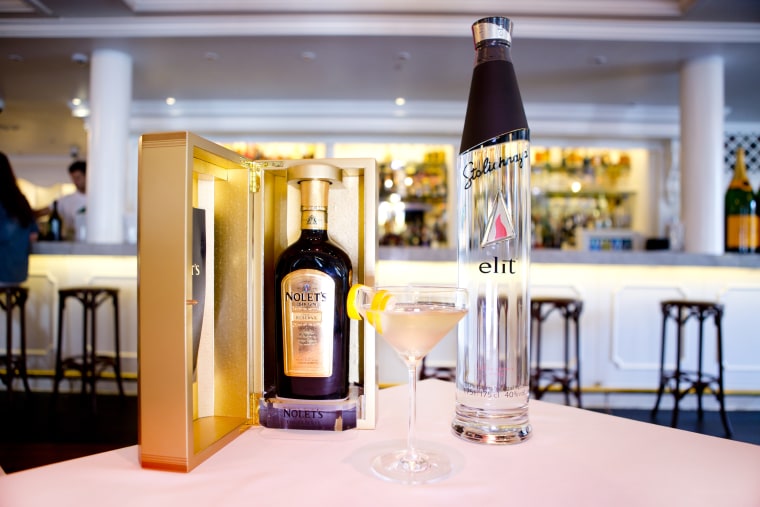 Bagatelle in New York City is known for its over-the-top party brunches. On its bar menu, you can indulge in oversized bottles of champagne or the restaurant's signature Vesper Martini for a cool $215. Perfect for Valentine's Day, the cocktail is delicately pink and it's made with Nolet's Silver Gin, Beluga Vodka, Rose Lillet and a lemon peel twist.
Monica Martini, Minus5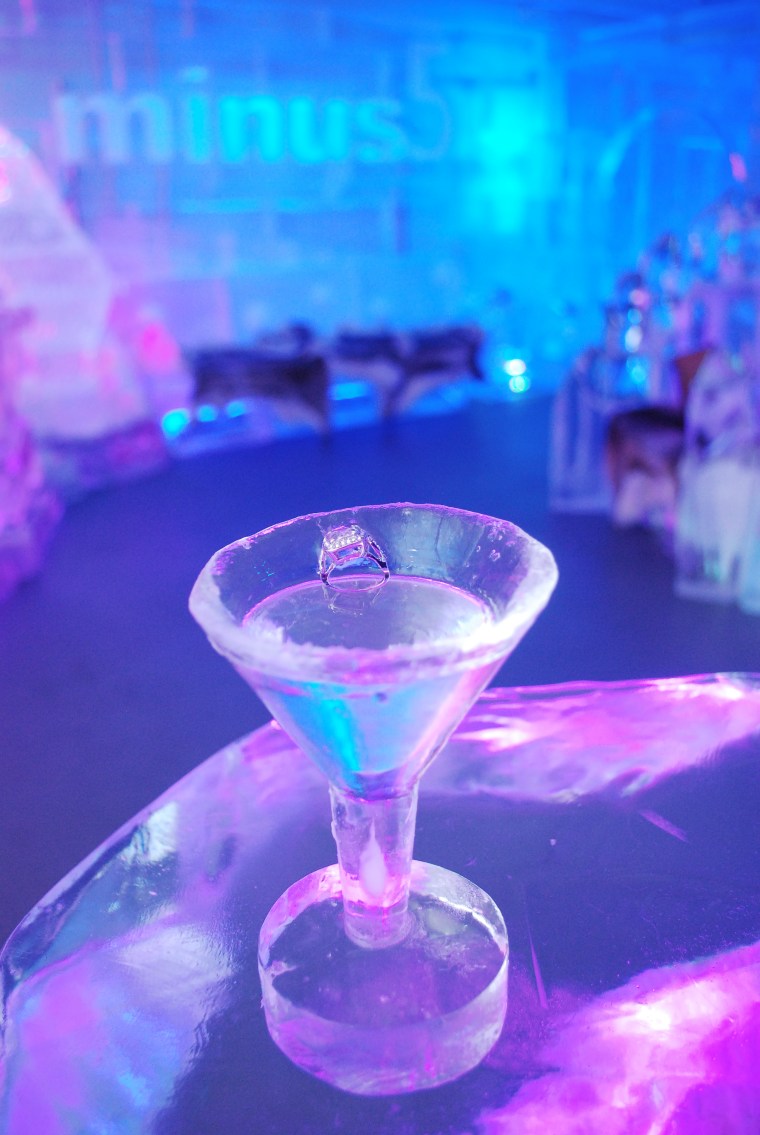 Looking to propose to that special someone in a truly unique way? Look no further than the Minus5 Ice Experience in Las Vegas. Make it a story to remember with the $10,000 Monica Martini. The Jewel of Russia Ultra Vodka martini comes adorned with a diamond engagement ring from Aaron Lelah Jewelers. Just make sure to give Minus5 at least two days notice and they will embed the ring of the proposer's choice into a martini glass made entirely out of New Zealand artesian water. Then, your unforgettable night starts by donning faux fur coats and entering a winter wonderland adorned with crafted ice sculptures. Order up the martinis and the rest will be history…
Dom-arita, Blossom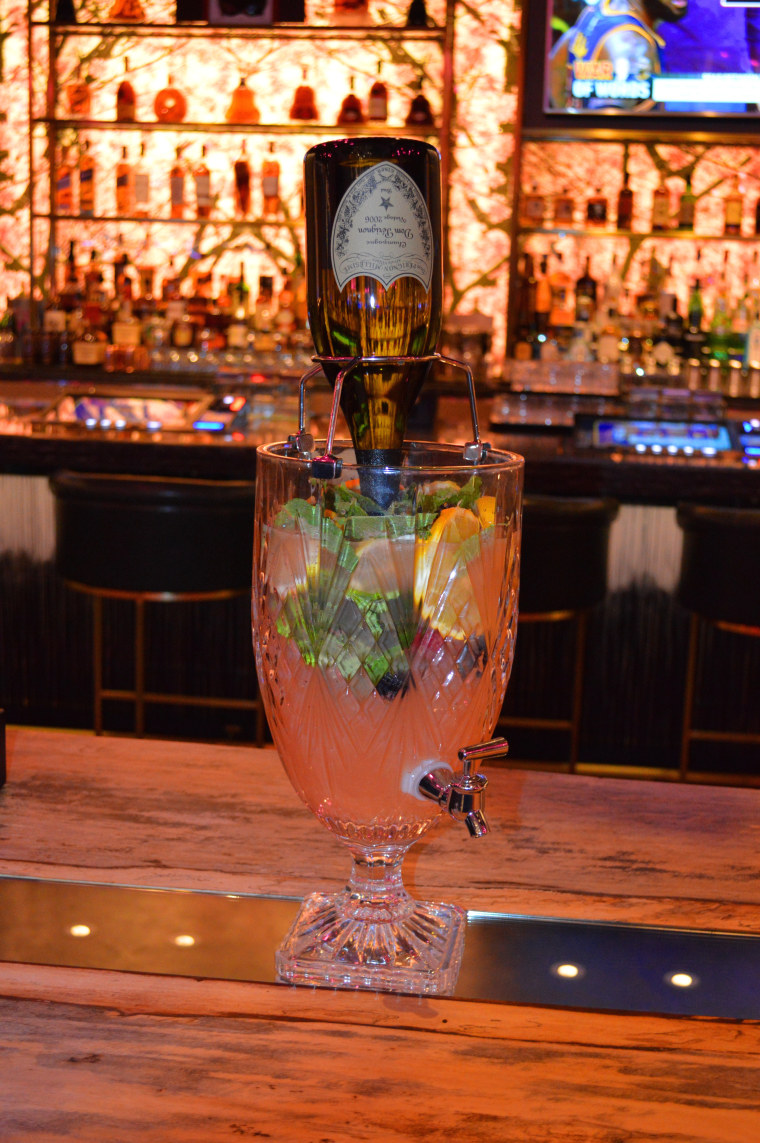 You'll feel like a celebrity ordering the $1,000 Dom-arita from Blossom at MGM National Harbor, located just outside of Washington D.C. Lead Bartender Antony Sazerac created what is arguably the most opulent margarita on the planet by mixing Don Julio 1942 Tequila with Grand Marnier Quintessence. The drink is finished with an entire bottle of Dom Perignon Champagne that not only serves as part of the drink, but hovers over the punch as an incredibly grand garnish.
The Impeachment, The Watergate Hotel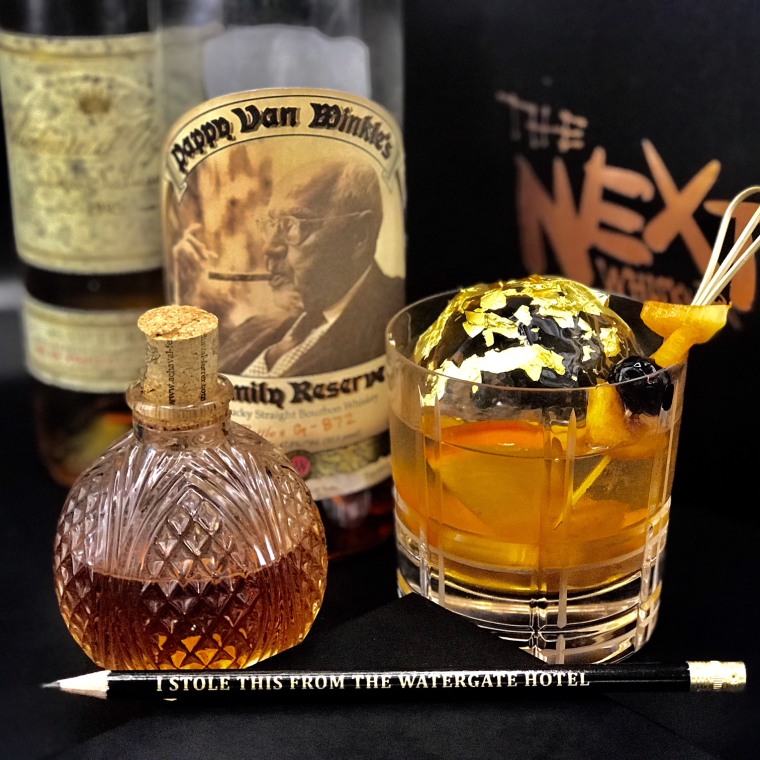 The Impeachment cocktail is $1,500 and it's served at the world-famous Watergate Hotel. A luxurious take on the classic old fashioned, the Impeachment features rare Pappy Van Winkle 23 year old Bourbon, combined with fresh peaches that are soaked in 1995 Chateau d'Yquem Sauternes, chilled with a hand chiseled ice globe adorned with 14-karat gold leaf and served in a Christofle rocks glass that is yours to keep! For the full experience, the cocktail can be custom-crafted for two inside the original Scandal Room 214, where G. Gordon Liddy and E. Howard Hunt orchestrated the Watergate break in in 1972, with live storytelling from the original arresting officers who changed history. The experience will run you $5,000 for two cocktails, but it includes an overnight stay at the newly-renovated luxury property.
The Billionaire Margarita, Los Arroyos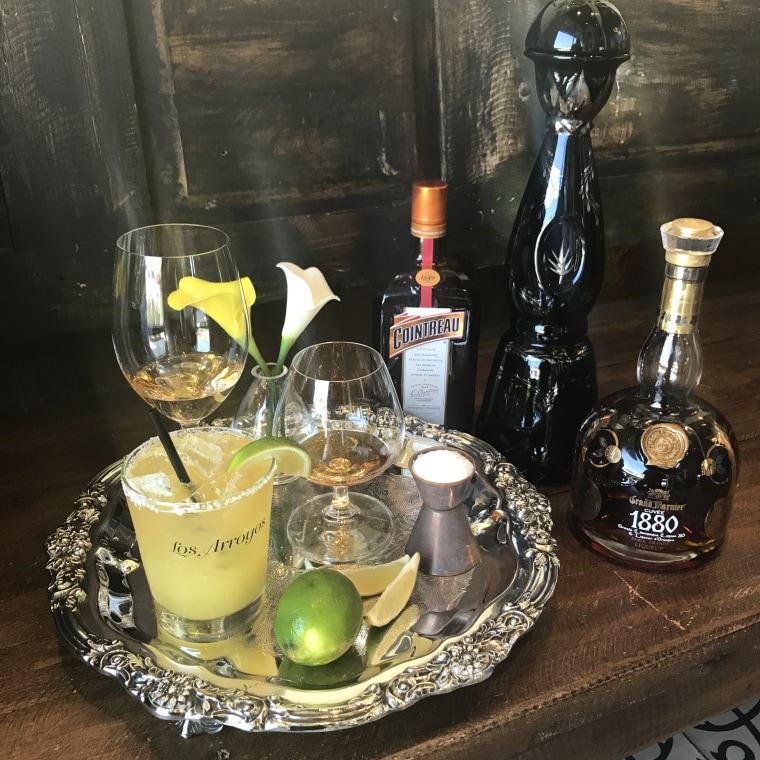 The Billionaire Margarita at Los Arroyos in Carmel, Indiana, will cost you $350 — and that's without the tip. But from what customers have reported, it's worth it. Made with Clase Azul Ultra tequila, Añejo Black tequila, fresh juices and Grand Marnier Cuvee, this tangy, stiff take on a classic margarita might just be the way to ring in a grand 21st birthday celebration or, well, just celebrate the end of a very long work day.
The Godfrey Cocktail, I|O Godfrey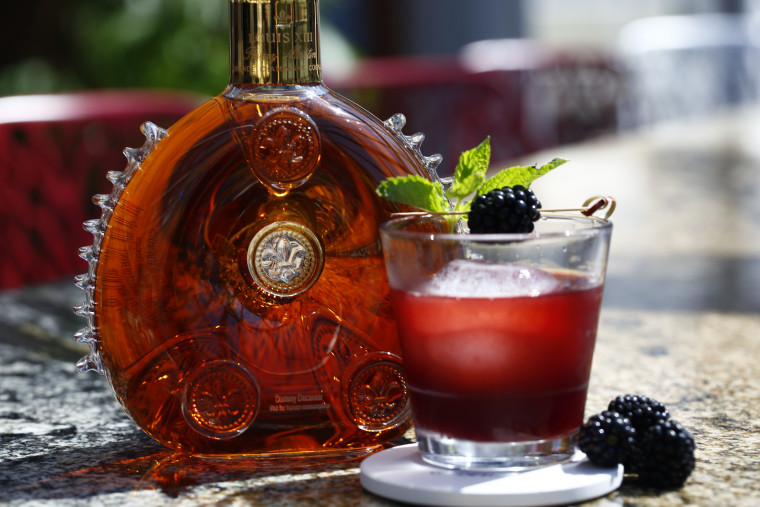 For the tastemaker looking to make a big impression and indulge in something special, this signature cocktail at I|O Godfrey, the all-seasons rooftop lounge at The Godfrey Hotel Chicago, runs for $200 and is made with the coveted Louis XII cognac, Crème de Mûre, and fresh blackberries. It's a simple and elegant mix perfect for sipping while taking in the cityscape views at the indoor-outdoor rooftop space.
1K Negroni, Lot 45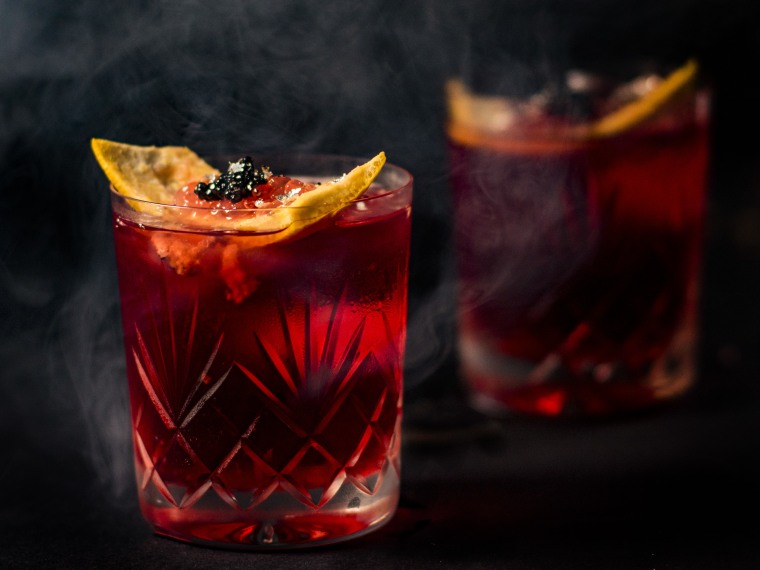 Lot 45 in Brooklyn, New York originally created the 1K Negroni for Negroni Week, but it's now available again as an off-menu special just for Valentine's Day. It's made with Campari, Gran Patron Platinum and Carpano Antica Vermouth. And it's topped with shavings from a rare, black Italian truffle and garnished with a thin orange peel boat, plus rich, Caluisius Siberian caviar and handmade cocktail caviar, which is created by infusing Campari and caviar together. Additionally, a dash of edible platinum flakes is added to the cocktails before they are each smoked with applewood to add a savory note that enhances the truffle shavings.
Million Dollar Martini, The Ritz Carlton, Rancho Mirage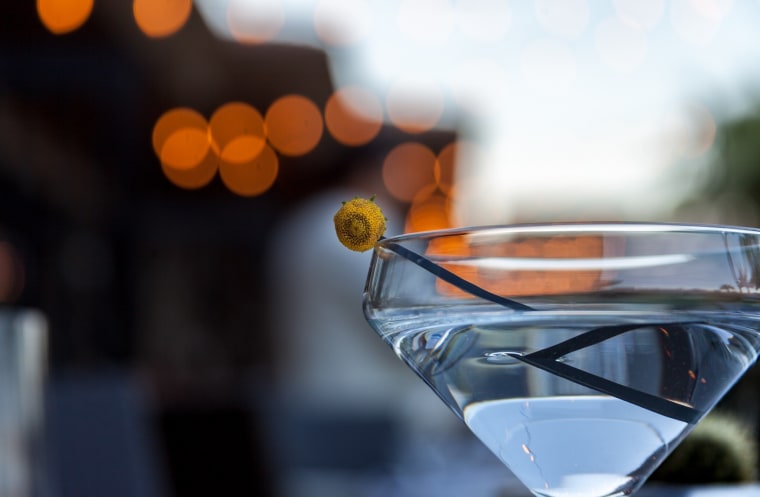 You'll find this martini at The Ritz Carlton, Rancho Mirage in Rancho Mirage, California. It won't set you back seven figures, but it has a pretty steep price tag of $156. This gin-based cocktail features the bar's unique "Buzz Button" flower, which causes a tingling sensation in the drinker's mouth. The electrifying sensation created by the buzz bud stimulates the salivary glands, supposedly unlocking and revealing the rich flavor profile of the floral infused gin, when made with the bar's preferred Nolet's Reserve Gin.
Traditional Brandy Punch, The Rose Club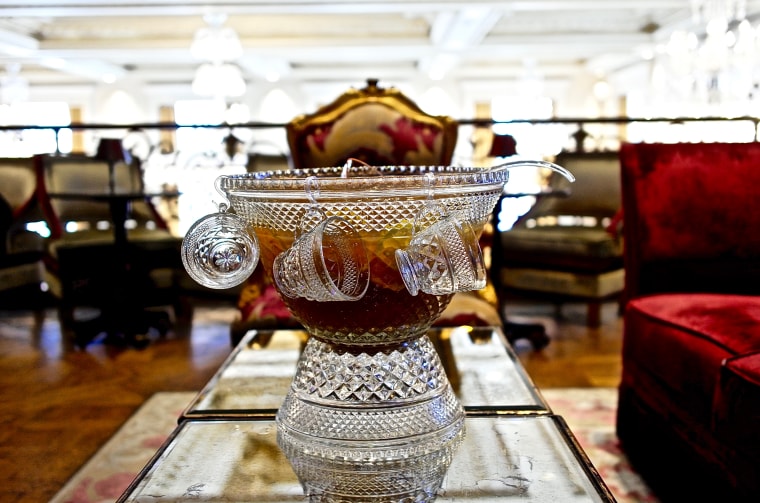 The Traditional Brandy Punch from The Rose Club at The Plaza Hotel combines Hennessy VSOP cognac with a strongly brewed black tea and brut Champagne. It's sweetened with the bar's own house-made dark brown sugar syrup and accented with fresh-squeezed lemon juice, fresh ground nutmeg and angostura bitters, then finished with lemon and orange rings. The drink, though costly at $300, is meant to be shared among six to eight companions.
Through The Looking Glass, Living Room Bar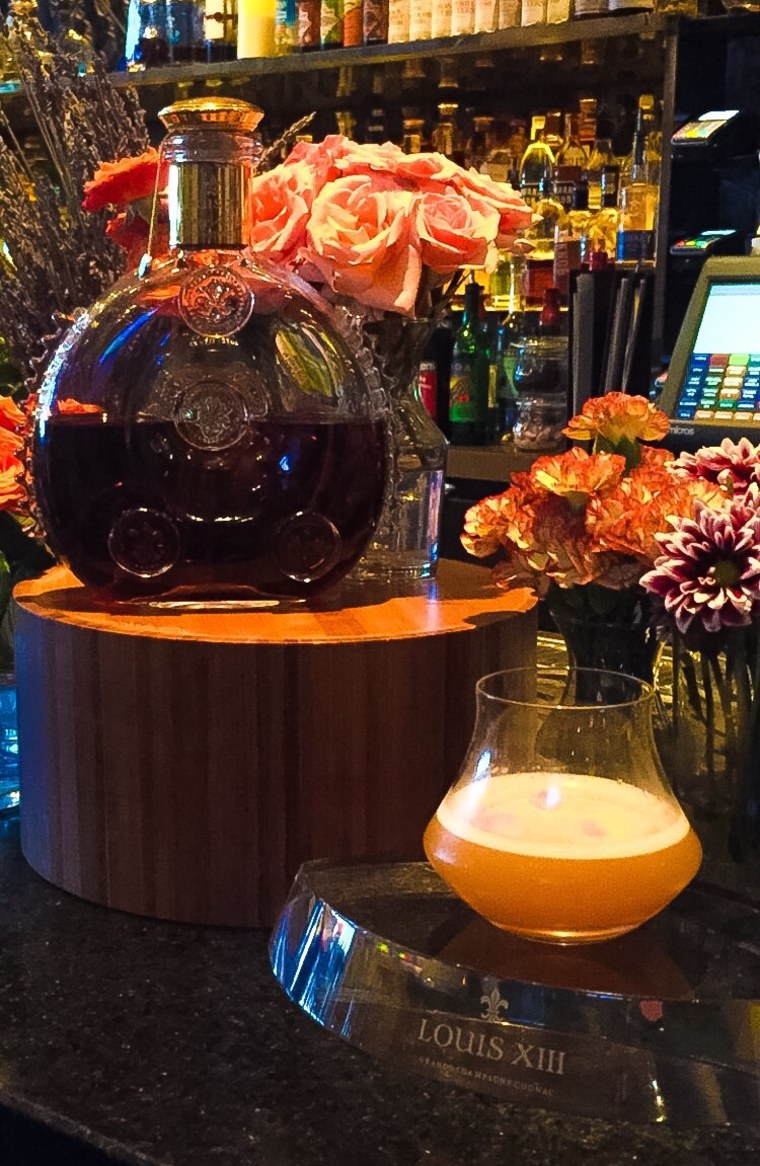 At the Living Room Bar at the W South Beach in Miami, guests can sip the Through the Looking Glass cocktail, priced at $450. It's made with Louis XIII cognac, fresh peach nectar, crystallized rose petal syrup, peach bitters, fresh lemon juice — all garnished with edible rose petals.
Chateau St. Germaine, Del Frisco's Double Eagle Steak House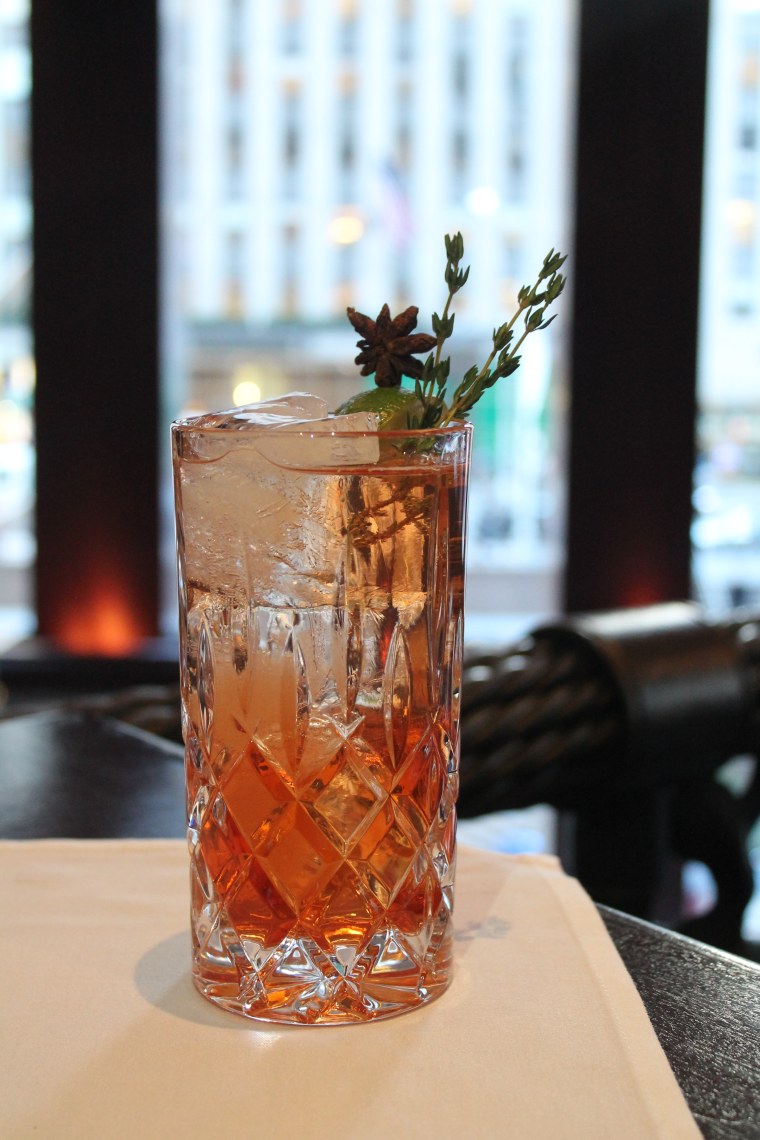 This cocktail is made with one of the world's finest oak-aged Armagnacs. Spirits' expert Joshua Stanko at Del Frisco's Double Eagle Steak House builds this $500 cocktail tableside using St-Germain elderflower liqueur, fresh lime and Peychaud's bitters.
1942 Truffled Martini, Galley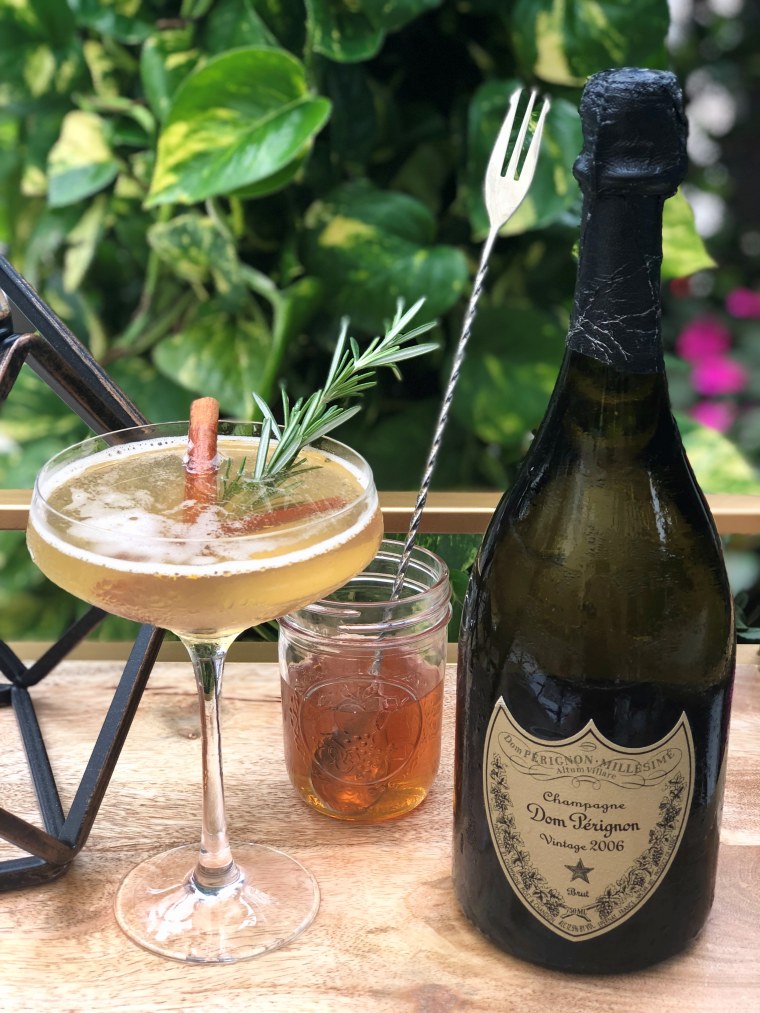 The newly redesigned Galley in West Palm Beach, Florida features this cocktail made with Don Julio 1942 tequila infused with rich truffle, grated cinnamon, lemon, Colorado clover honey and topped with Dom Perignon Champagne. True to its name, the premium drink goes for a steep $942, though it's also served with a $500 gift card for a private shopping spree at the nearby CityPlace shopping center, that also includes a private art tour.
ARIA Sazerac, High Limit Lounge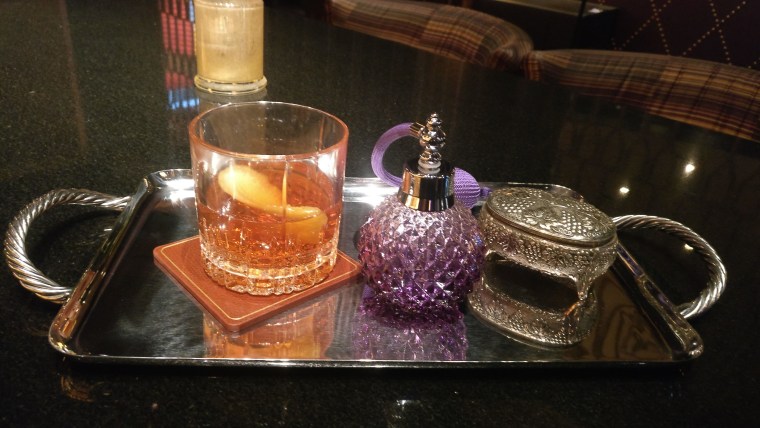 In Las Vegas, ARIA Resort & Casino's property mixologist Daniel Marohnic hand-crafted this $1,500 cocktail. It's made with ARIA's exclusive Hardy Thoroughbred Cognac that exists nowhere else in the world, along with Demerara syrup, Peychaud's Bitters, La Clandestine Absinthe Rinse and lemon oil. The cocktail can only be ordered at the property's High Limit Lounge.