As Jacob Wittman faced the completion of his high school years, his mother Shelly Henley met the milestone with an unexpected feeling: complete dread.
That's because the Indiana mother of two realized — like so many other parents of young adults with autism — that Jacob's fate was uncertain. "You go until you age out of school, then you fall off a cliff," she told TODAY.
"My son would've been sitting in the basement playing video games and collecting disability. It would've been him and I ..." she said through tears.
"I get upset thinking about it, because today he made cupcakes for a wedding," the mother said of her 20-year-old. Henley had spent her own morning selling baked goods made by her son's company, No Label at the Table, at a farmer's market while her 17-year-old son, Sam, stayed home with Jacob, who doesn't do well in crowds.
"Any parent wants to help their child live to their full potential," she said.
While it's only four months along, the business she started with Jacob is growing at a rapid pace. A unique setting, the bakery specializes in dairy-free, gluten-free food and only employs adults with autism.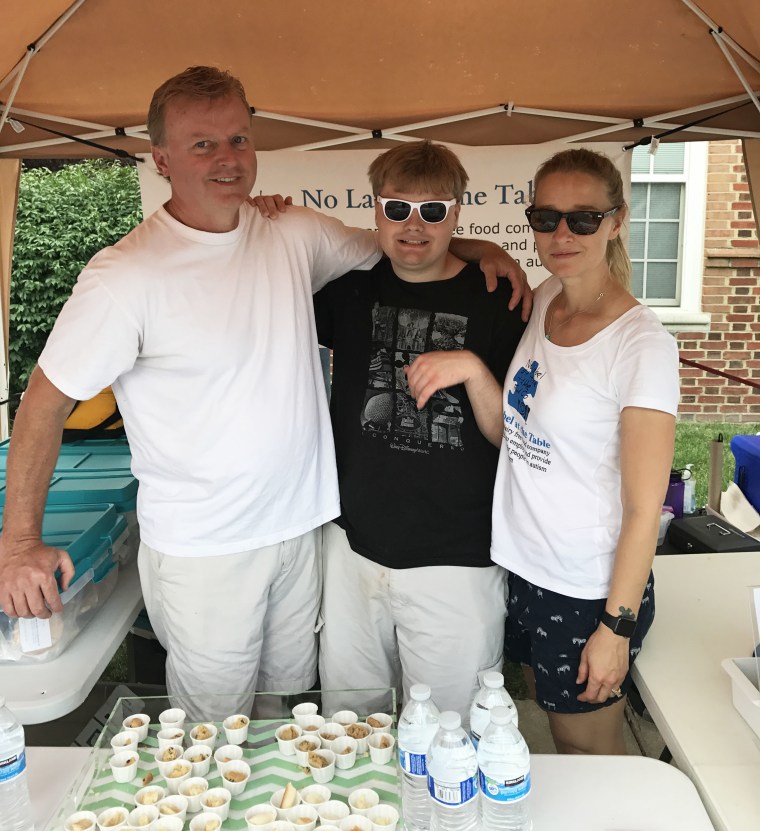 Henley chose the name with her son to ensure that "no label or diagnosis prevents my employees from living to their full potential, and no food label should limit any individual from having good food."
It all began after Jacob told her he wanted to be a chef when he was 18.
"To go to culinary school was out," she said, and because he can't meet the academic level of high school, he won't have a regular diploma. "Nor would he ever make it through a job interview," she said. "He would've been relegated to a dishwasher position, and that's not where he wanted to be."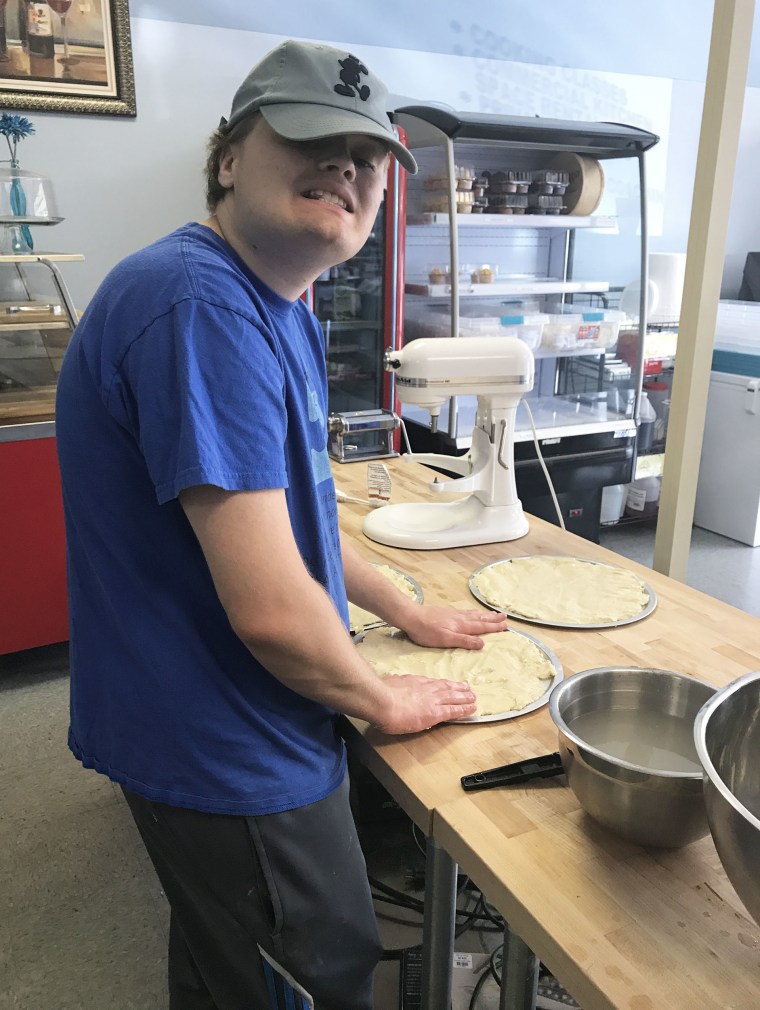 According to the nonprofit Integrate Autism Employment Advisors and a University of Miami//Nova Southeastern University survey, only 19 percent of adults with autism are employed, mostly in part-time jobs.
Therefore, Henley made it her mission to create a bakery that would allow her son and other young adults with autism in her community to reach their potential. "We had three when we started, now there are 13 employees," she said of the fledgling business, which produces baked goods once a week in a rented space. "If we had our own storefront we could eventually go to 25 employees, all on the spectrum."
The paid positions range from four to 18 hours a week, but Henley said they'd have some full-time employees when they establish a permanent bakery.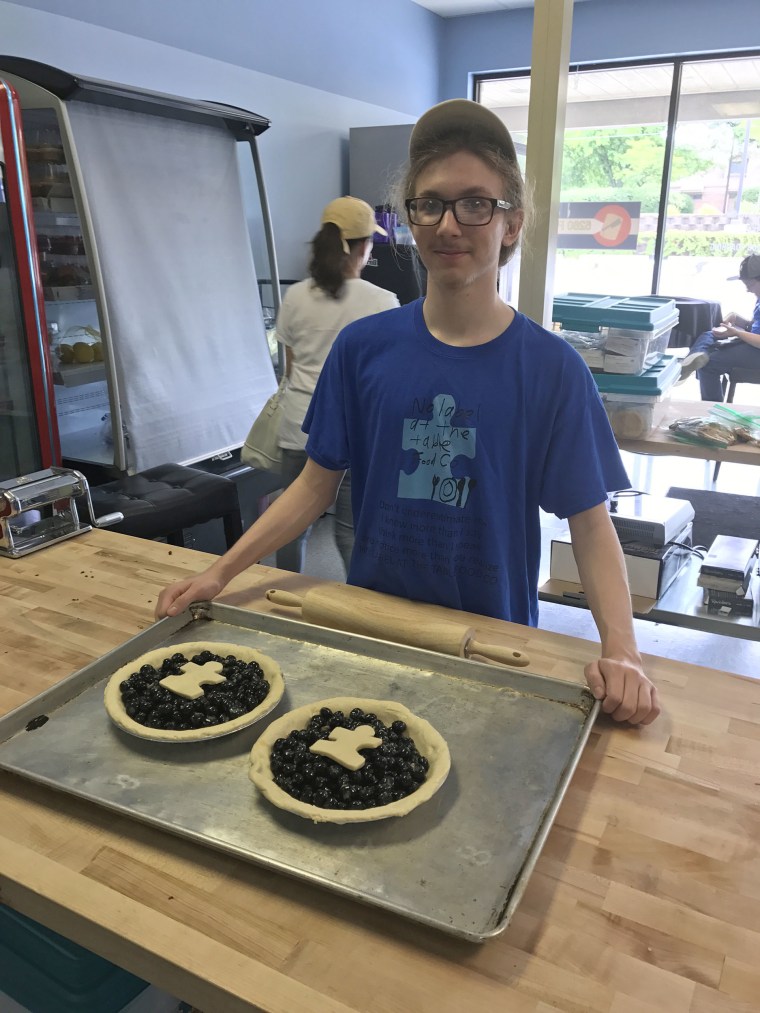 "Everybody earns because their work is just as valuable as those who are not on the spectrum," she said. "I can't tell you what it means for them to get that paycheck." Workers at the bakery are more confident she's noticed, and the mother-son team has received resounding support from the caregivers of the people they've hired.
"A year ago I didn't know what I was going to do. I was battling (Jacob) every day to get him out of his room, to get his schoolwork done … Now he's up and ready to go at 7:30 in the morning, and he can work a 12-hour day," she said.
Jacob is still taking high school classes through Hoosier Academies, a public online school, but focuses some of his studies on topics that support his bakery, such as business and chemistry.
Jacob's hypersensitive sense of smell and precise palate allows him to develop inventive and balanced flavors, like basil-strawberry muffins, or lemon-almond cookies.
"Where it was once a battle to get him to do his literature courses, he's now constantly researching online for new recipes," she said. "He literally walks taller. He's a part of people's weddings. He's a part of people's birthday parties now. It has given him a purpose in life," the proud mother said.
Every worker at No Label has a similar story: One of their early hires, Jessica Reed, was despondent prior to the new job, Henley said.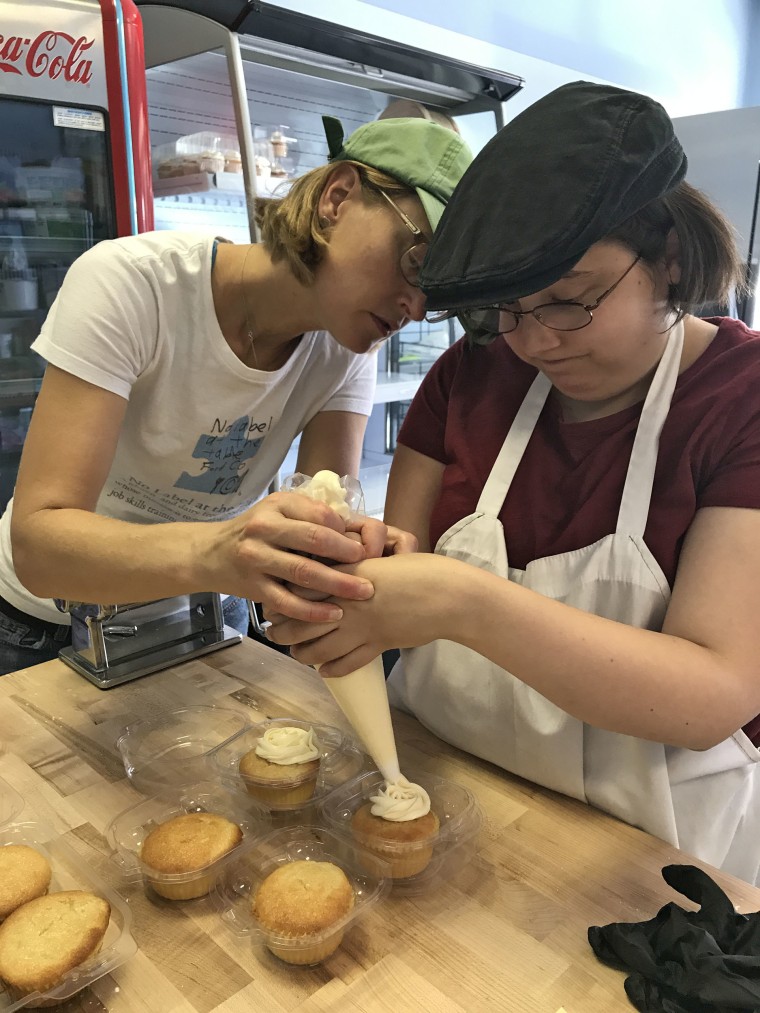 Reed, who does packaging for the company and is learning how to bake, would refuse to get out of bed or wash her face in the morning. Her work at the bakery changed that.
"She gets up and gets dressed, and now she's making a meal for her family, so she's not late to work," Henley said. "She gets out, she is around people her own age, she's doing something productive, having meaning in life and connecting socially."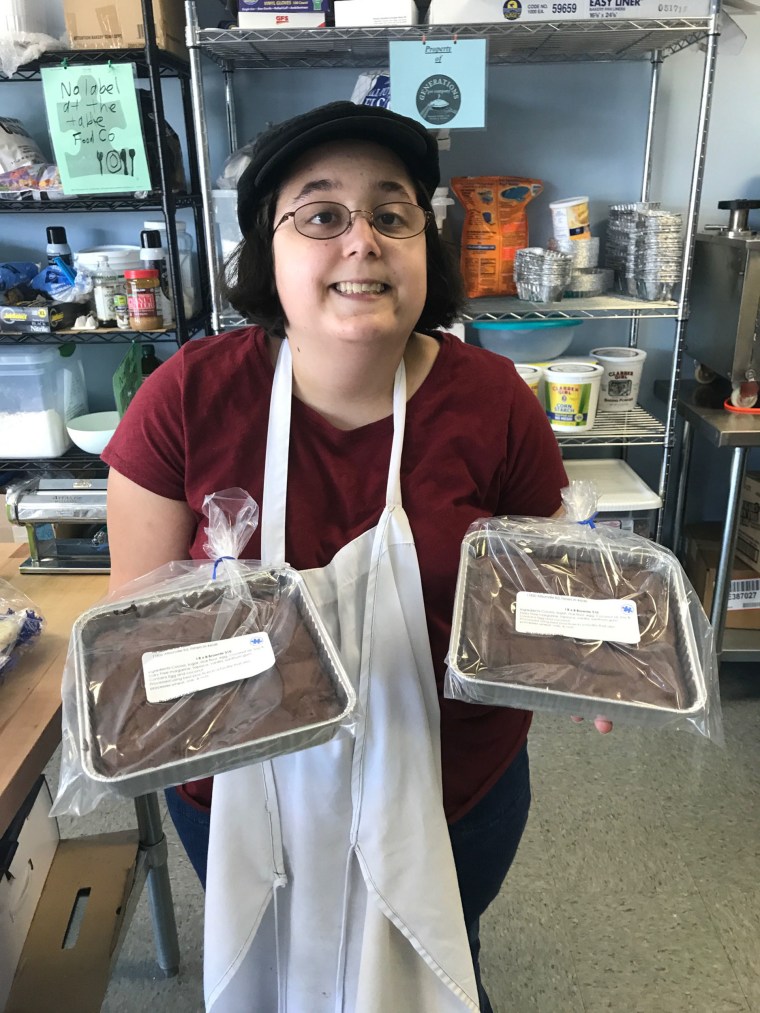 The idea of developing a business designed to employ adults on the autism spectrum came when she visited a Florida-based car wash, Rising Tide.
As it came together, Henley realized she finally had a chance to relax — and help other parents facing the same fears about their children's future do the same.
"Not only has my son found his life purpose, but I have also," Henley said.