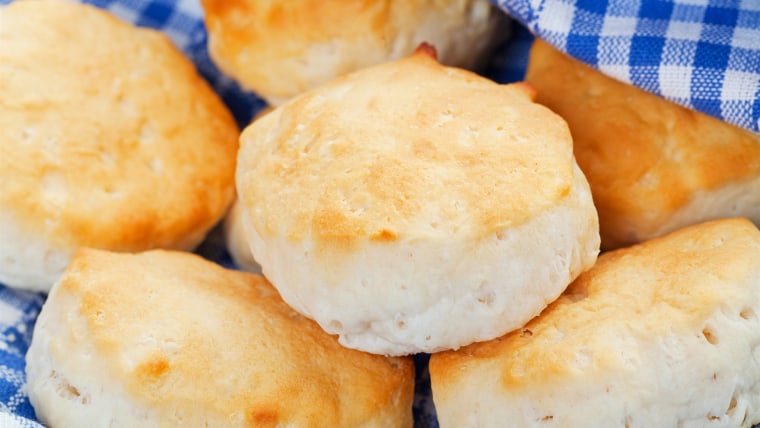 Need some consolation now that summer is almost over? September happens to be National Biscuit Month—the perfect excuse to bake up a buttery, fragrant, comforting batch (or two, or three). And you don't have to be Southern, or even a professional baker, to make the fluffiest, flakiest, tastiest biscuits this side of the Mississippi. Read on for indispensable tips from the masterminds behind two of Asheville, North Carolina's top biscuit makers, Biscuit Head and Tupelo Honey—then use the recipe below to whip up a batch of the best biscuits you'll ever have.
"A good biscuit starts with good flour," says Jason Roy, owner of Biscuit Head. Like many Southern cooks, he uses self-rising flour because it's pre-mixed to include a blend of hard and soft wheat as well as a leavening ingredient for the perfect rise—something you can't get in plain all-purpose, cake, or pastry flour. (Want to really do as the Southerners do? Try White Lily self-rising flour, available nationwide at specialty supermarkets and online.)

Whether you use shortening, lard or butter as your fat of choice, "snap it in" like Brian Sonoskus, chef of Tupelo Honey Café, does. "Pinch the flour and fat together like you're snapping your fingers," he explains. This creates thin sheets of butter that create puff pastry-like layers in your biscuits.
For soft and fluffy biscuits, blend the liquid and dry ingredients just until the dough "resembles cottage cheese," Sonoskus says. This stops you from activating too much gluten in the flour and ending up with a tougher biscuit that doesn't rise as high. But even if you mix too much, don't worry. "Denser biscuits have their place—they're better for making sandwiches," he rationalizes.
Gently shape biscuits with an ice cream scoop instead of a biscuit cutter. That's what Roy does to make Biscuit Head's oversized cathead biscuits, so-called because they're as big as a cat's noggin. Whether you make them big or small, it's an incredibly easy and foolproof technique. Don't have a spring-loaded scoop? Use a measuring cup and a silicone spatula.
Use real buttermilk if you can get it. Both chefs pledge allegiance to Asheville-based Cruze Dairy's whole-milk buttermilk for its unsurpassed creaminess and acidity. Look for local farms in your area to get the good stuff, not the watery low-fat substitutions found at the supermarket.
Ready to try it yourself? Here's Tupelo Honey's much-sought-after recipe:
Tupelo Honey Buttermilk Biscuits

Makes 10 biscuits
2 cups White Lily self-rising flour

1 tablespoon sugar

½ teaspoon salt

⅓ cup chilled shortening, cut into pieces

½ cup heavy cream

1 cup buttermilk

Melted butter

Preheat the oven to 425°F and position the oven rack slightly below the center of the oven. Lightly butter a round cake pan or cast-iron skillet.
In a large mixing bowl, whisk the flour, sugar and salt. Snap the pieces of shortening with your fingers until the shortening pieces are no larger than peas. Make a well in the mixture and pour in the cream and ⅔ cup of the buttermilk. Using your hands or a rubber spatula, sweep in the flour and turn the dough until the dry ingredients are moistened and the dough resembles cottage cheese, adding enough of the remaining ⅓ cup buttermilk to reach this consistency.
Sprinkle the rolling surface with flour. Turn the dough out onto the surface and sprinkle the top with flour. With floured hands, fold the dough in half and pat the dough into a ⅓- to ½-inch-thick round, using additional flour as needed. Flour again if necessary and fold the dough in half a second time. If the dough is still clumpy, repeat the folding process for a third time. Pat the dough into a 1-inch-thick round. Dip a 2-inch biscuit cutter into the flour and cut out biscuits, ensuring you do not twist the cutter.
Place the biscuits in the pan, sides slightly touching. Brush the tops of the biscuits with melted butter and bake for 15 to 20 minutes, until light golden brown, rotating the pan 180°F after 6 minutes. Remove from the oven and brush the biscuits again with melted butter.
Reprinted with permission from Tupelo Honey Cafe: New Southern Flavors from the Blue Ridge Mountains by Elizabeth Sims with Chef Brian Sonoskus, Andrews McMeel Publishing, 2014.