You've probably seen a version of this recipe on upscale restaurant menus, but it's easy to make at home if you buy "sushi quality" tuna from your fishmonger. The tuna should be glistening and ruby red and shouldn't smell fishy. The miso glaze takes just minutes to whip up in the food processor and can be made two days in advance. Lemongrass, miso and mirin can be found in better supermarkets or Asian food markets.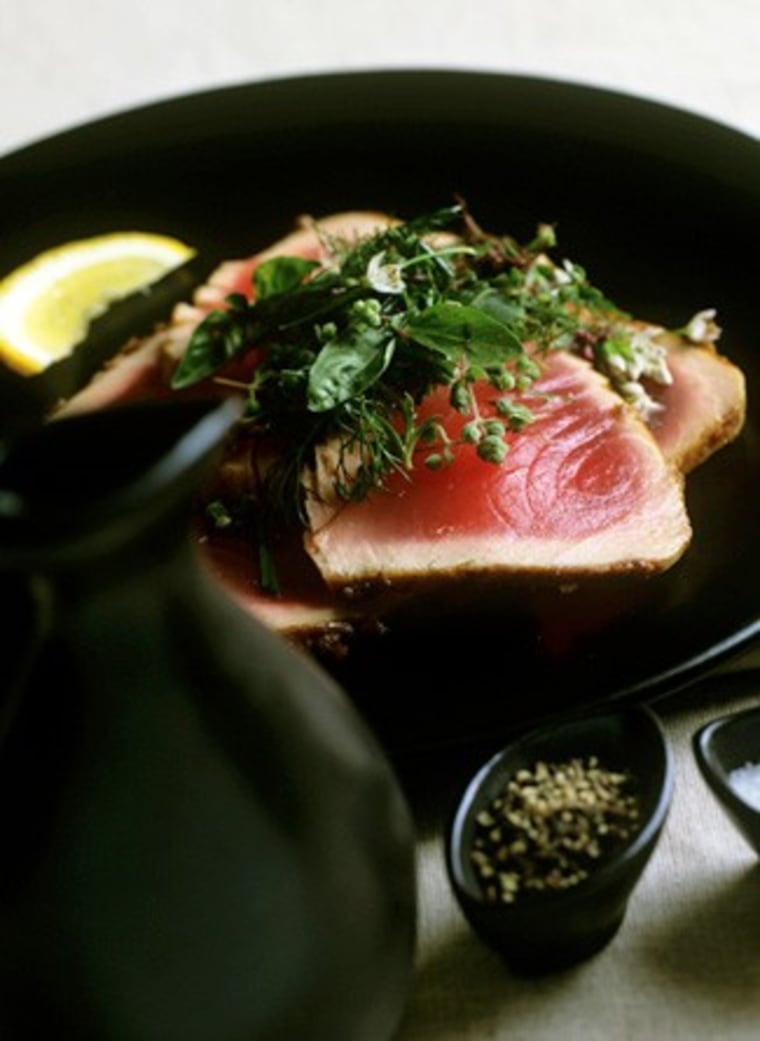 Ingredients:
1-inch piece fresh ginger, peeled and sliced into slivers

4 (5- to 6-ounce) tuna steaks

1 whole garlic clove, peeled

3 scallions, thinly sliced, green part only

1-inch piece lemongrass cut from the tender bottom, or 2 tablespoons lemon juice (from 1 lemon)

1/2 cup mixed fresh herbs or baby greens (chervil, parsley, thyme, tarragon, mint, arugula)

3/4 cup light miso paste1 tablespoon extra virgin olive oil

1 tablespoon sesame seeds, plus more for garnish

1 tablespoon lemon juice (from 1 lemon)

1/3 cup rice wine vinegar or mirin

Kosher salt and cracked black pepper to taste

2 tablespoons soy sauce

Yield: 4 Servings
Directions:
In a food processor, combine the ginger, garlic and lemongrass and process until finely minced. Scrap down the sides with a rubber spatula if needed. Add the miso, sesame seeds, vinegar, soy and 1 tablespoon water. Pulse several times until almost smooth. Transfer to a bowl. (This can be made 2 days in advance.)
Heat the broiler to high. Line a broiler rack with foil and place the tuna steaks on the foil. Using a pastry brush, coat the tops of the tuna steaks with some of the miso mixture. Place the broiler rack 6 inches from the heat source and broil until the miso is deep golden brown and begins to bubble, about 3 minutes. Turn the tuna and brush again with the miso and continue cooking for 3 minutes for rare, 4-5 minutes for medium rare. Remove and let sit for 10 minutes before serving or slicing.
Meanwhile, in a medium bowl, combine the scallions, herbs, lemon juice and olive oil and toss until thoroughly coated. Season with salt and pepper.
Scatter a handful of the greens on each plate or a platter. Place the tuna steak on top and garnish with remaining herb salad and sesame seeds.
This recipe originally appeared on iVillage.