Mila Kunis is just like the rest of us — trying to eat healthier, one plate of cauliflower rice at a time.
"I cook all the time," Kunis, 34, recently told TODAY Food. "I'm very much a home cook. Recently I've been on a vegetarian kick at the house because I'm trying to cut down on the amount of red meat that my husband consumes. I'm trying to make flavorful, vegetarian meals."
But the actress admits not everyone is on board with her lighter recipes.
"Any man is like, 'Oh, God ... '" she said of her push for healthier meals. "But we have to worry about our cholesterol, OK, guys?"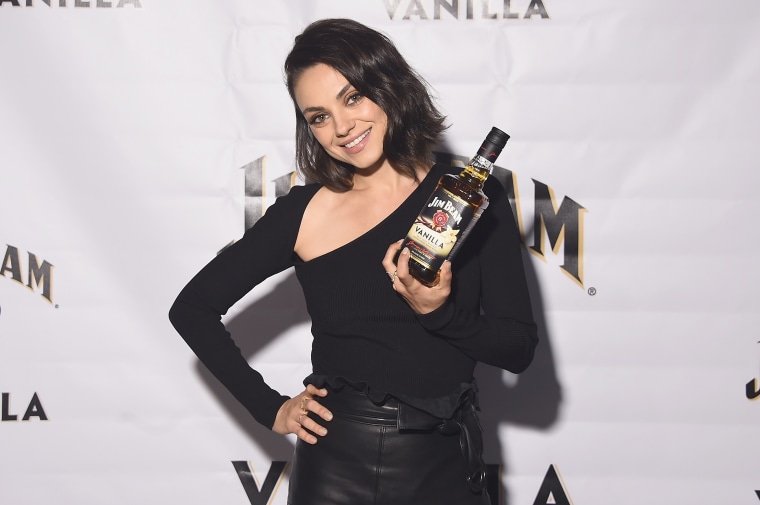 That husband, of course, is Ashton Kutcher, Kunis's former co-star on "That '70s Show," where the actors met, and got their start, about 20 years ago. Kunis, who spoke to TODAY on behalf of Jim Beam Vanilla (she's a paid spokesperson for the brand), admitted that of the two, Kutcher is the better bartender.
"He's a heavy pour," she said. "I'm like, 'Baby, just make it light.' His version of light and my version of light are two different things."
She also opened up about the perfect date night.
"It would probably be some sort of take-out or I would make dinner ... we'd sit and maybe talk for a couple of hours, or watch mindless, pointless television," Kunis said. "Any version of 'The Bachelorette,' 'The Bachelor' or 'Bachelor in Paradise,' 'Homeland,' 'Game of Thrones,' 'The Walking Dead,' — those are our staples."
"I do lots of rice cauliflower dinners," she added. "Fried rice cauliflower. Or, I'm a little obsessed with jackfruit. I add that to tacos — jackfruit tacos. Or jackfruit instead of pulled pork for sandwiches. That's what I've been playing around with."
But if she's looking for comfort, she ditches the veggies: "A Manwich — it's underrated," Kunis said. "It's a wonderful meal. I love lasagna. I think Italian food to me is comfort food. I live in Los Angeles — I love Mexican. I would never try to make it. I would rather just go down the street and get some really good Mexican."
That's not the only cuisine she won't cook. "I don't make Russian food," said Kunis, who was born in Ukraine. "My mother makes Russian food and she brings it over and we eat it. I'm very good at reheating Russian food."
"I could make borscht, but my mom makes it better," she added. "I've tried to make Russian food the way my mom makes it, but it never turns out the same. I'm like, 'How did you make this?' She says, 'I don't know, a little bit of this, a little bit of that.' My mom is such an amazing cook. And Ashton has his favorites, and I have mine, and she comes, drops off the food, plays with the kids. It's amazing."
It sounds like the perfect arrangement to us!