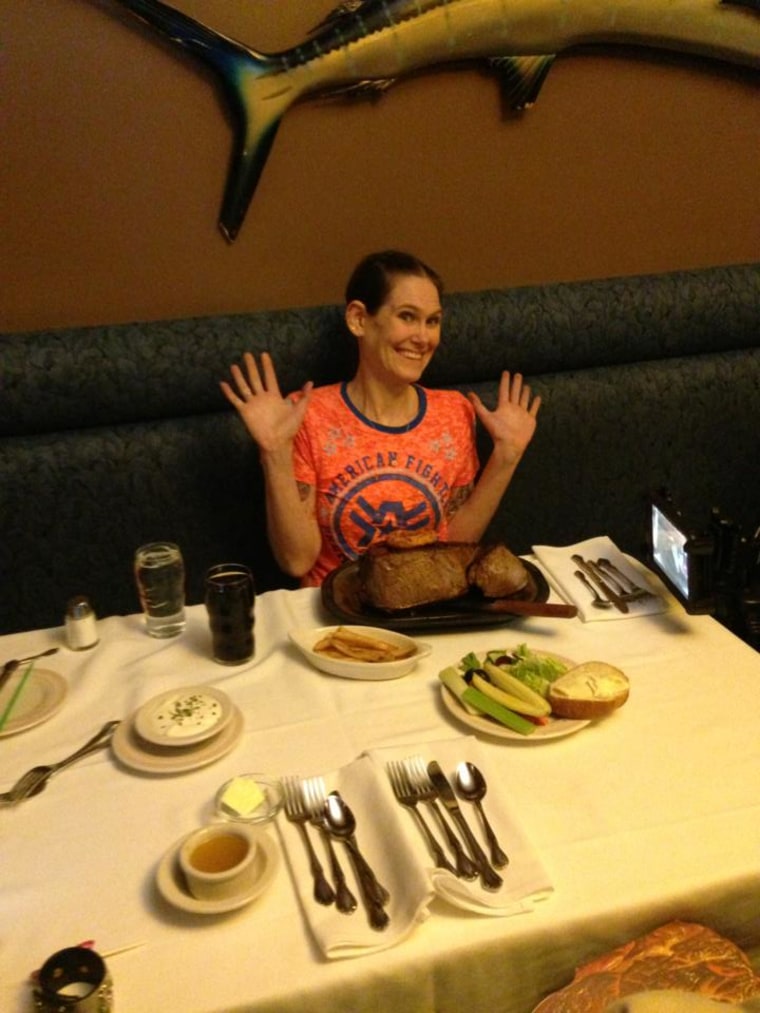 Nebraska resident Molly Schuyler plowed through a 12-pound sandwich with a 1-pound side of fries in 54 minutes. The very next evening, the 125-pound mother of four mauled a 72-ounce steak in just 2 minutes and 44 seconds "on a whim." She followed that up with a burger an hour later and now, she's a minor celebrity.
"It really wasn't any work at all," the 34-year-old told TODAY.com. "I was just going through the motions."
The 72-ounce steak challenge has been a tradition at Sayler's Old Country Kitchen in Portland since 1948. Over 1,900 daring eaters have busted their guts attempting the one-hour challenge over the years. And of those brave souls, only 601 men and 10 women have actually finished it. But no one has come close to the restaurant record Schuyler set last Friday — not even competitive eater "Furious Pete," who ate a 72-ounce steak in just under seven minutes in 2010.
"Twelve or 13 minutes was always considered a record," restaurant co-owner Brian Sayler told TODAY.com. "Anything like that was considered amazing. This is just strange."
Strange enough that even Sayler, a jaded observer of these challenges, stopped by Schuyler's table to watch as it all unfolded.

Story: For would-be competitive eater, humble pie on menu
"I've seen a lot of these, so I was not as interested, but I thought I'd check it out," he said. "I couldn't help but keep watching. It was disturbing."
For Schuyler, it was just another one of the seven eating challenges she participated in during a four-day vacation throughout the Pacific North West.
Her competitive eating habit started around a year ago when a friend challenged her to finish a 4.5-pound sandwich. Of course, the sandwich went down easily, and she soon entered more challenges, realizing she could put her unusual talent to good use by winning some extra money for her family. 
Schuyler says she's always been able to eat more than others, but for a long time she felt that as a woman she'd be judged for flaunting that skill. Eventually she stopped caring.
"I thought, this is cool," she said. "If I'm able to make friends and travel by eating, then screw them."
The only time Schuyler has ever failed to finish a challenge was at the start of her foray into the world of competitive eating. She ate a 10-pound skillet filled with bacon, eggs and sausage, but just couldn't finish one last 12-inch pancake. Since then, the 12-pound sandwich she consumed on Jan. 2 has proven to be the most daunting food item she's chowed down on.
"The sandwich was made up solid cold cuts and cheese," she explained. "There's so much chewing — after a while, you just want to quit."
Schuyler doesn't have a strict training routine, but she does drink a lot of fluids at home. She maintains a healthier diet as well, grazing mostly on vegetables and salads throughout the day.
"I don't eat a lot all the time, because I couldn't physically handle that," she said.
Even though her victory over the 72-ounce steak wasn't all that difficult for her to accomplish, Schuyler says she's still exhausted and in need of a break after completing so many challenges in a few short days. She says she'll quit competitive eating if she's ever confronted with health problems.
"It provides an income for my family, but if I get sick or get sick of it, I'm done," she said. "Right now I get to travel, but it's not worth dying over."
Next up for Schuyler is the Philadelphia Wing Bowl on Jan. 31, followed by Bacon Fest in Des Moines on Feb. 1.