Look at this beauty! Be gone rainbow bagels and unicorn grilled cheese sandwiches! The latest iteration of ROYGBIV (aka rainbow) treats is this vibrant birthday cake croissant.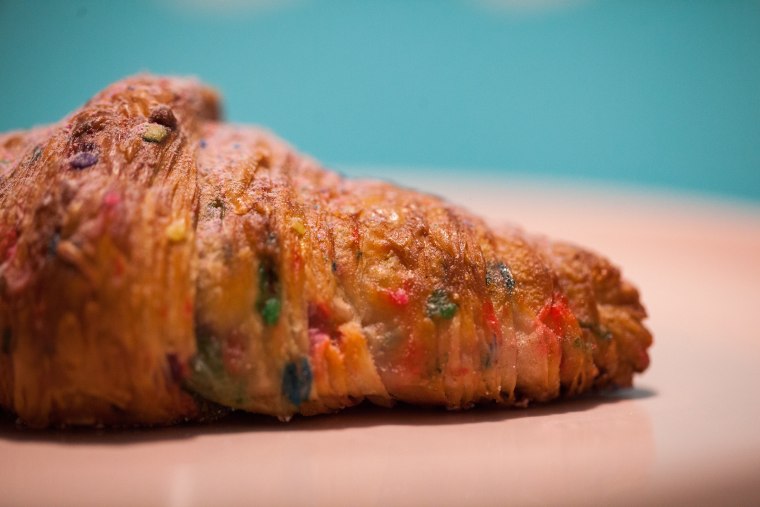 Let's take a closer look at the anatomy of this baby. First of all, Funfetti-like chunks are baked into the flaky dough.
RELATED: You're not hallucinating: The stunning rainbow bagel sandwich you need to try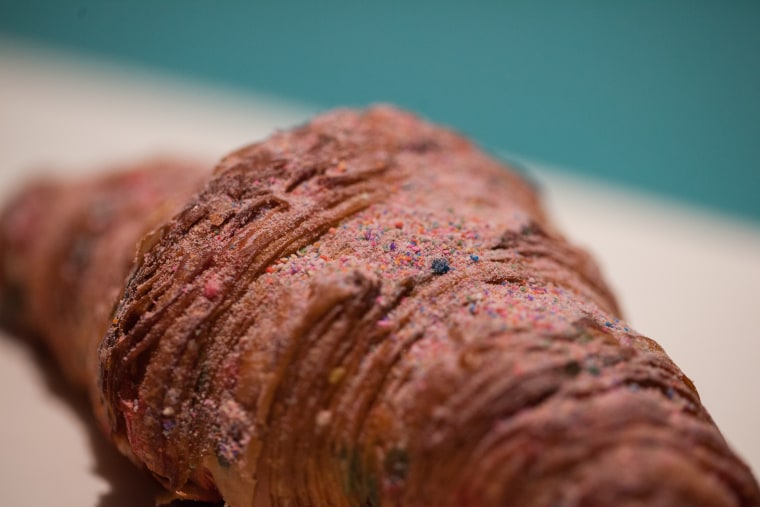 Secondly, fairy dust (aka ground rainbow sprinkles) is sprinkled over the top.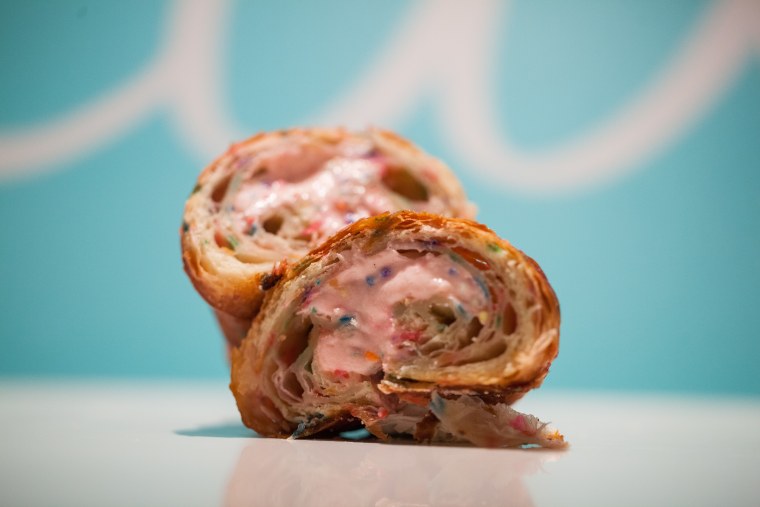 Now for the best part: it's filled with super creamy, light-as-air rainbow mascarpone frosting. The result is a croissant and birthday cake mashup that's a childhood dream come true.
RELATED: Check out these rainbow grilled cheese sandwiches
Rainbow croissant mania has taken over Instagram with photos and videos getting hundreds of thousands of views, like this one depicting what happens when you tear open up the treat.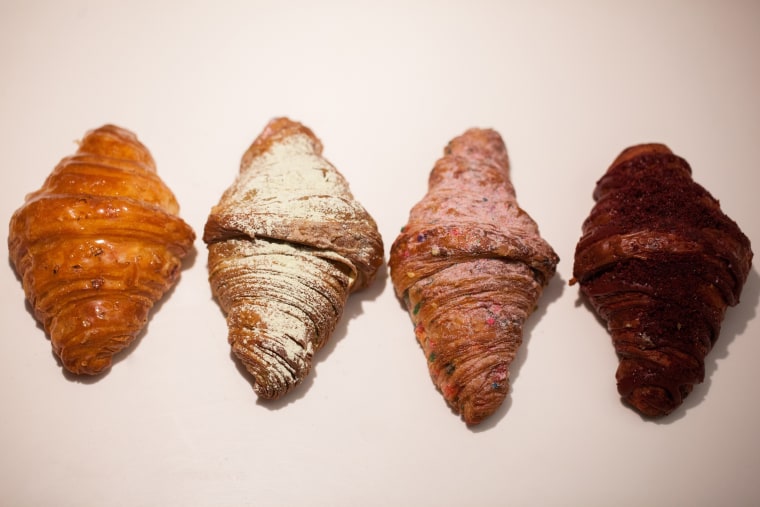 But the fun doesn't stop there! At Union Fare in New York City, chef Thiago Silva keeps on coming up with new ideas for cream-filled croissants, like red velvet, matcha, crème brûlée and cookies & cream varieties.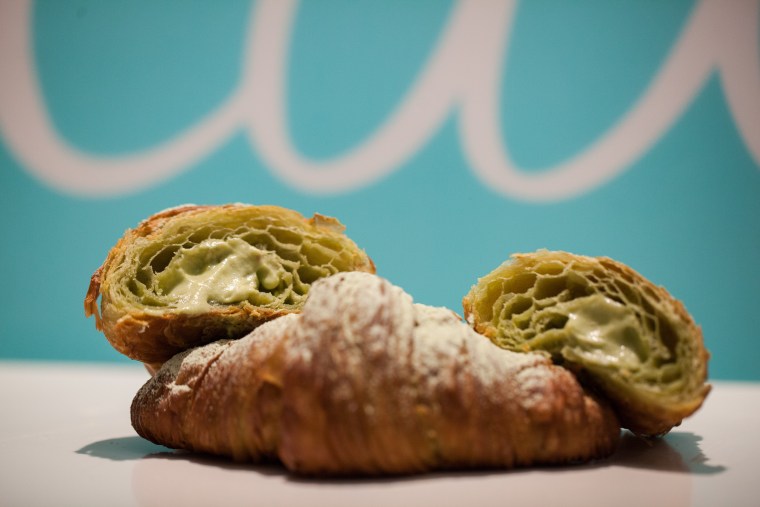 Silva gave TODAY Food the download on his inspiration for the pastries: "I was trying to think of something unique for our bakery and was leaning towards doughnuts as I've been able to be very creative with them in the past. I then made a sugar-coated and custard-filled croissant and it was so good. This is when I started thinking that I could make a line of different flavored croissants. I also didn't want to just fill the croissant with cream or top it with added flavors. I wanted the dough itself to taste and have elements of what we were doing so I laminate the dough with flavors."
For example, the delicate dough of the matcha croissants (above) is made with matcha (green tea) powder, filled with a subtle matcha cream and then topped with matcha powder.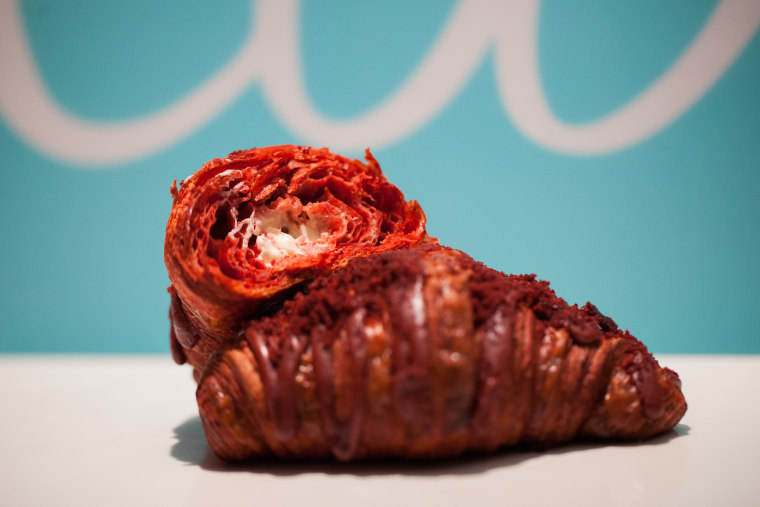 If matcha doesn't appeal, maybe red velvet is more your speed. Topped with red velvet frosting and crumbs, the red velvet croissants have a delicious cream cheese filling.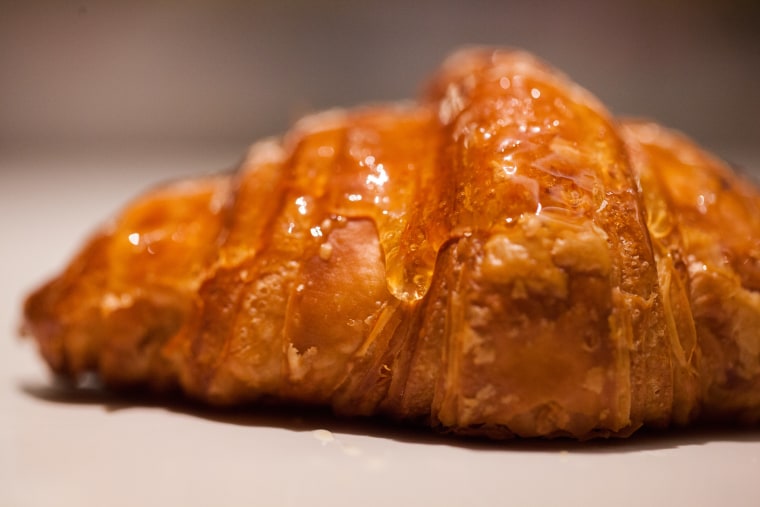 More of a French dessert fan? Then you might prefer a mashup of two French favorites: the crème brûlée croissant that oozes vanilla custard and has an irresistible crackly caramel drizzle on top.
For an easy at-home hack to make a cream-filled croissant of your own, start by placing your favorite store-bought or homemade frosting in a plastic bag. Snip off a small corner of the bag and make a small slit in the bottom of a croissant. Carefully pipe the creamy filling into the center of the pastry and sprinkle with a topping of your choice.
Voilà!