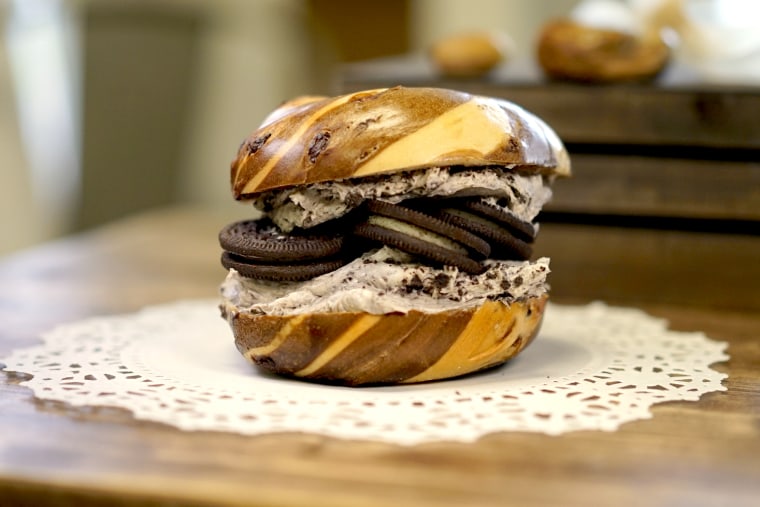 On the heels of Brooklyn's rainbow bagel comes another doughy viral sensation: Meet the Oreo Overload bagel, out of New Jersey.
The brainchild of a family-owned shop, The Bagel Nook, in Freehold, N.J., the Oreo Overload is a vanilla-chocolate swirl bagel, topped with cookies-and-cream cream cheese, and whole Oreo cookies, which soften and meld with the filling.
"We're sweet-tooth people, and it's a sweet-tooth town," says 24-year-old co-owner Alex Berkowitz, who owns and runs the store along with his parents. "We blow through them, and can't keep enough of our specialty bagels in stock. We bake them all day long."
The 8-month-old shop, a passion project of Berkowitz's, is a family affair: Alex and his dad, David Berkowitz, came up with the Oreo combo, and his sister, Jessica, 22, sent some on the sly to some prominent bloggers, causing the bagel to go viral. Their mom, Stacy Berkowitz, is working to making it available for nationwide shipping by the end of this week or next. (The Oreo Overload goes for $5.75 in store; online pricing is still being worked out.)
Despite its over-the-top creations, though, the family first and foremost wants to make sure their far-out dishes are delicious, Stacy says.
"Whenever people order it, I peer over to see their expressions. Their reaction is so important to us: Is it good? They're always like, 'Oh my God, it's crazy good!' "
While they also sell bagels encrusted with Cap'N Crunch, Fruity Pebbles and Cinnamon Toast Crunch cereals, there are also options to appeal to those who may not share the family's sweet tooth, such as an avocado toast with roasted sweet potato and sunny-side up egg. Not exactly thrilling for a bagel purist, but for social media food lovers, The Bagel Nook has become been an Instagrammable dream destination.
The family is still getting used to all the fuss—"It's been indescribable," Alex says—but they are most proud of the cozy-neighborhood vibe and the relationships they've already established with regulars.
"We want it to be a fun, welcoming place, where people come to hang out, and it is," Stacy says. "It's like Cheers, where everyone knows your name."