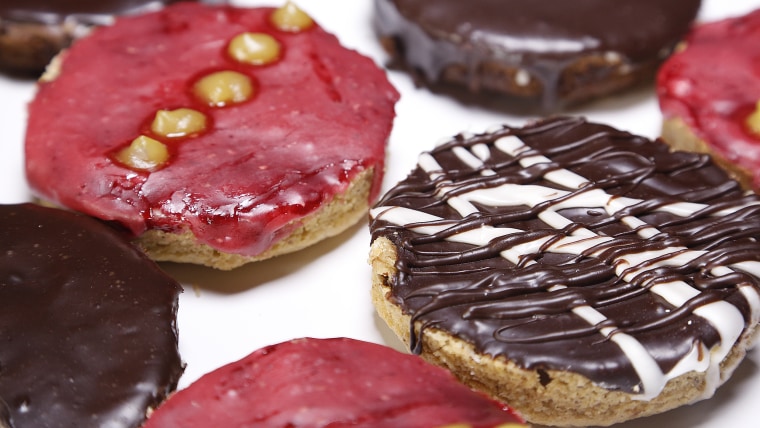 Now vegans can get in on the hybrid dessert trend, thanks to the Donart. 

The Green Radish vegan food truck in New York City unveiled the Donart on Facebook this week, the half-doughnut half-tart masterpiece that will be available beginning in March.
James Rafferty, owner of The Green Radish, created the Donart while developing the spring menu for his loyal food truck customers. 
"It evolved serendipitously," Rafferty told TODAY.com. "Doughnuts are delectable and tarts are elegant, and hence, the Donart was a way to enjoy the very best of both."
But like any food combination, from the Cronut to the Cragel, figuring out proportions was a challenge.
"What ended up evolving was a pastry that looks like a tart and tastes like a doughnut," Rafferty said.
The baked vegan desserts are made from organic ingredients like cocoa powder, dark chocolate, raspberries, mangoes and ground flax seed, which, when moistened, replaces eggs in the baking process.
The Donart will be selling for $5 each, and will come in three flavors: cinnamon with chocolate glaze and a vanilla swirl, glazed double dark chocolate and vanilla almond with raspberry glaze and mango dots. 
We got our hands on the Donarts for a taste of what's to come, and while the dessert visually resembles a tart, it has an unexpected soft, dense texture that is a bit heavier than a doughnut's regular consistency. The most popular flavor among the TODAY team was the glazed double dark chocolate, which tasted like a rich chocolate cake. 
Rafferty hints that this is just the beginning for the tasty treat.
"There are lots more yummy flavors on the horizon."