Dominique Crenn is an insanely talented chef who every food lover should know. The French chef's creations at her San Francisco restaurant Atelier Crenn earned her the title of World's Best Female Chef 2016 at Monday night's World's 50 Best Restaurant awards.
Crenn stopped by TODAY on Monday to share some of her gorgeous desserts: White Chocolate Cheesecake Ribbons with Blueberries and Nun Puffs. Side note: Be sure to look up what "Nun Puffs" really mean —it'll give you a good laugh.
Crenn was the only woman chef to win an award Monday. While the award means a lot to her, it also shows how much work still needs to be done in the industry to recognize women chefs.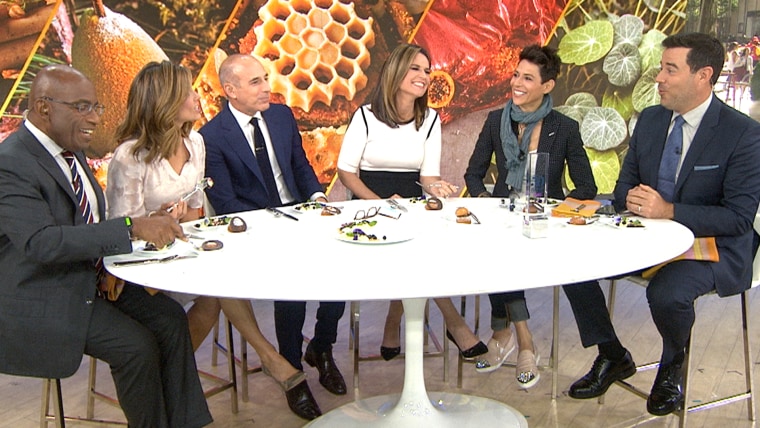 "I think this is wonderful for my team, for young women in the industry that look up to me; now they understand that anything is possible in life," Crenn told TODAY. "And it's also the start of a conversation about having female chefs in the best of the world [awards] and bringing unity in the industry and working together as one."
Having a separate "female chef" category rather than recognizing more female chefs in the overall list has been controversial. But Crenn says that awards like this still matter.
"I think awards are very important because they are a platform to be able to speak up and to have a message," she said. "The award doesn't define you; I think it's what you do with the award that does."
She continued: "There are lots of amazing women in the kitchen, all over the globe. Focus on what we do. I will speak out about it every day, but I want the media to help me get the message out."
With Father's Day around the corner, the chef, who also shared some of her life story on the second season of the Netflix docuseries "Chef's Table," told us her dad was her greatest influence. "He taught me about diversity, and respect and art also and philosophy," said Crenn, whose restaurant menus are written as poetry.
Check out the full list of winners of the World's 50 Best Restaurants awards.
Brooke Sassman contributed to this story.